Forno Roscioli, Rome – oh how I love this place!
I know it's not very chic or fashionable but seriously, pizza is quite possibly a perfect food. Especially when it is done right. So, not at Dominos or Pizza Hut.
Calling pizza in Italy and pizza in the United States by the same name is very deceptive.  It's like comparing a croissant from Mrs. London's, my favorite bakery in Saratoga Springs, to a Pillsbury crescent roll. There really is no comparison.  Here is a guide to how pizza works in Italy.
The first thing to understand is that there are two ways to consume pizza in Italy:
a taglio in a small, standing room only place or a bakery
In a restaurant.
There are merits to each but it's important to understand what you are getting:
Pizza a taglio
Looking for a little snack or a light lunch on the run?   This is the way to go.  The beauty of pizza a taglio is that it is all measured by weight so you can get as much or as little as you want.  The pizzas are lined up at the counter (usually at least 10 varieties) and you can try a variety of each by asking for a little.  Not sure how to order? The point and gesture method is perfect – indicate with your hands what size slice you want. Pizza a taglio comes in all varieties:  with cheese, prosciutto, mushroom (usually just with red sauce and no cheese – delicious), potato & rosemary, onion, tuna fish (very popular with the Italians) and even the decadent dessert: pizza bianca with Nutella. I know many believe that Nutella has been overdone but the combination of salty pizza dough filled with chocolate hazelnut spread is something to behold.  Hands down the best place in Rome for pizza al taglio is Pizzarium, near the Vatican.   A close second (and actually my favorite place if you are looking for simple pizza rossa or pizza bianca) is Forno Roscioli near the Campo dei Fiori.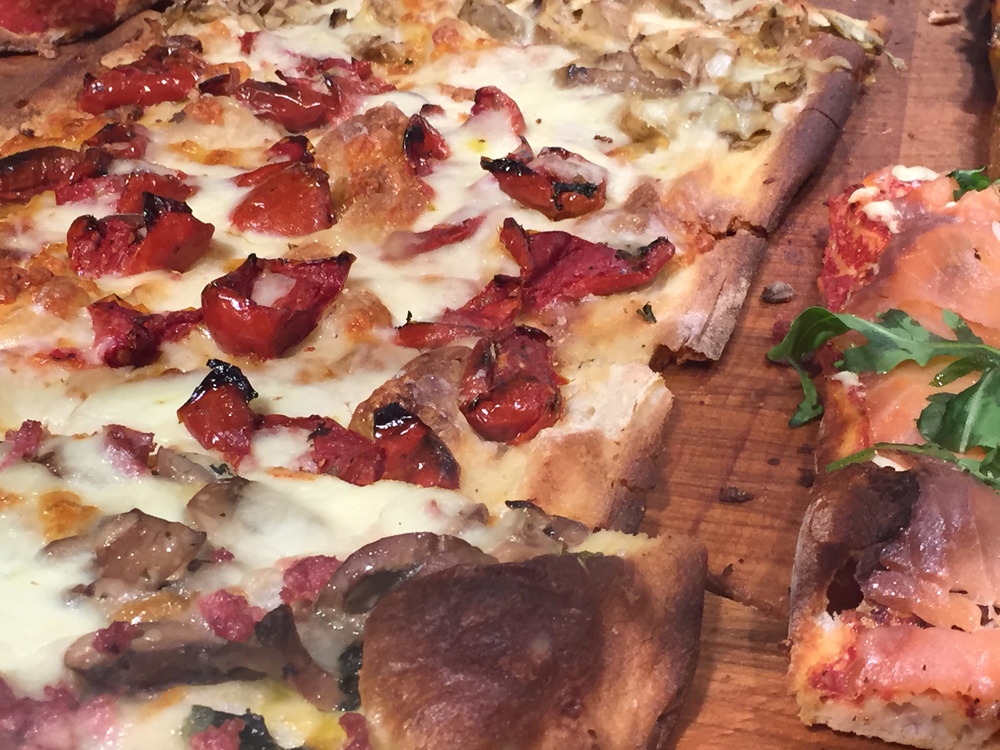 Pizza al ristorante
Dinner time is pizza time in Italy.   Some restaurants don't even fire up their pizza ovens for lunch but come 8:00 pm they will be ready to go.   Wood fired ovens are the only way to go.  But here is the real secret to why pizza in Italy is better than pizza in America…. there is no sharing involved. Now, I consider myself a giving person but seriously, this idea of compromising on pizza toppings to come up with one that everyone can enjoy is actually quite tedious. On my second date with my husband, we went out for pizza in West Hartford.  The pizza decision is particularly touchy in the early stages of dating as you have very little knowledge of the person and are making a concerted effort to impress and not repulse (presumably).  Obviously, onions and garlic are out but then comes the dance.  So…. what do you like on your pizza?  Ummmm… how about pepperoni? (says my carnivorous date across the table).  "Do I look like I am 8 years old?", I think to myself but out loud I say, "Pepperoni sounds great.  How about mushrooms too?"  He agreed and in retrospect it makes me feel warm inside because even on date #2 my husband was downright smitten.  See, the thing is, Doug DESPISES mushrooms and yet not only did he agree to have them touch all surface areas of the pizza, he actually ate them and did not pick a single one off the pie. Young love is divine, isn't it?  As I side note, I have never, in the 14+ years since that date, seen him eat a mushroom. 
In Italy, problem solved.  Each person orders her OWN pizza, with exactly what she wants on it (and leaving what she would not like off it).   Yes, the pizzas are as big as the plate but you will be surprised at the ease with which you can polish off the almost entire thing, leaving only a few scraps of crust for modesty.
Fortunately, things are changing here in the US and quality pizza (in the true Italian style) is making its way into our society and breaking the cycle of enormous pizzas laden with pounds of cheese and greasy toppings.  I have a list of pizza places to try (research is brutal):  Marta in NYC, Danny Meyer's newest restaurant and Mario Batali's Tarry Lodge in New Haven top the list.  These are two guys who have spent enough time in Italy to know how it is done.  I will keep you posted.
What's your favorite pizza topping?  Share it with me here in the comments.
Tastefully yours,
Ashley