In general, I feel very blessed in life.   Great family, awesome husband, my health, not a lot of worry.  That being said, I am not necessarily a lucky person (other than when it comes to aforementioned blessings). I always seem to be in the longest line at the grocery store or at customs, I am one number off in lottery picks and I never have those happenstance encounters with famous people that everyone loves to brag about.  Okay, I admit it, I don't live in a place that is teeming with celebrities, but I get out and about enough that you would think something would happen sometime. The thing about being a person who is not naturally lucky is that one is required to make her own luck.  And that is how I came to meet Chef Mario Batali last week.
To me, Mario is authentic Italy.  I loved his show Molto Mario  – each episode focused on one region in Italy and Mario would give a bit of history about the culinary tradition in that region.  He would explain why and how ingredients were used and I have always found his straightforward approach to Italian cuisine to be just the thing I needed to satisfy my soul when I was home in the US and very much "Romesick".
Mario has since gone on to build a veritable empire – countless restaurants all over the country, cookbooks galore, a new show concept called "The Chew", the Eataly brand, PBS specials exploring Spain and a foundation that aims to feed and protect the children of the US.  His interests are admirable and yet he always seemed to me to uphold his humility and genuine love for his craft.   Have I stalked him in recent years?   Well, maybe not formally the way a scary stalker would do, a way that would result in a restraining order and perhaps an appearance in court.  But I have always followed his endeavors with great interest.  So imagine my excitement when I heard that he was opening a new restaurant in New Haven. I was dying to try it out and then an email came with an invitation to attend a lunch at Tarry Lodge – a lunch that Mario would be attending.  What kismet, what fate!  I jumped to sign on only to find it completely booked. I got myself on a waiting list and thanks to a cancellation was able to secure a ticket.  Then the work began. A series of phone calls and emails, a bit of investigative work and one very well directed tweet gained me access to a chef who I have long admired.
Thanks to Mario's communications director, I was granted a short interview with him.  I was thrilled and though I had a million questions I wanted to ask, I knew I should keep it short.  He was gracious and kind and seemed completely unfazed by the fact that the restaurant was quickly filling up with patrons who were there for a signature Mario meal. The man is a true professional and I hoped that I would be worthy of his time.  I broke the ice with the presentation of the mighty Popener.  I hazarded a guess that he did not have one and I was right.  We talked about what a shame it was that Francis does not yet grace the Popener – he seems to be the perfect pontificate for such a trinket!
We chatted about the agritourism movement that is thriving in Italy and I asked him if he ever thought it would make its way here to the US. You see, Mario's new cookbook is all about Farm to Table cuisine in America and this is the whole centerpiece on which agritourism is founded.  He said he has friends in California who have cabins that they rent out at their vineyards but we are a long way from what agriturismo is in Italy.  The discussion turned a bit political then but in a lighthearted way in which Jimmy Fallon was mentioned. In the end, he did say that he thinks it is something that is clearly catching on for Americans as they look for travel to be much more experiential, be it abroad or here in the US.
Then I got to the questions that I always wanted to know  – I stayed away from the obvious:  why the orange Crocs, what is your favorite meal, etc.  I am always particularly curious about perceptions of Italy, especially from someone whom I respect so much and who has had such extensive experience in Italy.
AT: Where in Italy do you think Americans should visit that they tend to overlook?
MB: Bologna – it's medieval, it's fascinating and the food is incredible.  You can take day trips to Ravenna, Ferrara, Modena even Florence.  
Palermo – I think everyone should experience Palermo.  Sicily is an incredible island but you need a couple of weeks to get around it.  It's not as small as you think.  But Palermo is amazing  – the Vuccuria market is something everyone needs to see.
I recommend going to three places for 4 or 5 days each. On the third day when you go down to the local bar for your cappuccino in the morning, you will get a warm "Hey, Americano!" greeting.  There is nothing like it.
AT: What is the first thing you eat when you land in Rome?
MB: Well, my first stop is at the bar just outside of customs for a cappuccino.  It's the best.  Then I get away from the airport as quickly as possible because I hate the airport.  My next stop is the Autogrill.  Whether I am going north or south there is an Autogrill within 10 miles.  I get a spicy sopressata panino and a driving beer – you know, a little one.  And then I hit the road. 
My favorite place to stay is Il Pelicano (in Porto Ercole). It's a perfect place, a perfect hotel. 
As the restaurant filled up I knew I had to let Mario go, so I thanked him and took my place at my table where I was treated to a divine three-course meal.  Just because I know my readers, I will share with you the details. Not to make you jealous (well, maybe a little bit) but because these dishes are regularly offered at Tarry Lodge and I urge you to get there.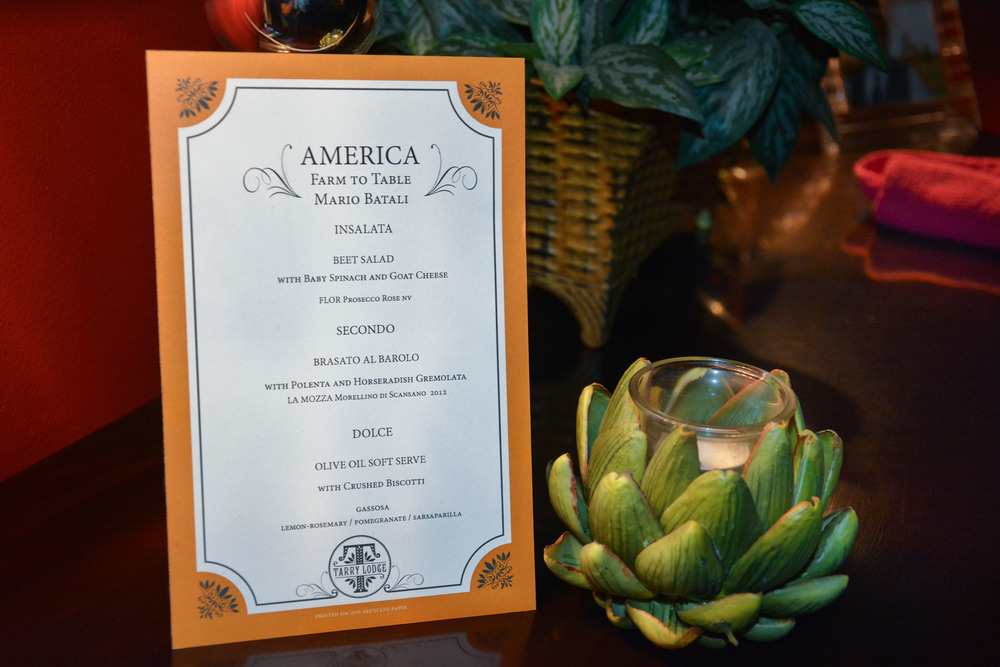 They also have pizzas which I will definitely try on my next visit.   As Mario said "We are not trying to compete with the New Haven pizza scene.  We are just trying to be part of the conversation".   I think that conversation will be buzzing.  Grazie mille Mario  –  you made me feel like the luckiest girl alive on Friday!