Italians are not sticklers for rules.   Stoplights are suggestions, waiting in line is frowned upon and in general, there is a loose interpretation of all rules and laws.  It really is a live and let live sort of society.
Until it comes to food.  The rules around food are hard and fast and God help you if you try to disobey.  No cappuccino after 11AM.  No cheese with seafood. Thursdays are gnocchi day.  There are rules about what sauce goes with what pasta and there are certain combinations that are never acceptable.
I remember being in Rome with some clients a few years ago.  We headed to a local trattoria after a long afternoon of touring.  We enjoyed an appetizer of focaccia and prosciutto and ordered pasta as a second course.  One of our party ordered penne arrabbiata, a spicy tomato sauce that is a Roman classic.  The gorgeous plate of pasta arrived and we asked for parmesan cheese.  The waiter gasped, took a step backwards and I swear he shuddered a little.  "Signora, non si mette formaggio sul questo piatto!"  "Ma'am, you don't put cheese on this dish."  I told him that I was aware of that unwritten rule but that my client would like cheese.  He stood there for a minute and I honestly thought that he was going to refuse.  Instead he heaved a sigh of exasperation and headed back into the kitchen, returning moments later with the parmesan.   You would think that would have been the end of it, but it was not.  Every time he passed the table he would ever so subtly shake his head in disdain.  It looked as if he was in pain every time he saw my client put a bite of the cheese covered pasta in his mouth.  I found it wildly entertaining as did my clients when I explained the situation to them.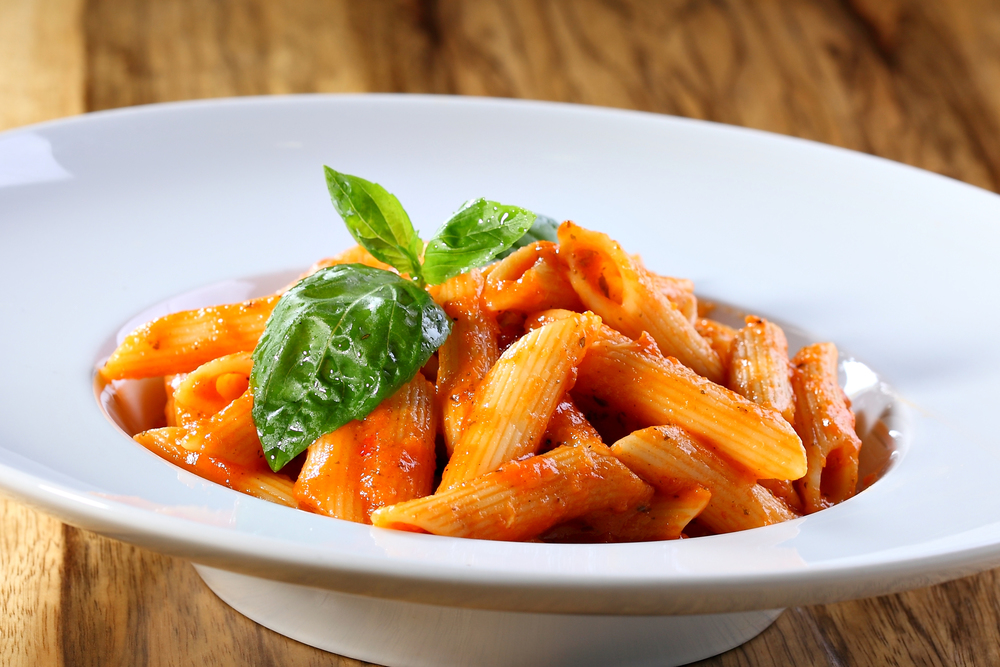 These hard and fast culinary rules are an interesting aspect of dining in Italy and can make you feel like the ugly American when presented with one.  But let me tell you once again…  rules in Italy are made to be broken.  I was reminded of this on Wednesday night. These past few weeks have been a crazy and hectic time in the Turney household and it seems that grocery shopping has been put on the back burner.  I was rifling through the pantry for a quick dinner and found everything I needed for a delicious plate of arrabbiata – perfect for a cold and blustery day.  Four ingredients and 20 minutes was all I needed to get dinner on the table.   I scanned my phone for Mario Batali's arrabbiata recipe (he is often my go-to for things Italian – to the point and authentic) and was horrified to discover that his penne arrabbiata called for cheese.  I gasped, took a step backward and I swear I shuddered a little.
In the interest of research, Doug and I ate the first half of the dish "naked" and then we added some grated parmesan to the second half.  Because we really are rebels. We both agreed that the addition of cheese is a good one. It also cuts the heat a little bit which may a good thing for some people.
Here is Mario's recipe for Penne Arrabbiata.  Don't make it with spaghetti – always use a short pasta for this one.  Because you know, there are rules for these things.   (*please note:  Mario's dish calls for 1 TABLESPOON of red pepper flakes.  It's a pretty spicy dish and I think you could cut that to 2 teaspoons and be fine).
Tastefully yours, Ashley