It's that time of year again.  In Italy, everything is looked to with wonderful anticipation – the season, the abundance of fresh produce that springtime brings, the beautiful holidays, the longer days filled with sunshine and blue skies. Did I mention the food?  I always mention the food. I love holiday food. 
Things you can only get at a certain time of year. Traditional, holiday food is universal and exists in every culture. Holiday=love=family=food.  In Italy (and for all Italo-Americans and non-Italians who are crazy about all things Italian – I think you know who I mean…) springtime holidays abound along with lots of occasions for delicious, decadent and less than healthy treats.  I mean, what's the harm?  We only eat these deep fried, cream filled goodies once a year… or at least until the next holiday when another, similar but completely different deep fried, cream filled goodie comes along.
This season of Italian holidays and the wonderful treats that accompany them starts with Mardi Gras, Carnevale and the famous castagnole or bomboloni – traditionally filled with pastry cream but often these days you can find them stuffed with Nutella. Easter brings all sorts of gorgeous traditions, my favorite being the Colomba di Pasqua.  There is also pastiera from Naples, and elaborately decorated chocolate eggs.  May Day is a holiday in Italy and fava beans with pecorino and grilled artichokes are a must at any Labor Day barbecue.  And of course there is tomorrow's holiday – San Giuseppe, also known as Father's Day in Italy.  And what does dad love more than zeppole – cream puffs stuffed with pastry cream, chocolate cream, Irish cream filling and many other options, depending on where you purchase them.   I know they sell zeppole in Italy and they are traditionally made for San Giuseppe Day but here in the US, there is an absolute frenzy for zeppole.  Rhode Island has a vibrant Italian community and so yesterday I took a ride on 95 in search of Vesta Bakery where I heard some of the best zeppole in the state are sold.  I stepped into the unassuming bakery expecting to have to deliberate which flavors I wanted to choose.  What I was met with was bakery cases that looked like the supermarket milk and bread shelves the day before a Nor'easter. Completely empty, not a zeppolla to be found and I was told that there would be none available until Saturday morning. They had sold out in less than an hour on a Thursday morning. These people really love their zeppole.  For a split second, I considered making a batch at home and then I thought about it.  Nobody makes these traditional treats. I mean, SOMEBODY makes them, there are recipes for them but part of the tradition is that you go and buy them from the bakery.  Part of the tradition is either planning ahead (what a novel idea) and ordering your pastries for said holiday or testing your luck by going directly to the bakery and waiting in line, hoping that the signora in front of you with the chin whiskers and orthopedic shoes doesn't scoop up the last limoncella cream filled zeppole….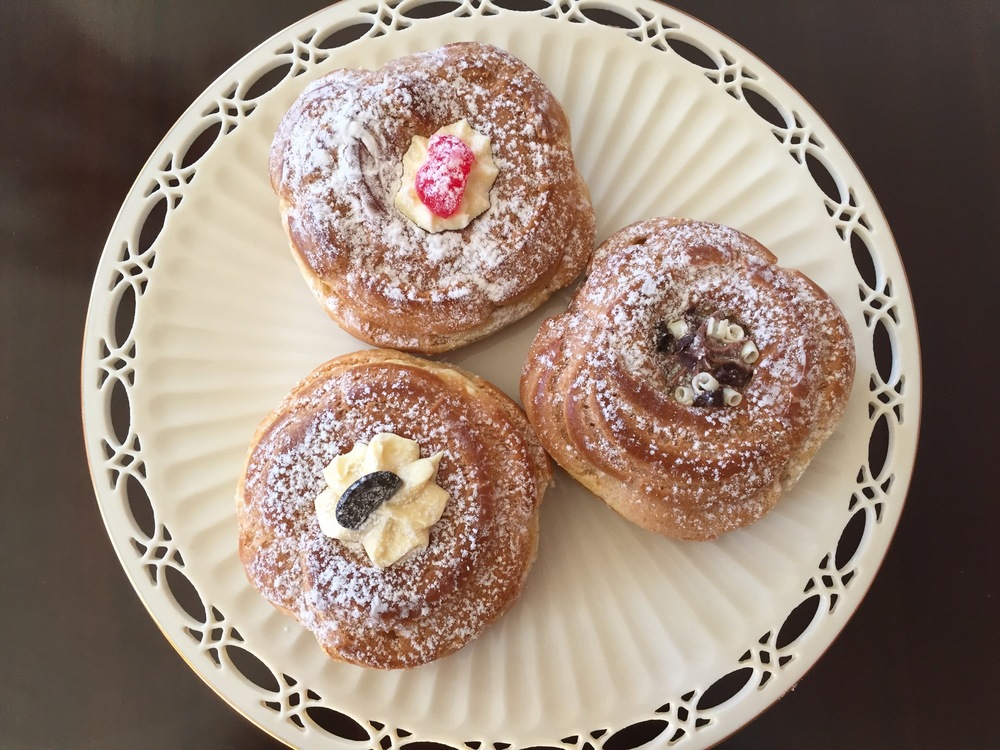 So if you are like me and did not plan ahead for dear old dad, let's set our alarms early on Saturday and head to the nearest Italian bakery. You can indulge in a morning treat with your coffee and still have the rest of the day to fit in a run to work it all off.  If you have a favorite bakery that sells zeppole in your area, leave a comment below.  And if you are in the Connecticut, Rhode Island area, here are some of my favorites:
Mozzicato, Franklin Avenue, Hartford
Lucibello's, 935 Grand Avenue, New Haven
Scialo Brothers, Atwells Ave, Providence
Vesta Bakery, 47 Railroad Avenue, Westerly, RI
And to all the dads out there – Happy Father's Day.  Hope your day is filled with relaxing on the couch, watching March Madness and lots of zeppole!