This is the first in our series Undiscovered Italy. We will focus not only on lesser-known regions of the country but also on activities and points of interest that go well beyond churches, monuments, and museums.  Enjoy!
Perhaps you remember the Winter Olympics in Torino (Turin). I am sure that Matt Lauer did many stories about the region, the people, the cuisine and the wine.  Surprisingly, there has not been a spike in American tourism like one might expect and I really don't know why.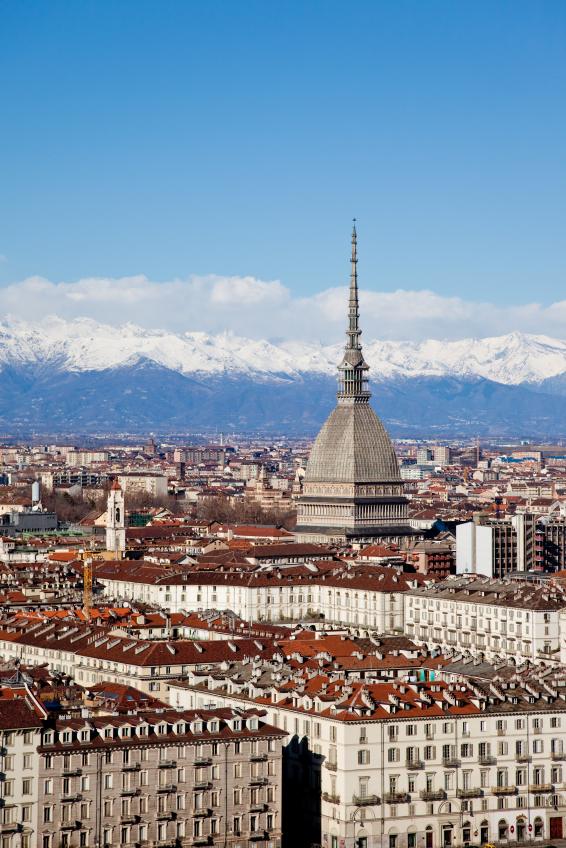 Luck would have it that I have had several occasions to visit the region of Piedmont, in the northwest corner of Italy and it never fails to disappoint.  My very first trip there was as a college student when I went to visit a friend.   I had some time on my own to explore the city of Torino and it was magnificent.   Vastly different from the cities to the south, Turin has a large, imperial feel to it.  It boasts over 11 miles of arcaded sidewalks which add a unique feel to the city.  The squares are massive and elegant, dotted with cafes which are known to be some of the best in Italy – that distinction is quite a feat in a country where coffee is sacred.  There are fascinating museums, most notably the National Cinema Museum and the National Automobile Museum which is built in the former FIAT Lingotto factory and which features a rooftop race and test track.
In my opinion however, the real appeal of Piedmont is in the countryside.  The region where the SlowFood movement originated. there is a pride of producing food and wine of the highest quality.  Piedmont is known for truffles, Barolo wine and gianduja  – chocolate hazelnut delight.   The people of the smaller towns of Piedmont are embracing the agriturismo culture like no other place.  Agriturismo is farm tourism.  In order to  support local farms and the production of  high quality products, the government offers tax breaks to farmers.  In return the farmers must agree to open some part of their operation to tourism, be  it in the form of lodging, dining or a combination of both.  As you can imagine, the quality of these operations vary wildly throughout the country but in Piedmont, there are some pretty special places.  I was introduced to these hidden gems by Melissa and Matt Pellegrino who wrote a book about the agriturismo culture in Northern Italy.  If you can find the book, I highly encourage you to buy it:  Italian Farmer's Table.  Fabulous stories and recipes.
These bed and breakfast establishments for lack of a better term, are each unique one from the other.  Ca'Villa in Alessandria has ultra modern rooms with concrete beds and a restaurant that was truly beyond compare. I dined on millefoglie of artichokes with cheese sauce, champagne risotto, ravioli with tomato, olive and cheese sauce, veal stew and chocolate torte. It happened to be their Valentine's Day special dinner – I was surrounded by couples nestled into romantic corners of the restaurant completely illuminated by candlelight.  I fell in love with my dinner.
My next stop was a more traditional farm, a family vineyard that was closed for the season but the Manzoni family was kind enough to take me in.  Since their dining room was not open, Giovanni treated me to pizza at the local joint and introduced me to Barolo Chinato, a fortified after dinner wine.
The following morning we toured Alba, a delightful city that will rival any medieval village in Tuscany or Umbria.  On our way there however, we had to take care of business  – 10:30 am grappa tasting!  Something that would seem downright outrageous to me here in CT was the most normal morning activity imaginable.  I sampled as many as my gut could handle and as we headed out into the cold February air, I was completely warm and toasty.  Grappa in the morning doesn't seem like such a bad idea….
My final stop was at an incredible place called La Capuccina. This delightful family produces wine and sheep's milk cheeses and their restaurant is a destination for gourmands.   They have turned the old animal stalls into guest rooms with a modern and colorful flair and they have also added a swimming pool.  They are the most welcoming couple and once you are here you realize that this is not just a place to stay, it is your destination.  But the surroundings are wonderful as well – including the beautiful Lago d'Orta and the Isola San Giulio.  Day trips to the lakes and the mountains are a must but don't be late for dinner!
If you think you have seen all that Italy has to offer, try Piedmont. This region of art, natural beauty, culture and exquisite food and wine should not be overlooked anymore.