Assisi is a special place for me.  I have spent a good deal of time in this little Umbrian village, the hometown of St. Francis.   I have spent Christmas here (a few times), taken part in Saint Francis Day, Kalendimaggio and other festivals in surrounding towns.  I find it to be a wonderful place home base for exploring Umbria and though it can be overrun with tourists and pilgrims, there is something genuine and warm about it that has always made it one of my favorite places in Italy.
My biggest challenge has been finding an equally fabulous hotel in Assisi.  While rustic Umbrian style is charming, to be perfectly honest, it is not for everyone and even for those who appreciate it can get tiresome.  Give me sleek and modern incorporated in an ancient space any time. I love old buildings that have been repurposed and made into stylish new boutique hotels. The juxtaposition between old and new is what Italians seem to do best.  Enter Nun Relais Spa and Hotel. An oasis of peace and tranquility in the heart of the City of Peace.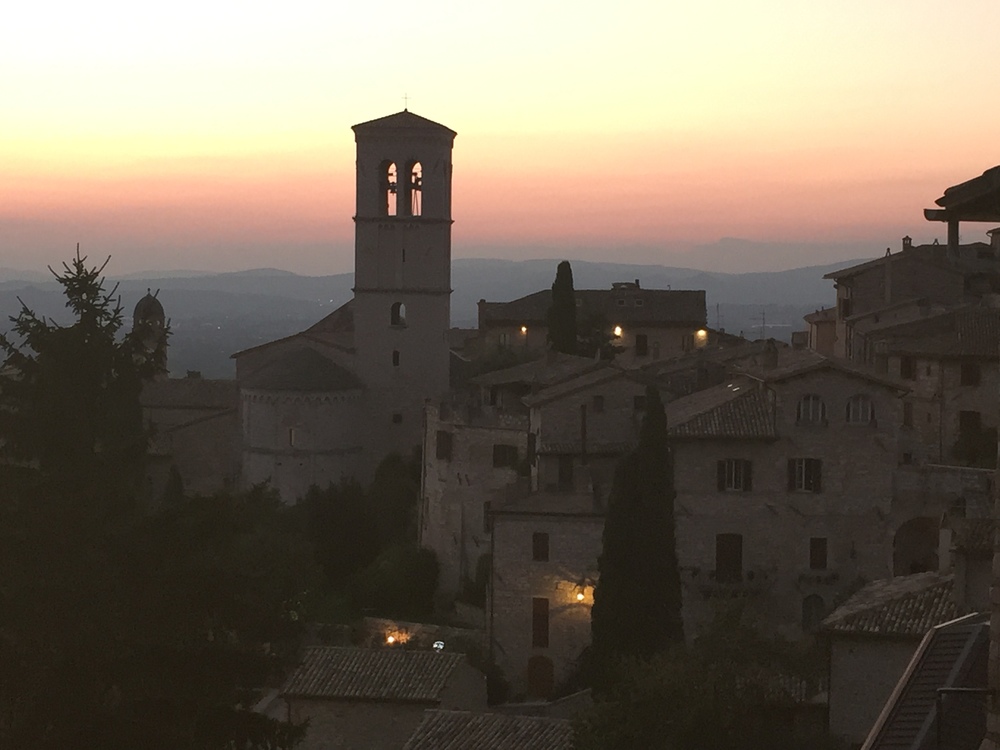 The Nun Assisi Relais has a quirky name and is located next to one of the main parking lots in town, but the drawbacks end there.   When I pulled up to the curb, a porter immediately took over.  He parked my car and retrieved my suitcase from the trunk, delivering it discreetly to my room.  Meanwhile, I made my way through the courtyard and immediately a sense of calm and tranquility washed over me.  A beautiful garden with outdoor seating for cocktails or light lunch. I continued into the lobby where I was greeted warmly by the front desk staff who offered me a drink.  The barman was kind and hospitable and before I even entered my room, I was in love.   The room is sleek and modern, the all neutral colored decor pairing perfectly with the thick stone walls of the original structure.  Arches and exposed brick add to the charm.   The modern bathrooms include every possible amenity to make one's stay perfectly comfortable. There are only 18 rooms in the hotel which makes it feel very intimate and allows the staff to give each guest personal attention.
The vibe is elegant but laid back – a wonderful combination when you are on vacation. This is not a place that caters to business people.  It clearly is a place for R&R, highlighted by the exceptional spa (more on that later).    I made a reservation for dinner for 8 PM – it was quiet when I arrived, but by 9 PM the restaurant was full.  I sat down and was offered a glass of prosecco which I sipped at the waiter told me about the specials.  All were tempting but I opted for fried porcini mushrooms – in season – to start. Dining alone is not always the most comfortable of situations but at the Nun Assisi  Relais, even eating solo was relaxing and enjoyable.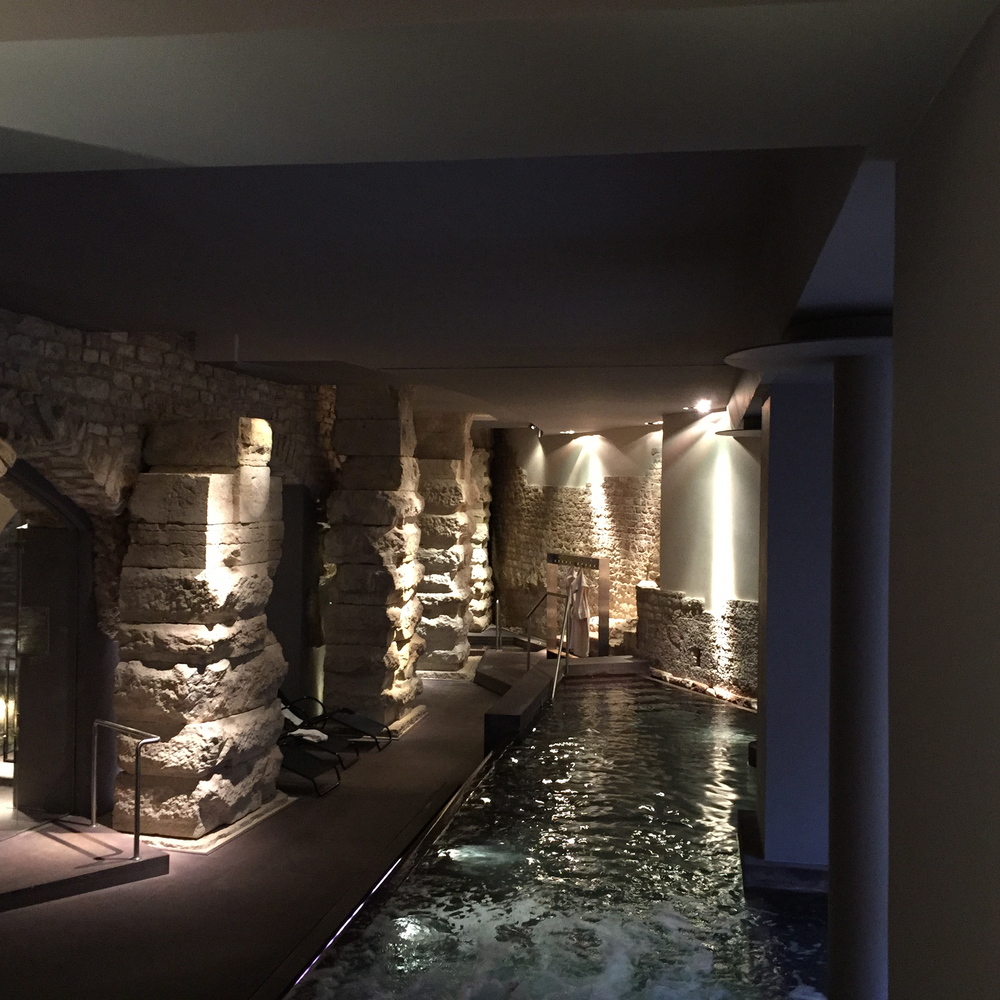 While I loved my whole experience at the hotel, bar none the best part of this place is the spa, entrance to which is part of your hotel stay (spa treatments such as massages and facials are extra).   You descend to the lower level of the hotel to reach the spa which was built amongst the ruins of 1st century AD buildings. As you relax in the pool, you can admire the columns of the ancient amphitheater.  This is an experience like no other.  The spa was expertly designed so that guests can follow the bathing rituals of the ancient Romans. There is a suggested router with timings for each of the rooms:  the tepidarium (warm room), the caldarium (hot room), sudarium (sweat room) and the frigidarium (cold room).  As you exit the frigidarium you enjoy a brisk shower with water that is infused with eucalyptus oil.  The experience is intoxicating.
Please consider a trip to Umbria with an extended stay at the Nun Assisi Relais & Spa.  It embraces the spirit of Saint Francis and his mantra of Pace e Bene (peace and goodness).
Details:  Nun Assisi Relais & Spa — www.nunassisi.com