The middle of August is upon us and soon, the mass exodus al mare (to the sea) will begin from all Italian cities.  In mid August you will find Rome, Florence and Naples deserted (except for the tourists) as Italians take to the beach for a couple of weeks.  Here is a short list of my favorite seaside towns.
Camogli
While the Italian Riviera has more chic and well known places, Camogli is a wonderful fishing village located in the Gulf of Paradise.  Here you can enjoy the beaches (do note that they are pebble, not sand, beaches) and explore the area via the hiking paths that lead you through olive and lemon trees.  Don't miss the local specialty from the nearby town of Recco  – focaccia col formaggio – it's bread and cheesy goodness.
Portofino
I would like to say that Portofino is overrated and not at all wonderful. That it's reputation as a playground for the rich and famous has made it a disappointment.  But I can't.  I love it.  It's elegant, the shops are gorgeous, the cafes are the perfect place to truly enjoy la dolce vita. Sitting on the inner harbor surrounding by vibrant colored buildings and beautiful sailboats is truly what summer is all about.
Costa Smeraldo, Sardinia
Sand beaches, crystal clear water, protected marine areas and national parks.  Not many Americans make it to Sardinia. There is so much to see in Italy on the mainland that all too often, time just runs out.   But if you are looking for an incredible beach vacation I highly recommend this island off the west coast of Italy. Not only are the beaches beautiful, but the countryside is also fascinating and worth a drive.  Porto Cervo holds wine, food and fashion festivals throughout the summer.  The scene is pure luxury and pleasure.  And honestly, the seadas (a pastry stuffed with sheep's milk cheese and drizzled with local honey) alone will get me on the next boat the island.
Monterosso al Mare
My first memory of a week spent along the coast in Italy will stay with me forever.  It may not be the greatest beach town in the world but I will never forget my perfect stay in Cinque Terre 1994.   It was June and I had just wrapped up two months of work as a group leader for tour groups.   I was looking for somewhere to kick back and relax.  I had been to Cinque Terre a couple of years earlier on a day trip and knew that I needed to get back there.  So I booked a room at a small hotel in Monterosso and hopped on a train from Rome.  I spent the day hiking from one village to the next among the olive groves, lemon trees and vineyards.  The views were exquisite and the hike was a way to rationalize my lunch of pasta with seafood, focaccia and white wine.   Late in the afternoon I headed down to the beach and was puzzled to find it deserted. It was a glorious, sunny day and I had expected a crowd.  I looked around and spotted a beach bar. A very crowded beach bar. With an obscenely large television.  And then I remembered.  The World Cup was being played and the Italian team was on.  So I did what any Italophile would do.  I stuffed me beach towel back in my bag, grabbed a Moretti beer and watched the game with a crowd of strangers. It was awesome.
Cinque Terre is not posh and exotic.  It is rustic, rough around the edges and absolutely beautiful.  Yes, it has been somewhat overrun by tourists in recent years.  But if you stay and can hang on until the evening, this will be your reward: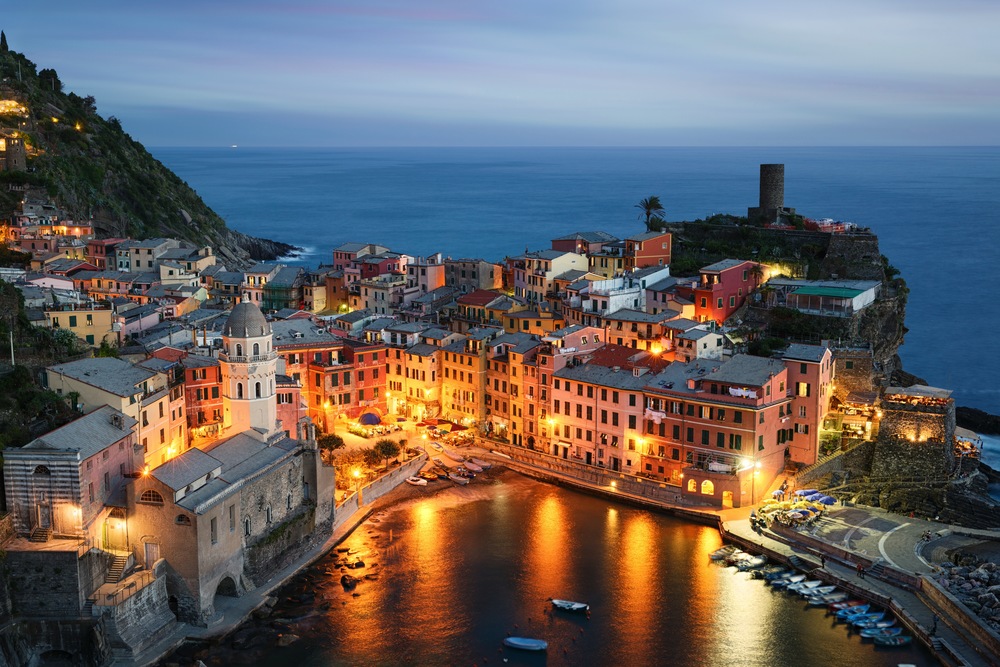 I think it's worth it.