Cooking classes are a fantastic way to explore another culture. They are all the rage now and I totally understand why.  More than any tour, a cooking class often offers insight into life today.  The recipes may be based on tradition and passed down for generations, but the instructors are often locals or at the very least, expats who have spent years immersed in the local culture. You have the opportunity to spend a few hours in the kitchen with this person and we all know that the best conversations happen in the kitchen.
Italy has jumped on the cooking class with reckless abandon.  In virtually any town you can take part in some culinary experience:  cooking classes at a proper school, in someone's home, market walks, tasting walks, pizza making classes, gelato making classes, wine pairings.  The possibilities are seemingly endless.  Here are three of my very favorite experiences.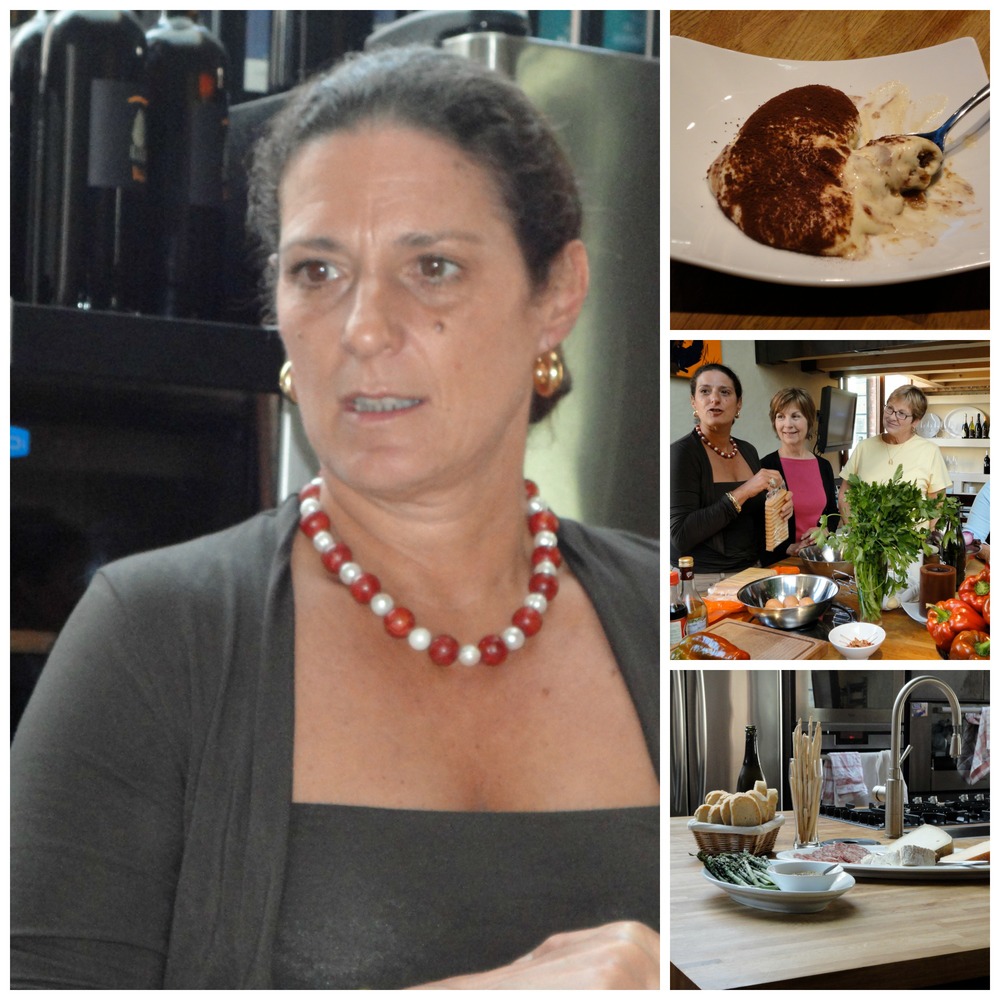 1. Enrica Rocca Cooking School
Imagine strolling along the canal in Venice until you reach a 16th century palazzo where you are welcomed by a lovely and charming Venetian woman who invites you into her fabulous apartment for an afternoon of cooking. This is what awaits you at Enrica Rocca's cooking school. In Venice (she also has outposts in London and South Africa) chilled wine was ready for us along with the most perfect appetizer:  blanched asparagus with parmesan truffle dip.  I have replicated this to rave reviews many times since. On this particular day we prepared risotto with asparagus, roasted red peppers and a killer tiramisù. The food was divine, the wine was flowing but what I remember most was an amazing evening filled with conversation and lots of laughter. The atmosphere is so relaxed, it really is like visiting an old friend.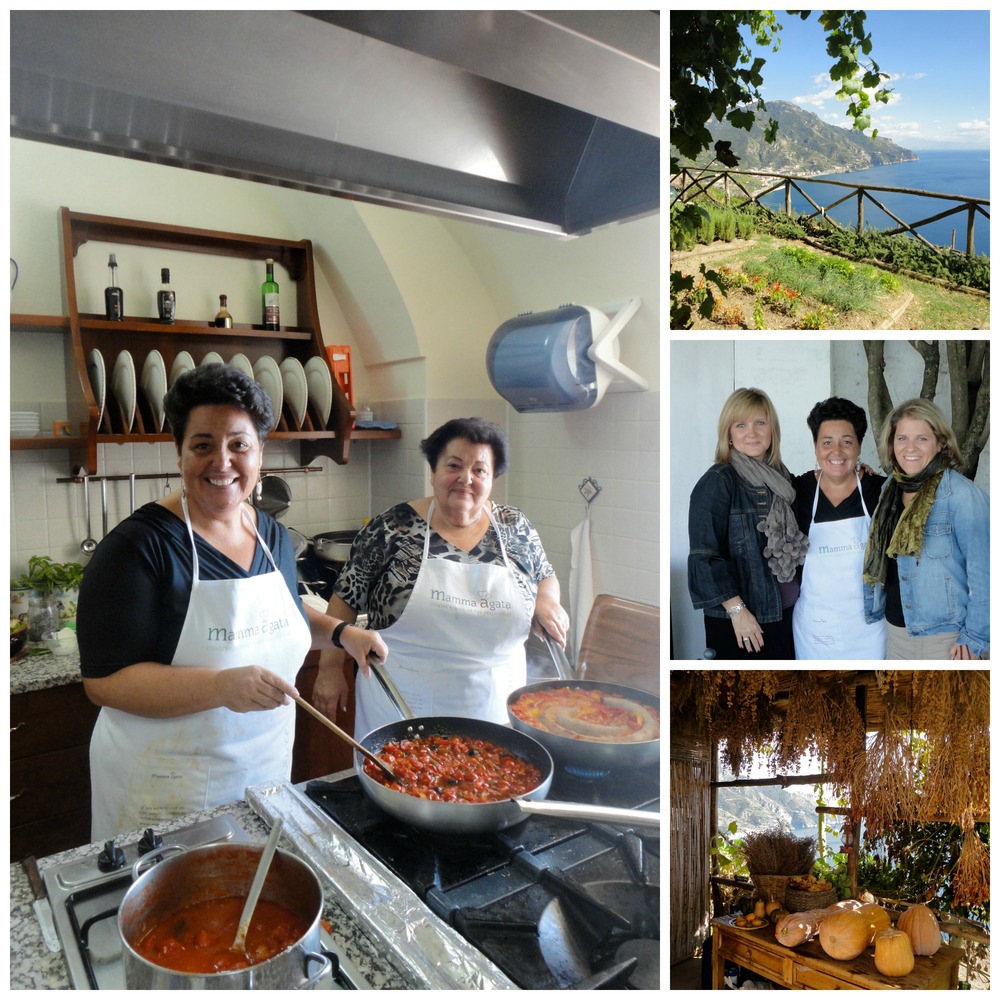 2. Mamma Agata Cooking School
Some cooking schools are more organized than others.  Mamma Agata's schoool in Ravello has created a cooking school empire, complete with appearances in New York City and on American television, cookbooks, jarred tomatoes and more to come I am sure. Fortunately, thanks to the charm and hospitality of Chiara and Mamma Agata, the success has not compromised the quality of the experience.  You know your are in for a unique experience right from moment you receive your confirmation. It expressly states to not eat breakfast  – or eat something very spartan – in order to be ready for the day's feast. Upon arrival at the family home (the stunning ride up to Ravello with views of the Amalfi Coast is an experience in and of itself) you are greeted with Mamma's famous lemon cake and Chiara explains the wonderful day ahead.
Cooking begins with a sauce for the pasta, a wonderful tomato based condiment with peppers and sausage. The kitchen is small and cozy but everything works like clockwork. Chiara charms everyone while Mamma Agata (who may or may not speak English) works the stove, smiling, nodding and occasionally rolling her eyes.  They are a wonderful team and they gently call participants over to help with various elements of the meal.
With the sauce simmering we move on to wine (although it may only be 11AM) and the preparation of coccoli – herb fritters – a decadent fried morsel that pairs perfectly with the crisp white wine.  We eat them hot out of the fry pan after they have been sprinkled with a little salt.
As the main part of the meal is being finished, guests are invited to explore the grounds.  Oh, the beauty!  Terraced gardens overlooking the sea. It is stunning.  Mamma Agata's family grow a vast array of vegetables which change seasonally and in large part determine the menu for the cooking school.  This is a true farm to table experience. We dined under a pergola and I made sure that my seat faced that ocean view. I would cook with Mamma Agata once a week if I could.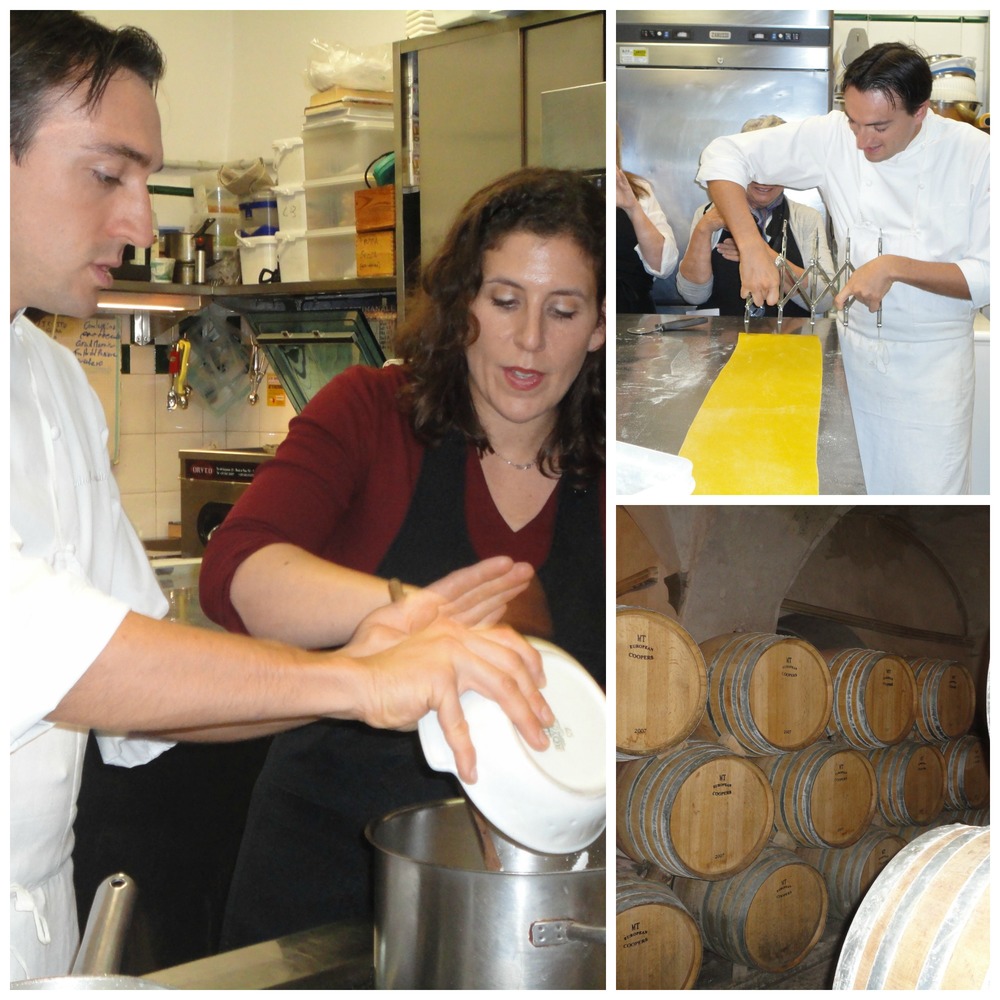 3. Badia di Passignano
The Antinori family is synonymous with Tuscan wine. Their vineyards span most of the region and they are well respected as leaders in the industry. They also have a fabulous restaurant in the tiny hamlet of Badia di Passignano where the young chefs offer cooking classes.  You prepare your dinner with the chef before a tour of the prestigious wine cellar which includes tales of the long history of the property.   On this particular evening, we made ravioli filled with pappa al pomodoro, chocolate cake, roast chicken and cheese souffle.  All fabulous and listed in a little take away book so we could try to replicate these recipes at home.
Months after I returned home, I remembered the delicious balsamic and espresso reductions that the chef had made. They were easy but elegant and a perfect addition to a plate.  I could not remember the proportions for the life of me so I emailed the restaurant.   I was immediately greeted with a response from the chef which included the recipes and suggestions on how to use them. So nice.
I urge you to take a cooking class wherever you go.  It is a wonderful way to experience local culture and anyway, you have to eat, right?   If you would like information on these or any of the many fabulous cooking experiences in Italy, feel free to email me at: ashley@lesperta.com
Tastefully Yours,
Ashley