When I went to Italy for the first time, my world opened up in ways I had never imagined.  More than anything, gastronomically I was invited into a culture beyond my wildest imagination.  I loved to cook already but my experience was somewhat limited as a child of the 70s without a strong ethnic background. At the age of 18 I found myself in a hostel on the Amalfi Coast eating apricots which I decided were the fruit of the gods.  I had never had one in my life and actually thought they only came dried.
Ambrosia indeed!  I threw myself into the culinary delights of Italy with gusto, as my waistline will attest.  Artichokes, prosciutto, heady red wines, truffles, castagnaccio (a Tuscan dessert made with rosemary and chestnut flour), porchetta – I tried it all. Seriously, who can resist a porchetta sandwich served from the original food trucks in a little medieval village in Umbria?
As much as the explosion of flavors, a freshness of produce that I had never experienced and the incredible combinations, I was intrigued by the stories of where the food came from.  The tales of when and where, why certain dishes came to be all made me gain a great appreciation of the Italian cuisine.  I am particularly interested in eating locally, a movement that has really taken shape here in the US.   Italian regions are geographically, topographically and historically unique and each produces regional dishes that will make your mouth water. Here are some of my favorites.
NOTE:  some of the most typical dishes throughout Italy involve offal but since I care not for intestines, they are not included here.   Katie Parla is a big fan and the utmost authority on where to find such delicacies in Rome.  Check out her page: parlafood.com  Here is a partial list (offal free) – there are so many others but I will save those for another post.
1. Panelle
Chickpea fritters (Palermo)  Paleo Diet followers can skip on to #4.  We've got a lot of carb action going on here.  In little stands all over Palermo you can find these delightful flat, fried fritters.  3 ingredients:  chickpea flour, water, salt.  Fried in oil and stuffed into….wait for it…. a ROLL.  Don't judge. Just go to Palermo and try them.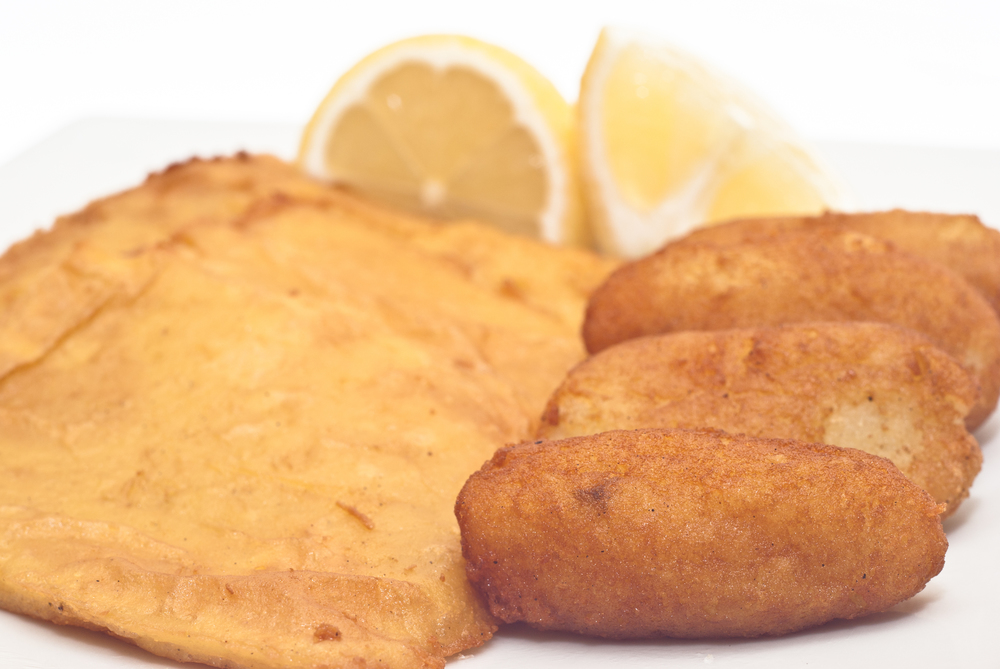 2. Zuppa di Farro (Lucca)
Spelt soup is probably my favorite comfort food of all.  I can make it at home now that farro is easier to find.  But if I can be in Lucca AND don't have to cook…
3. Strozzapreti al Tartufo (Umbria)
Strangle the priest….what a name for pasta! There are many theories about the origins of this type of handmade pasta but the most obvious (and gruesome) one is that it looks like someone's neck that has been wrung.  And the neck is that of a priest because of the Umbrian suspicion of any institution, particularly the Church.  The pasta is delicious nonetheless, particularly when it is served with an olive oil and truffle sauce and topped with, you guessed it, more truffles! (note:  best place in the world to eat this is La Palomba in Orvieto.)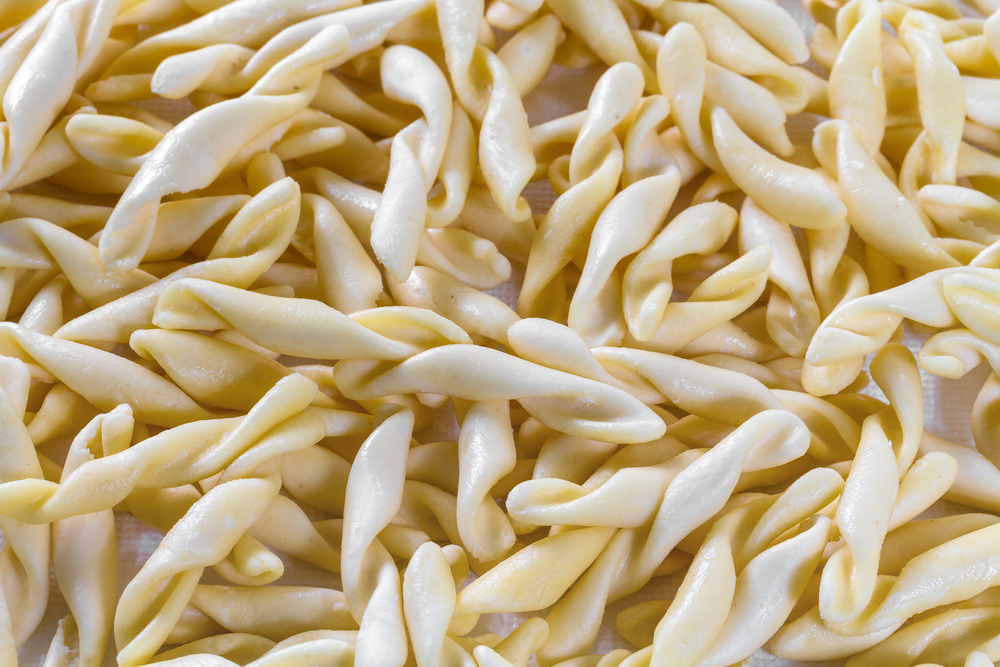 4. Porchetta  (Umbria & Tuscany)
Roasted pork sandwich.  The pig has been slow roasted over a spit with herbs and spices until it is cooked to perfection (it takes a loooong time).  Have some porchetta – it will bring out the carnivore in everyone.
5.  Carciofi alla giudea (Rome)
Rome has an incredible culinary tradition and one aspect of that tradition is Roman Jewish cuisine.   The Jewish Artichoke is pure delight.  A whole artichoke fried in oil and salted.  This is what my brother had at a dinner when he came to visit me and now asks me for every time I go to Rome – alas, if it were only that easy…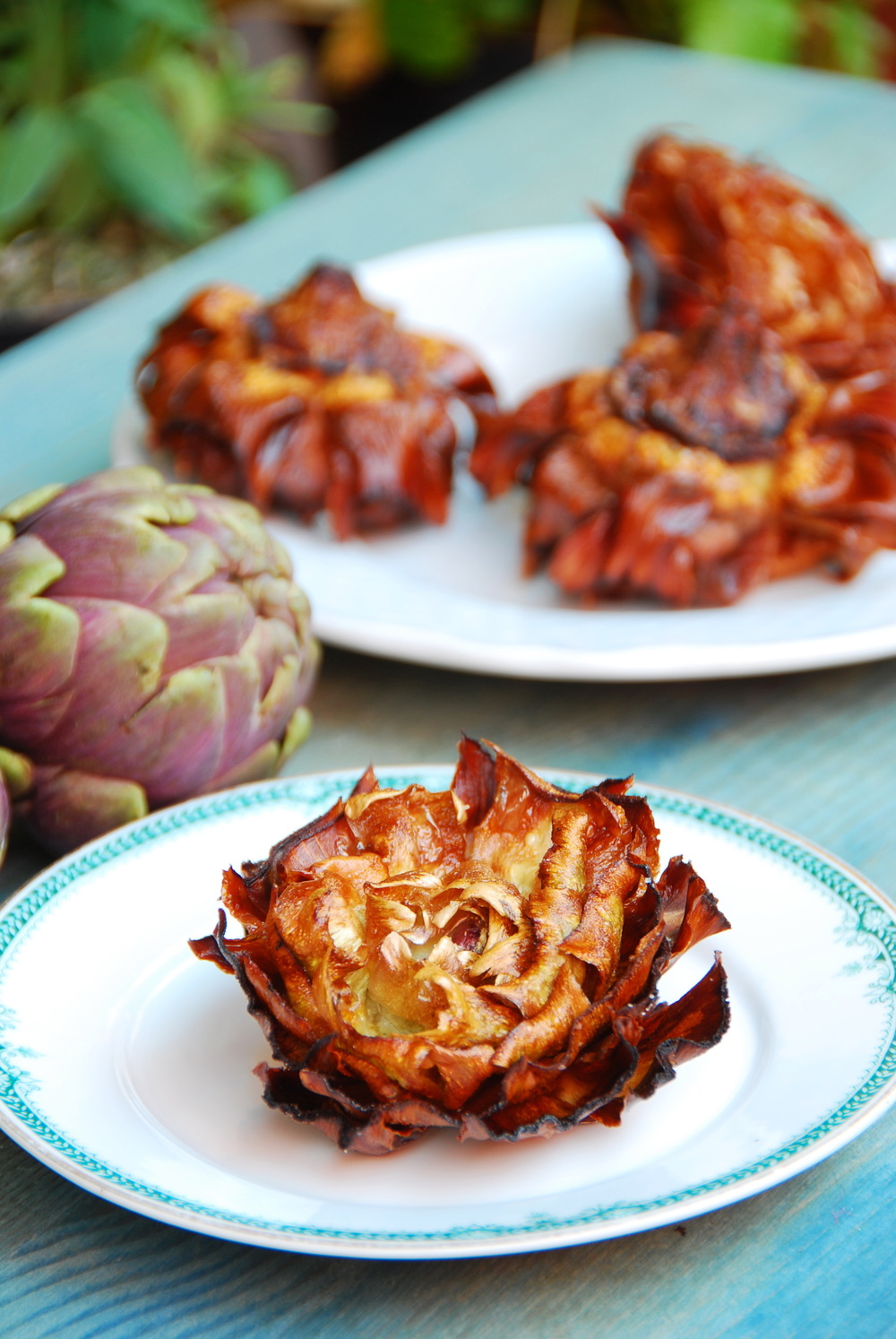 Do you have a favorite dish in Italy?  Tell me all about it in the comments.
Tastefully yours,
Ashley