An unfortunate event has us looking for a new car.   While overall the whole process is ghastly, I must say that the daydreaming part of it and the "what car would YOU like?" can be quite fun.   When that question was posed to me last week, no one was surprised when my first response was "A Fiat 500".  The Cinque Cento is an iconic Italian car.  Yes, it looks like it belongs in a cartoon and yes, my 6-foot tall husband would likely have to fold himself in half to get in but come on…. it's so damn cute!
The new version of the 500 first debuted in Italy in 2007 to celebrate the 50th anniversary of the original.   I pined for it on trips to Italy but they were not for sale in the US so any thought of getting one was truly a pipe dream.  Until 2010 when it was introduced at the North American International Auto Show. My dream might someday become a reality.   Fast forward to 2014 and the new car discussion.  You can imagine my delight when mio marito (my husband – thoughts of a Fiat make me spontaneously speak in Italian) mentioned that there was FIAT at the dealership nearby and suggested that we go for a test drive.  I was like a little kid, trying to contain my excitement lest the salesman thinks I was completely insane.  I mean seriously, who gets this excited over a car that could be lifted and moved by four men?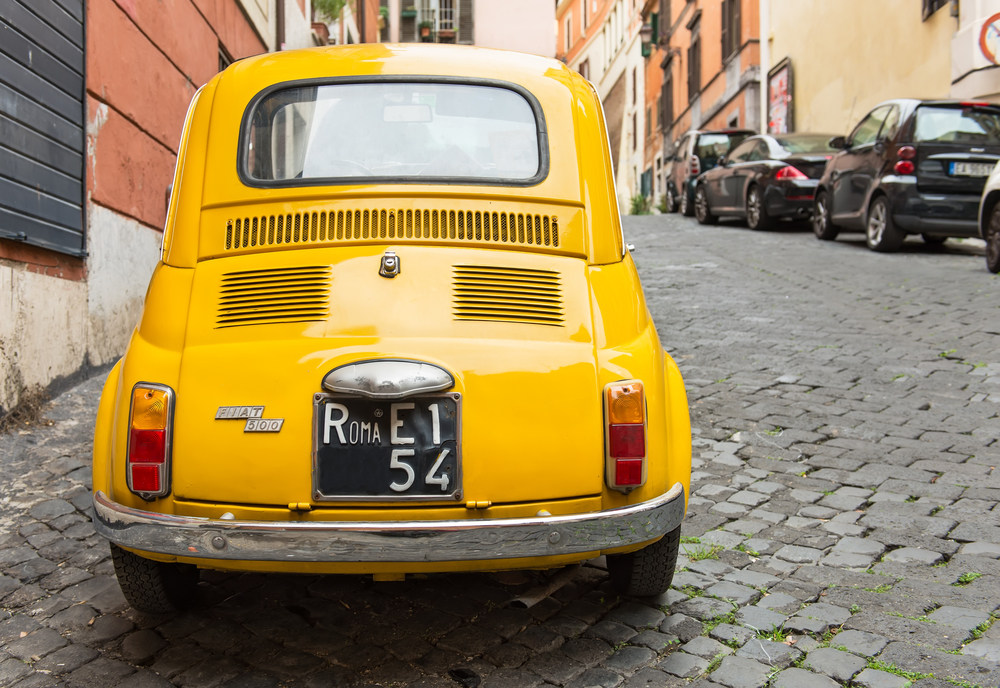 We zipped around the shoreline in the little car, my husband folded into the passenger seat and the salesman stuffed in the back (he said it was roomy – HA!). The car was peppy and fun to drive but as we got closer to the dealership, a sadness overcame me.  I knew this was not the car for us.  Adorable as it was, it was wildly impractical (though economical) for our family of 5. We thanked the salesman and got back into the behemoth of a rental car that we had been given.
So no, we will not be purchasing a FIAT but to overcome my mourning, I have decided that I will rent one for a weekend.  I feel like I will be instantly transported to Italy.  I will wear big sunglasses and a headscarf a la Audrey Hepburn and will head to the shore with the windows down and Pino Daniele blasting on the radio.  I will sip prosecco and eat gelato and will revel in my little dolce vita getaway right here in Connecticut.
If you would like to road trip with me, let me know.  We will start a Fiat 500 rally  – New England won't know what hit it!