There has been a lot of talk in recent years about "Staycations", spending a week exploring your local area rather than venturing out on a long, expensive vacation.  Why not bring the idea of a staycation to an even more manageable level and take a day trip?  You don't need an excuse.  Do like the Italians and choose any given Sunday.  Gather the family and head out for a day together.  Yes, the kids may grumble at the idea of visiting a historic site or a museum but often (at least for our family which includes always hungry teenagers), the promise of a good meal is enough to get them into car.  Often times getting away for a week or long weekend is difficult even if it's in the budget so we try to get out of town occasionally, even if it is just for the day.   NYC, Boston, Providence, Newport are some of our favorites.  We head out with a very loose plan but the main goal is just to enjoy the day.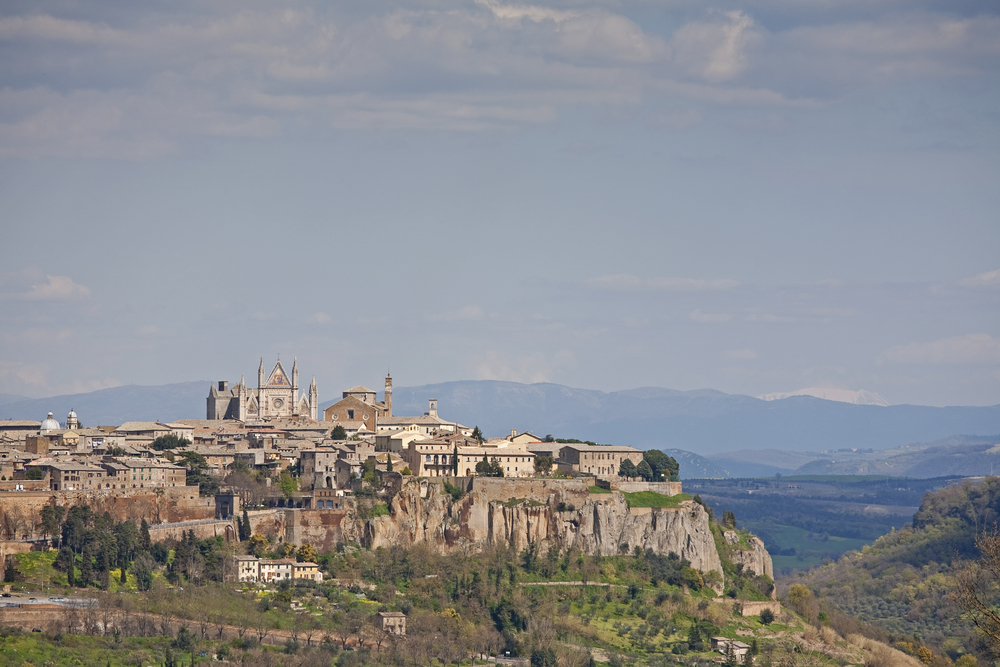 Every Sunday Italians do the same. When the weather is good, Sunday at the beach is a given.  Otherwise a nearby town for lunch and an afternoon passeggiata is usually the norm.  When I lived in Rome, my favorite day tripping spot was the region of Umbria, and more specifically, Orvieto.  In about an hour and less than $40 round trip, you can leave the chaos and bustle of the Eternal City and enjoy a quintessential hilltown that never fails to delight.   What to do when you get there?  Here are my favorites stops.
Church of San Giovenale
On the far side of town, opposite of the cable car stop, is the church of San Giovenale, built in the 11th century. The simplicity and beauty of this church has me returning again and again as does the views of the countryside from the square right beyond it.  A great way to start my day.
Cafe Montanucci
Visiting churches makes me hungry so the next stop is at this charming cafe in the center of town.  It may not be the best or the most elegant, but they make a mean cappuccino, the personnel is kind and I love to sit and enjoy the whimsical wooden sculptures crafted by the local artist Michelangeli.   There is a pastry case that runs the length of cafe but I try to exercise some restraint as I know that lunch will be one for the ages.
Ceramica Bellocci
I don't NEED more Italian pottery but somehow every time I go to Orvieto something seems to call to me.  When I was there with my daughter six years ago we bought mugs with Italian countryside scenes on them. I still think about that trip everytime I drink my morning coffee out of them.  My most memorable purchase however was a large painted planter that I bought years ago at an age when I could not even fathom paying shipping to have it sent home. So I carried that sucker with me – down the hill, on the cable car, on the train back to Rome and finally on the airplane where I had to beg the flight attendants to let me have an extra seat next to me for my new acquisition.  I love that planter.
Dai Fratelli
Because what is a day in Umbria without tasting some cured meats?  This little gourmet shop has the most incredible cheeses, salamis (including the local speciality, wild boar sausage), sauces and other goodies.  A perfect place to pick up provisions for a picnic on the walls of the city. They also vacuum pack everything to take home.  As you head toward the Duomo, look for the wild boar head next to the door.  And yes, I am serious.
The Duomo
I love this church.  It is elegant and awe-inspiring.  I am particularly taken by the Signorelli Chapel which underwent an extensive seven year restoration which was completed about 18 years ago.  The details in the chapel are incredible depicting the Last Judgement.  Signorelli was greatly admired by Michelangelo.  I think that is all the praise one needs.
La Palomba
This might not be the best restaurant in Orvieto, but to me it represents everything that is good about Umbrian cuisine:  a gracious host, excellent house wine and a menu that prominently features truffles.  I eat the same thing every time I come, never daring to try anything else lest I have buyer's remorse and am obligated to eat another meal of the "usual".  Lunch begins with a plate of crostini, some dressed simply with rich green olive oil and others with a truffle paste.  Then comes umbrichelli al tartufo, a homemade pasta simply dressed with olive oil and truffles, further topped with fresh grated truffles which the waitstaff gladly grate with reckless abandon.  Truffles are an acquired taste but if you like them, this dish is seriously the best thing you will ever eat.
If you have ever been to Orvieto, I would love to hear your daytrip tips and secrets.  Leave your recommendation in the comment section!