It is finally feeling like summer here in Connecticut and I must say, I am ready for some beach days and good New England seafood.  Here we pride ourselves on specialties such as lobster rolls, steamers and chowdah.  Delicious.  Italians present seafood in a very different way, nonetheless delicious.  Here are five of the most memorable seafood dishes I have had in Italy.  Maybe it was the company, maybe it was the experience but after all, isn't that what good food is all about?
Frittura di pesce  – I love good clam shack here on the coast as much as anyone but there really is a limit to how often you can eat fried seafood like that.  Heavy and greasy, albeit full of flavor, it is easy to fill a bit roly poly after indulging.  Not so with the Italian version. The batter is as light as air and is cooked in a way that they oil does not get absorbed in the seafood.  It is light sprinkled with salt and a squeeze of lemon.  Absolutely heavenly.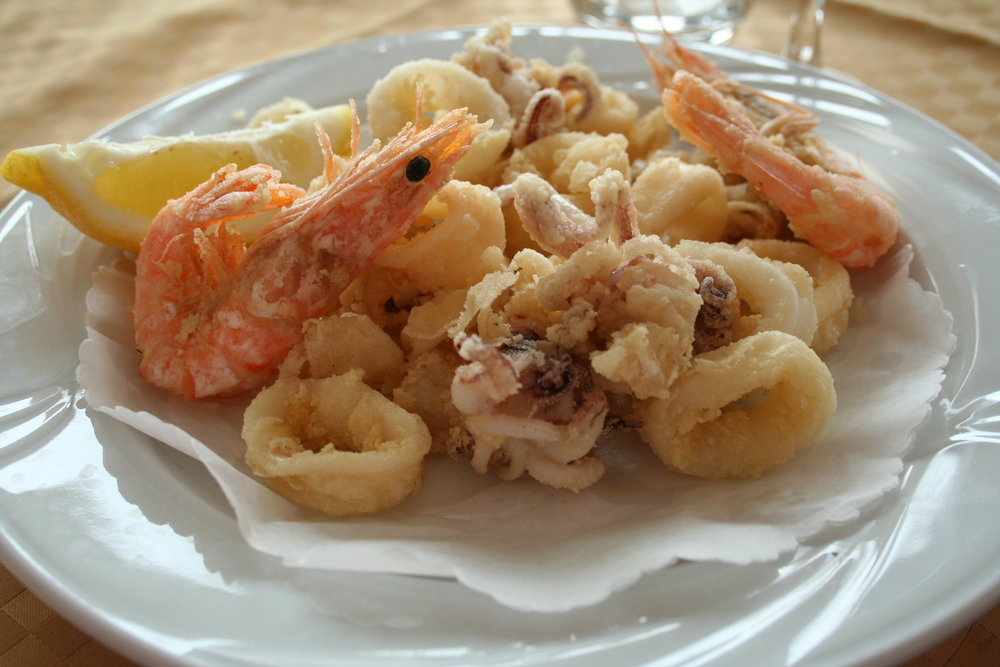 Pizza ai frutti di mare – when I was working in Florence as an English tutor, my friend Shannon and I would meet on Sundays at the Santa Maria Novella train station, look up at the departures board and pick a destination for a day trip.  Often we ended up on the coast somewhere.  We would stroll along the water, window shop and then choose a restaurant that looked inviting.   In Viareggio we discovered seafood pizza.  It basically looked like someone had dredged up the ocean floor and poured it on the pizza.  Mussels and clams still in the shells, whole baby squid.  I know this sounds wildly unappealing to most of you but it was outstanding, so much so that I think we sought out cities on the departure board in which we would likely find the seafood pizza.  Give it a try!
Homemade pasta with shrimp, cherry tomatoes and zucchini – Ristorante San Teodoro was my neighborhood restaurant for a long time.  I love the owners, love the outdoor seating in a quiet corner of Rome and of course, love the food.  As I was writing down this menu item, I could actually taste the pasta.   A light sauce with just a hint of hot pepper flake was perfect with the sweetness of the shrimp and tomatoes.  I could eat that pasta every single day. (I think I did for a while)
Anything at Jeri restaurant in Lerici – I depend heavily on locals when I travel to a place I don't know.  Such was the case when I went to the small town of Lerici on the northwest coast of Italy. It is not far from Cinque Terre and not as well known by tourists therefore affording a wonderful, authentic experience.  I inquired at the local bar for dinner and the barman told me about Jeri, an absolute must for Sunday lunch.   The minute I walked in I knew I was in for a treat.   The restaurant was packed with Italian families – since Sunday lunch is a really big deal, I knew this place must be worthy.  I was escorted to a table and before I could even put my jacket on the chair, a carafe of lightly effervescent white wine appeared before me.  This was followed by a carafe of water but no menu.  The menu never arrived but a series of about a dozen small plates did.  It was amazing, each tasting better than the last.  One single fried shrimp, a spooful of seafood salad, a small square of polenta with baccalà and on and on.  It was one of the most relaxing and enjoyable meals I can ever remember having.
Ricci (Sea Urchins) – when I worked in Sicily, a friend invited me to come along as her guest to dinner with friends.   In Italy, when you are someone's guest, it is customary to follow her lead as far as menu choices.  Not that I had much of a choice. There was great discussion and animation (mostly in Sicilian dialect which may as well be Swedish to me for all I could understand) and large platters were ordered for the table.  We sat right by the water where we could watch the fishermen bringing black spiny creatures up from their boats.  Those creatures were promptly pried open and brought to our table where we talked, laughed and used wonderful Sicilian bread to scoop up the sea urchins.   There was wine, there was flirting, the sea urchins were delicious.  I think…
Do you have a favorite seafood dish from Italy?   I would love to hear about it in the comments below.
Tastefully yours,
Ashley