Visiting another country requires a great deal of planning.  You get the guidebooks, you scour the internet, poll friends who have already been to the destination.  Yelp, Travelocity, TripAdvisor, Facebook and more.  There is a need to make sure you have seen everything that you are "supposed" to see.  You want to go to the hottest restaurants, see that newly opened exhibit, but also find the off the beaten path places that are yet to be discovered.  How do you manage this?  The first thought is to use all of the information at your fingertips on the internet but to be honest, more often than not the process is so overwhelming and many times inaccurate, that you find yourself more confused than when you began.  The remedy?  Hire a guide.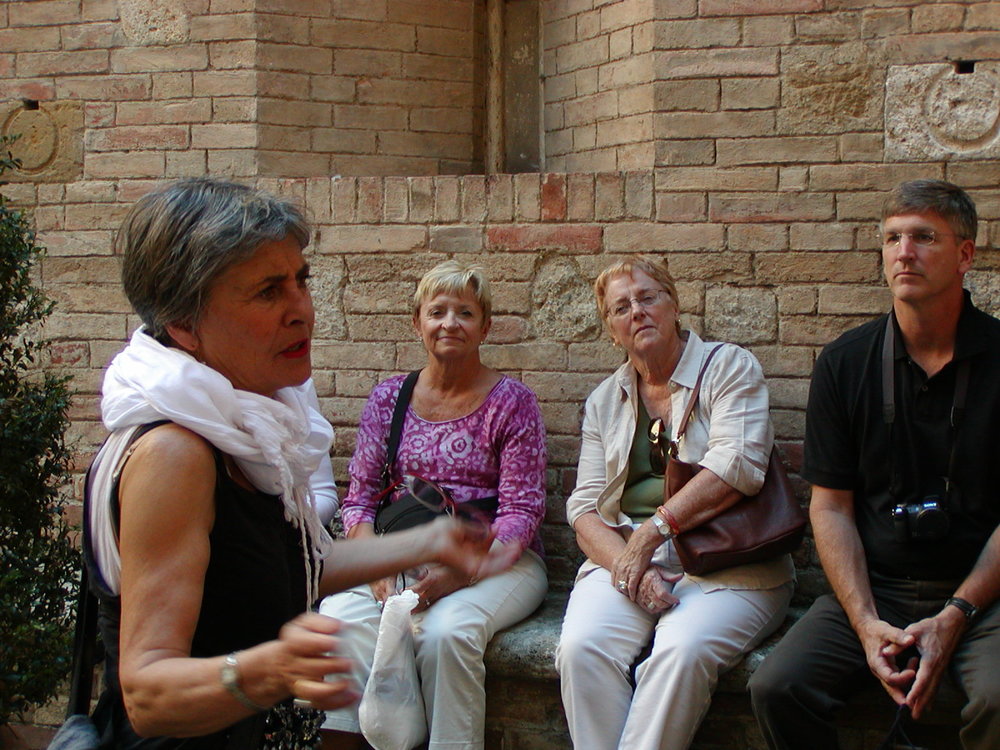 Usually, when I say this, people don't take me seriously.  I don't understand the resistance but some of the arguments are they are expensive (on an already expensive trip), boring and that they herd you around like cattle. So you choose NOT to get a guide and here's what happens.  You get to the city, stand in the middle of a square and look around.  No clue how to actually get to that restaurant you heard about, looking at the buildings and thinking, "yeah, it's pretty but I have no idea about its historical significance". You want to be adventurous but at the same time, have definite concerns about finding your way back to the hotel.  All of these problems and more could be solved by simply hiring a guide. I know, I know.  You want to be independent, want to do it yourself.  Come on people, you sound like a three-year-old trying to tie her shoes.   It's ok.  There will be time for freedom and independence both for that tyrannical tyke and for you. But first, start with a guide.  Here are seven reasons a guide will be the best investment you can make on a trip.
Brain: off.  Being in a foreign country (or even an unfamiliar city in your own country) can be overwhelming.  New experiences, new traffic patterns, new sites, sounds and smells.  It's enough to take all of that in and be able to put one foot in front of the other, let alone make a plan for a day.  With a guide, you don't have to think about what you are going to do.   The itinerary has been carefully designed to highlight the history and culture of the city- all you have to do is follow her lead.
Socialization – no matter how much you like or love your traveling companions, it is nice to interact with other people while traveling.  Whether it's the guide or the other travelers who have joined a small group tour, it's a nice way to have some outside human contact.
Get to know the real country – guides live in the city that you are visiting – they offer insights, share experiences and provide a personal touch to your experience, making it more complete.
More economical than you think.  A private guide is a great option if there are several of you traveling together and you are splitting the cost among the group.  Otherwise, if a private guide is just too much, there are some extremely high quality tour companies like Context Travel and Walks of Italy that offer fantastic small group tours.
Time saver – do you know the shortcut from the Colosseum to the Tiber River?  I didn't think so.  Are you familiar with the Metro System in Paris?  Probably not.  But guess what? Your guide is.
Don't want cookie cutter? A private guide.  Just because you hire a guide doesn't mean you are going to go to all of the overrun touristy spots.  In fact, you are more likely to see things that most people won't if you follow an expert.  They are eager to share the hidden gems of their cities with you.   This is particularly true if you hire a private guide just for you.  Then your guide is basically at your disposal to customize a tour exactly the way you want it. (within reason of course)
Guess who is going to know the best shop, restaurant, bar?
Of course, I am a little partial.  The guides I work with in Italy are some of the greatest people I know:  Rachel and Daniela in Rome, Elizabeth, and Brenda in Florence, Agostino in Campania, Giuliana in Venice – these are people I consider not only colleagues but friends.  I have toured with all of them and I know what value they add to any travel experience.  To go without a guide is to look but not to see.