One of the most frequently asked questions I get is, "when is the best time to go to Italy?".  While the answer I want to give is "RIGHT NOW, LEAVE THIS WEEK, I'LL BOOK IT FOR YOU IMMEDIATELY!!" , the answer I usually give is somewhat vague because really, it does depend. It depends on you, what you do like, don't like, can't stand, can't live without. Here is a month by month reference guide to help you pick the time of year that is right for you.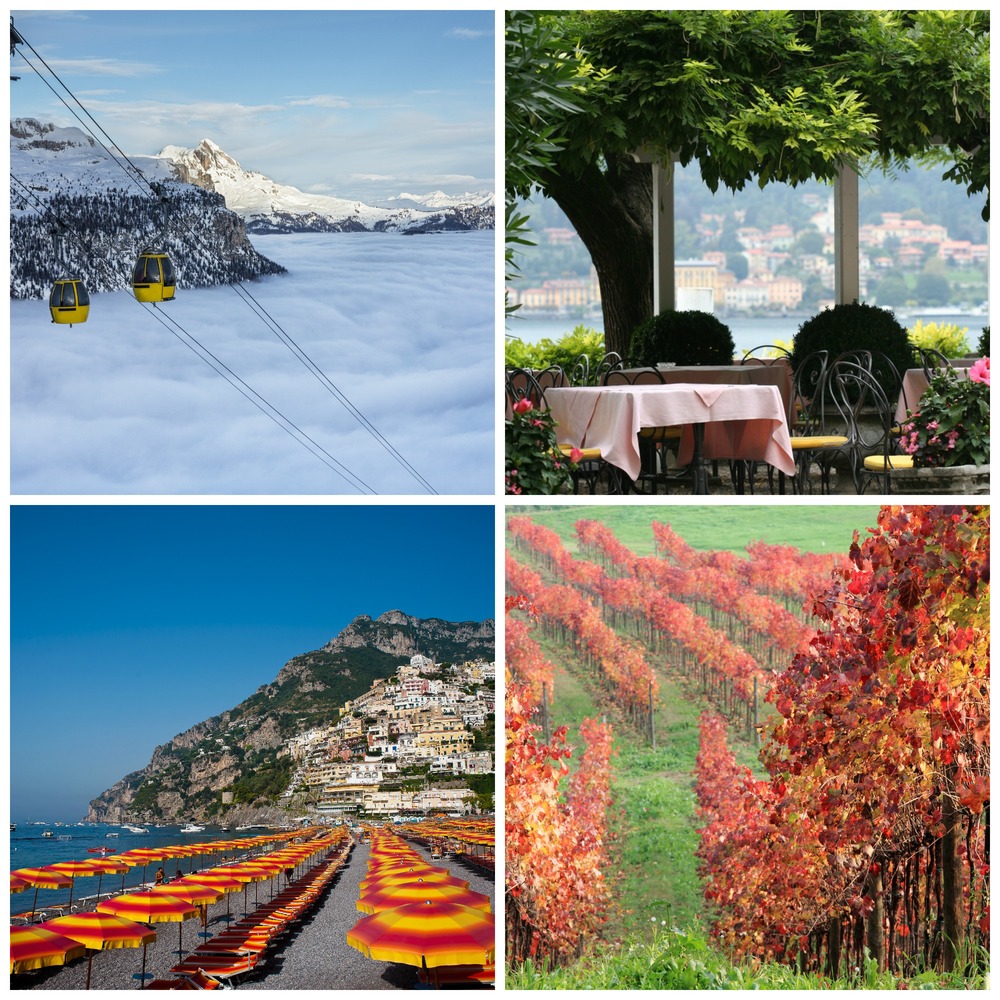 GO IN JANUARY IF…
…You hate crowds
…You don't mind the possibility of bitter cold (those marble buildings are unforgiving)
…You like a good sale – Italian shops have sales twice a year – January and August – even the big fashion houses offer discounted prices (all is relative!) and with the good exchange rate, there may be some bargains to be found.
GO IN FEBRUARY IF…
…people in creepy masks are your thing, February is the month for you.  All kidding aside, Carnevale in Venice is known around the world.  The costumes are elaborate and there are parties, concerts and activities taking place throughout the city. An exciting experience.  Airfare is low but hotel prices and availability will be closer to that of high season.  It's still cold my friends.  It's Italy, not the Caribbean.
GO IN MARCH IF….
…you are looking for smaller crowds and better prices. Weather is iffy but usually good.   Celebrate International Women's Day with mimosa flowers and chocolate –  what better reason?
GO IN APRIL IF…
…you love a procession.  Easter celebrations in Italy are legendary. Even if you are not particularly religious
GO IN MAY IF…
…you must have warm weather and don't mind that more tourists are arriving.
GO IN JUNE IF…
…you think backpacks are a perfect accessory and hoards of students carrying a semesters worth of worldly possessions are of no bother to you.  The following places will be particularly overrun with these creatures:  Cinque Terre, Amalfi Coast, Rome, Florence and Venice
GO IN JULY IF…
…you like hot sweaty crowds.  If you don't but are obligated to travel in July, make the most of the evenings when things quiet down a bit and get up early to beat the heat and the crowds. Don't go anywhere without a reservation.
GO IN AUGUST IF…
…you like Italy but not the Italians.  This fabulous country knows how to live and most Italians take at least two weeks off in August which means if your are in Rome, Florence or Venice you will find many good restaurants closed and you will be surrounded by hundreds of tourists al wondering why no one speaks Italian.
GO IN SEPTEMBER IF…
…you like wine and random festivals dedicated to pasta, cheese, mushrooms, polenta.   This is harvest and sagra season.  A fun time.  Still crowded and pretty warm but great!
GO IN OCTOBER IF…
…you are looking for authenticity.  October, particularly the last half of the month, is heaven in Italy.  Crowds have dispersed, weather is cooler – you can even wear that fabulous leather jacket you bought in the evening,  the olive harvest begins and everything just feels quieter, calmer and more real. This is my choice.
GO IN NOVEMBER IF…
…you are not the Wicked Witch of the West. Better chance of rain so if there is any risk of melting, avoid November.  However, for us more resilient types there are good airfares, hotel rates come down and the cities are actual say relatively quiet.  Don't plan on swimming anywhere unless there has been a really hot Indian summer,  hotel pools will be closed as of November 1 at the latest.
GO IN DECEMBER IF…
…you love traditions.  Though it has become a bit more commercial of late maintains beautiful holiday traditions including living nativities, Christmas markets and exquisite decorations.
Of course there are many other factors to consider but this is always a good start. If you are thinking of a trip to Italy in the near future, look this over, set up a time to talk with me and we will find the best time for you to travel and create an itinerary customized just for you.   I look forward to hearing from you.
What time of year is your favorite in Italy?  Let me know in the comments below.