As much as I sometimes hate to admit it, I am a true romantic at heart. As cliché as it may sound, I love stories holiday engagements: rings tied to Christmas trees, in a glass of New Year's champagne, presented on a romantic sleigh ride (virtually impossible in New England this year as we have had very little snow). There is something about this festive time of year that becomes downright magical with an engagement.  Then just like that the season comes to a close and January sets in. Boring, boring January. But not for you, newly-engaged brides-to-be. You have a wedding to plan. A fabulous, elegant affair. And then…. A honeymoon. Honestly, (with all apologies to my parents who threw us an unforgettable bash), the honeymoon is the best part.  What could be better than a week or two with the man of your dreams after a year or so of exhausting planning, to do lists, guest lists, seating charts, registries, parties (no complaints there) and sleepless nights.  As fabulous and exciting as your wedding day may be, you will be so ready for a blissful romantic holiday with your new spouse.  Unfortunately, often times the honeymoon gets placed on the back burner or even worse, left to your fiancé to make the arrangements.  So unless your dream honeymoon involves a golf course, a NASCAR track or a one week stay at your future in-laws house, you might want to get involved and start dropping some hints.   As you might imagine, I am pretty partial to Italy as the most romantic place in the world for a honeymoon and I am not alone.  Italy has topped Bride Magazine's list of top honeymoon destinations for two years running.   Here is my list of the most perfect honeymoon places in Italy.
Venice
I always hesitate to put this on the list because it seems so predictable, but there is a reason that it makes every single list.   No cars, 409 bridges, tiny alleyways for walking hand in hand.  Great restaurants, a tradition of late afternoon snacks and cocktails, four piece orchestras at the cafes in Saint Mark's Square where patrons don't hesitate to jump up and dance in the middle of the piazza. That my friends, is true romance.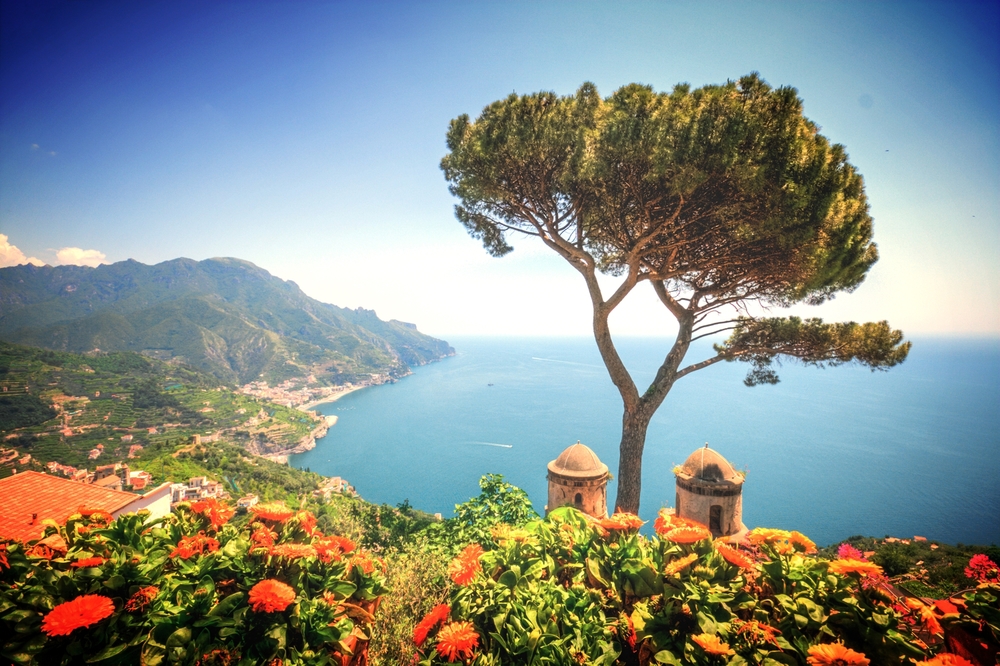 Ravello
The Amalfi Coast is spectacular but if you want a true romantic getaway, perch yourself high above the sea in the town of Ravello.  From here you can access the Amalfi Coast (with a rental car if you are brave or with a car and driver) but then return to the relative peace and quiet of this oft overlooked village. I would splurge and stay at the Hotel Caruso which has an infinity pool overlooking the coast. With my new husband next to me and a glass of prosecco in my hand, I would be hard pressed to leave poolside.
Sardinia
This wild island off the west coast of Italy is not very well known by Americans but in my opinion, it is the perfect place to go if you are looking for a beach vacation in Italy.  Unlike most of the beaches in Italy which are rocky, the Sardinian beaches are made of soft white sand.  For luxury and pampering, head to the Costa Smeralda (Emerald Coast) which is the playground for the European rich and famous.
Rome
I know, it's a big bustling city that is overrun with tourists, cars and smog.  But step two streets off the main thoroughfares of the Eternal City and you are transported to a medieval town full of character and life.  I love the small neighborhoods of Rome – Testaccio, Trastevere, Campo Marzio, the Aventine,.  The beauty of Rome is you can combine a little of everything – history, art, great food and wine and la dolce di fare niente (the beauty of doing nothing) – it is a philosophy that is embraced in Rome.  And remember:  Roma spelled backwards is Amor.
Chianti
If you are looking for an idyllic country escape, Chianti is the place for you.  Enjoy one of the magnificent villas –turned-hotel (Villa Bordoni is one of my absolute favorites)  and just unwind – exactly what you need after a busy wedding season.  Breakfast in many of these boutique hotels is not even served until 9am.  You are here to relax.  A day of winetasting, a cooking class and maybe a day trip to Siena or Monteriggioni.  Or maybe not. That is the beauty of it. While it is often overlooked, I believe that your honeymoon should be as special as the wedding you planned. If you are looking to Italy for your honeymoon, I would love to talk to you.  Let me plan the trip of a lifetime for you. You take care of the love. We will do the rest.