I can imagine myself staying here  – looking to Todi in the distance, a glass of wine in hand, sitting on the patio enjoying the company of friends and family who are gathered around me.  We have spent the morning in Orvieto, admiring the cathedral and the views of the Umbrian countryside, shopping for ceramics and lunching on truffle pasta and wild boar stew at my favorite restaurant.  We stopped at the market on the way home and are taking in the sunset before we make dinner.  There are vineyards and olive trees all around us but that is the extent of the "neighbors".  This is paradise.
There are some places that are so special you never want to leave.  Places where you feel a sense of warmth and comfort the minute you step into the place.  I have found a few of these gems in my travels in Italy.  It's difficult to put my finger on what sets them apart.  Italy doesn't lack for beautiful places,  but sometimes it's more than that. There is something intangible, imperceptible, but it envelops you immediately, puts you at ease.  Sometimes, it's a five-star luxury hotel – the attention and luxury make you feel
coccollato
– an Italian word meaning comforted or pampered. That's an obvious one. But sometimes there is something so special about a place that it doesn't take a spa or a Michelin starred restaurant. Sometimes it is just perfect. Just because. I think Segreta is one of these places and clearly, Eileen Hollend and her family have put their hearts into creating this atmosphere.
I "met" Eileen through the crazy world of social media. She saw a post of mine on Instagram about Cape Cod and she made a comment as she had spent many a summer on the same bay as a child.  I then became enamored with her Instagram feed because it included so many of the things I adore: Umbria, wine, olive oil, good food, and big furry Italian Sheepdogs. I visited Eileen last November – a quiet season between grape harvest and olive harvest (this is how the calendar is indicated in agrarian Umbria).   But quiet season or not, La Segreta exudes an aura of peace that sets the tone for a unique experience. 
The property is made up of two buildings: one has the kitchen and living area along with a master bedroom and a den which can also be a bedroom.  The second building has an elegantly rustic entrance hall and three bedrooms with ensuite bathrooms.  It is a perfect place for a group of friends or a family to stay and immerse themselves in the magic that is Umbria, the Green Heart of Italy.  Eileen rents the property for week-long stays (or multiple weeks if you can't bear to leave). She has found the perfect balance between making sure her guests feel cared for and giving them the privacy to fully immerse themselves in this little corner of paradise.  She will tell you her favorite places (like the gas station up the road that makes a killer cappuccino) and she will also give you tips on what to do and where to go in Umbria.
You will not ever want to leave La Segreta. Except you have to because there is the magnificent region of Umbria to explore and a lifetime is not enough, let alone a single week.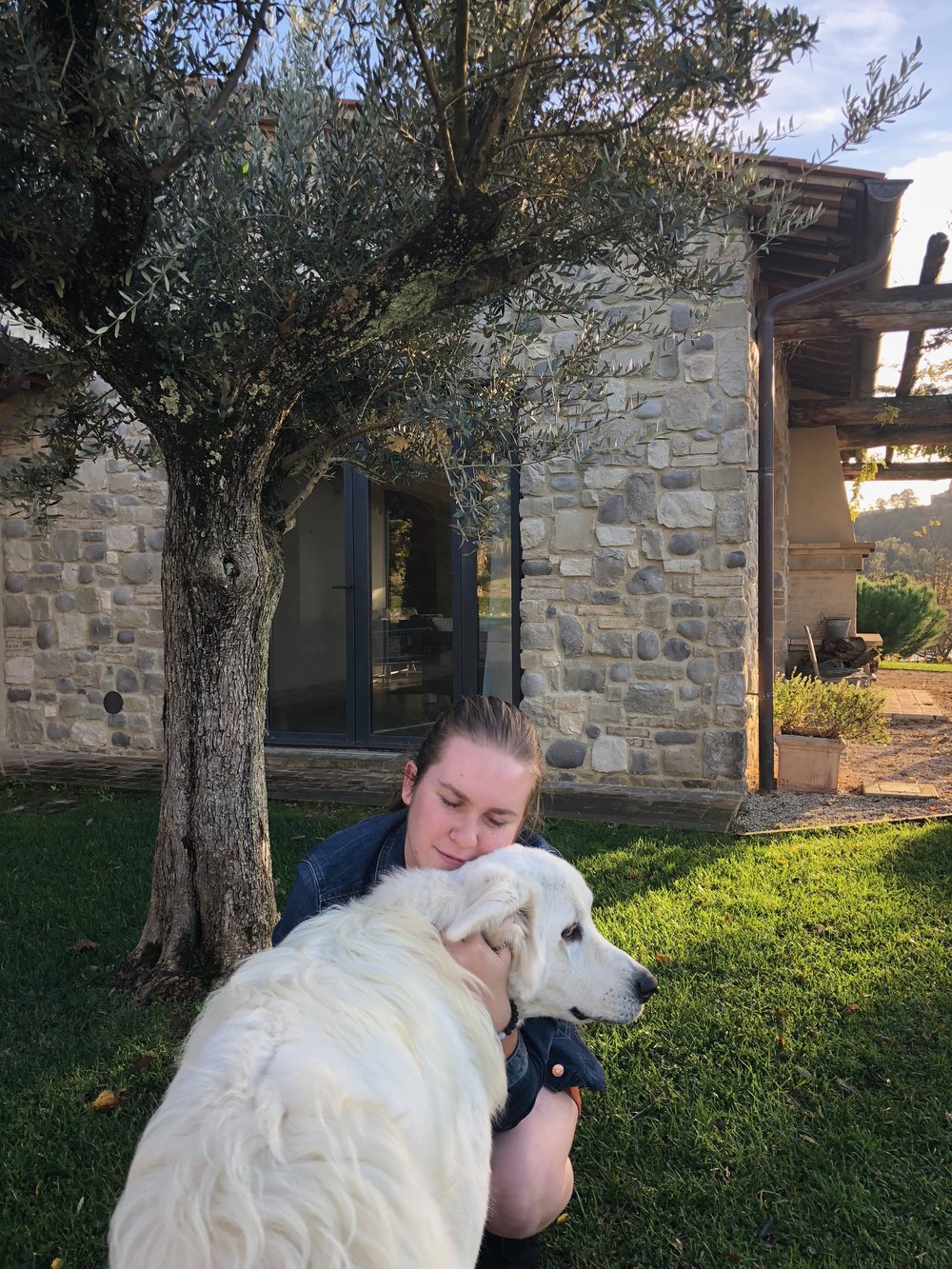 This is not for the traveler who is looking for everything at your fingertips, tourism at breakneck speed kind of vacation.  It is absolutely off the beaten path and a slower pace in a region that is replete with small sleepy hill towns and stunning landscapes.   But if you are looking for a completely fabulous and unique experience, a stay at La Segreta should definitely be on your list. I know it's on mine.