A few weeks ago I made a trip home to upstate NY.  Any excuse to get there for me is a good one but this time I was particularly intrigued. A dear friend had told me about a place that she insisted I must try. Dancing Ewe Farm had been on my radar for a couple of years but the timing just never seemed to work out.  I was delighted when we were able to make a reservation for a fall weekend and looked forward to this event, even though I didn't what to expect.
Farm to table is all the rage these days and as such, some places are more successful at offering a quality experience than others.  I have to say, The Dancing Ewe Farm exceeded my expectations. We headed north from Saratoga on a chilly Saturday afternoon. The drive was beautiful – no surprise as we were heading into the Adirondack state park.
There is nothing more welcoming than the warm glow coming from a barn at sunset.   Firepits crackled in front of the building as we all stood in awe of the sunset and the bucolic beauty of the setting.  We wandered into the back of the barn where we were welcomed with a glass of rosè and squares of focaccia  – nothing heavy – just something to whet our appetites for the meal that was to come.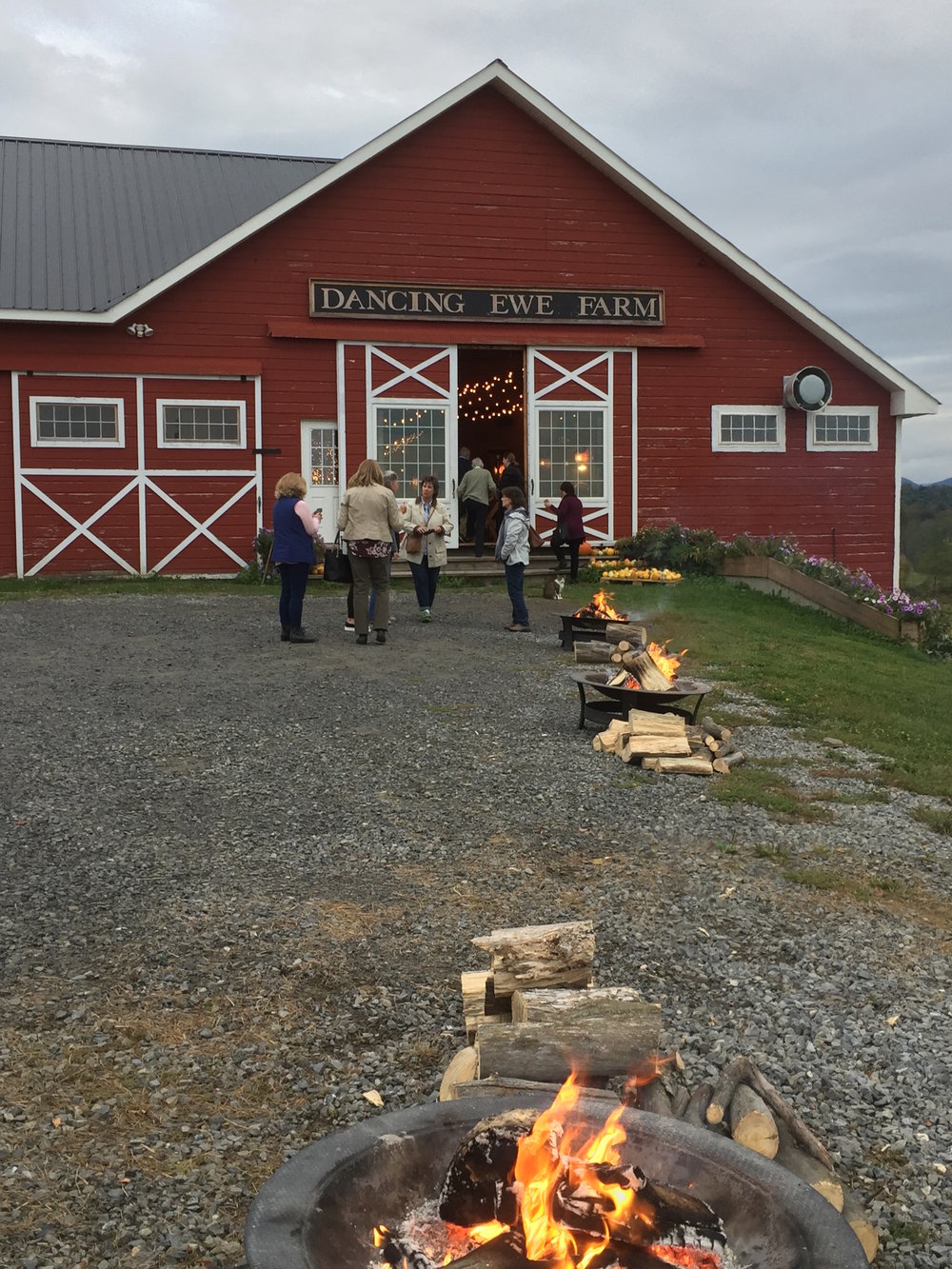 There is an order and process to the dinners on the farm – it may seem structured but it keeps everything running smoothly and without a sense of frantic chaos that can often happen when an event is not well organized.  Rosè in hand we went to choose our wine with Luisa, the Italian half of the dynamic duo that owns the farm.  All the wines that the farm offers are carefully selected by Luisa herself.  She is well versed in each bottle.  There are several excellent bottles that are included in the price of your dinner (1/2 bottle per person) and there is also the option to choose from an impressive collection of wine upgrades.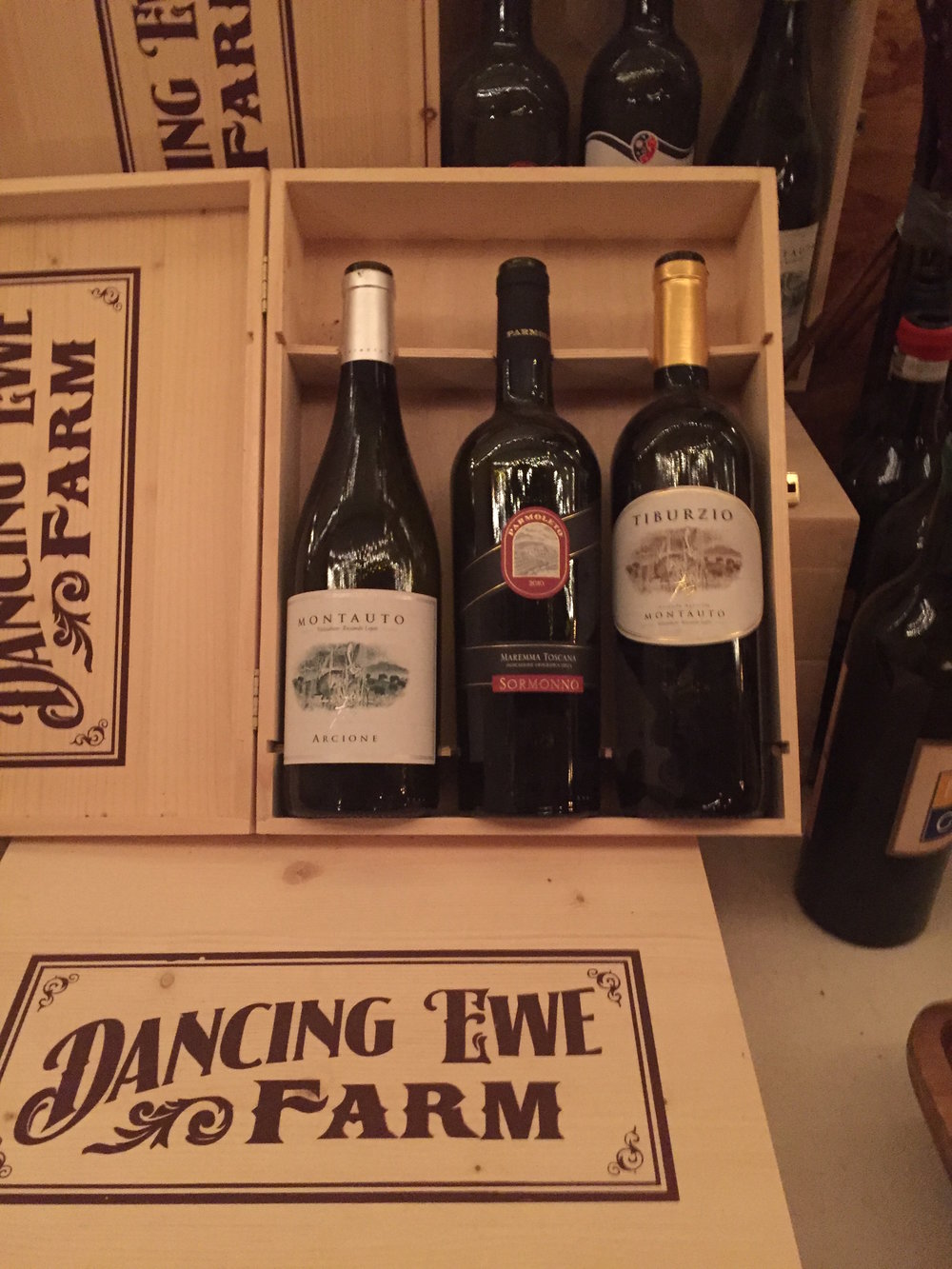 As we waited for the check-in process to be completed we wandered around the barn, looking at the gorgeous products for sale – honey, olive oil, hot pepper spread, and the most gorgeous (and delicious) bread I have seen in a long time.  I noticed that there were many paper bags at the table – many had already scooped up a loaf of bread to take home. I thought to myself that it was very gauche to sit through dinner with a large loaf of bread in a bag next to you.  I came to regret that judgment as these people obviously knew something I didn't  – there was not a spare loaf to be found once dinner ended. I was left with the memory of my delicious crostini from dinner.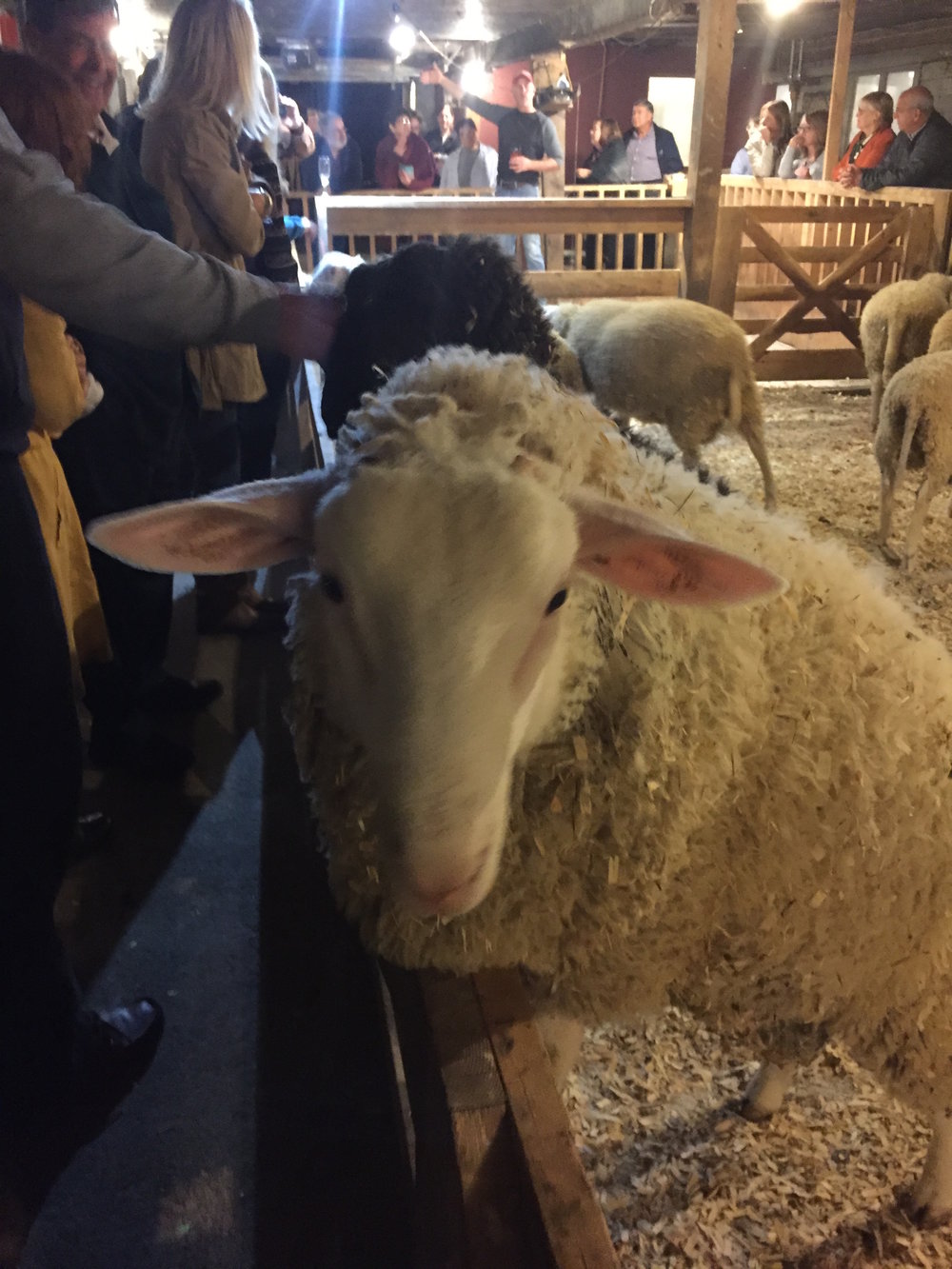 A tour of the farm and an explanation of the cheesemaking process preceded dinner.  We listened to Jody, Luisa's husband, speak passionately about the project that is Dancing Ewe Farm.  Hard work, dedication and a belief in quality products was the takeaway.  It is clear that Jody is truly committed to the farm and its success.
We returned to the barn for dinner and were seated at a magnificent table that spanned the length of the building.   And we feasted all'italiana.  The antipasto was a work of art, showcasing small tastes of the various products made at the farm – a variety of cheeses, that sacred bread (I'm seriously still dreaming of it), various salami, balsamic marinated cippolini onions and more.  The pace was slow, nothing was rushed. There was time to get to know your dinner companions and enjoy the wine.  The second course featured a fall staple – pumpkin.  Ravioli stuffed with pumpkin and ricotta in a butter sage sauce. It was true comfort food on a chilly September evening.  There was more but I leave that to you to discover when you make a trip to
Dancing Ewe
in Granville, NY.   Felt transported to Italy, if only for an evening.  And that is never a bad thing.