I am an explorer. And some times exploration can be dangerous. And scary.  Ok fine, my explorations are not quite as dangerous as those of Christopher Columbus or Lewis and Clark.  Mine is the sort of danger that comes from zipping around hairpin turns in a Fiat and trying to stay on the road as you are blown away by the breathtaking landscapes that inexplicably include lush vineyards, tiny villages and soaring snow-capped mountains all in one panoramic image.  This was the recurring theme of my latest adventure as I made my way through unchartered (by me anyway) territory in the region of Piedmont.  My ultimate destination was a new hotel called Réva that had just opened in fall 2016. After navigating several dozen hairpin turns and resisting the urge to stop at the numerous winery along the way, I found my destination which was unassuming at the approach.  I followed the steep driveway down into the vineyard and came to a small complex of buildings – simple but charming, nestled in the middle of rows and rows of gorgeous vines.  There is a sense of what I can only call freshness and optimism at this boutique hotel, probably thanks to the fact that the property is run by a small group of energetic young people.  From the chef to the winemaker to the smiling faces at the front desk, the staff exudes warm hospitality and although I believe this word is vastly overused, they are in fact passionate about Reva, its wines, its cuisine, its hospitality and they are clearly committed to making a stay in this food and wine-centric region truly unforgettable.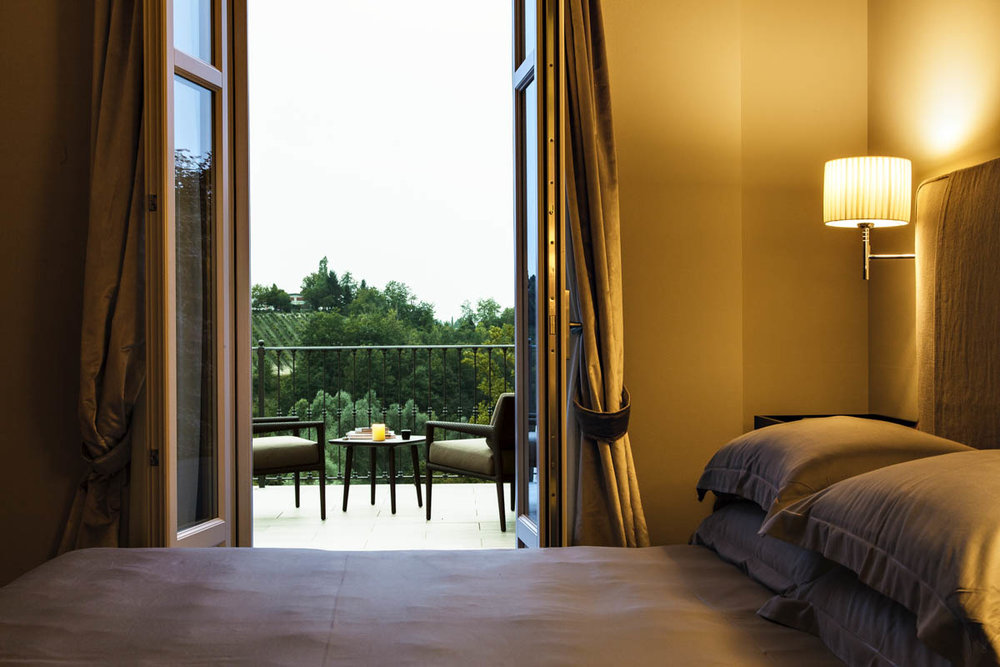 The rooms are modern but warm at the same time, all decorated in soft earth tones of grey and beige.  My room looked out over the vineyards.  Some have a terrace but if not, there is a large terrace with seating for all guests to enjoy.  After I checked in I joined Francesca who gave me a short tour of the cellar and an explanation of the philosophy of the winemaker Gianluca.   This was followed up with a tasting in their tasting room.  It was an ideal introduction to the region.   After a trying day of driving and wine tasting, I was ready for the spa.   Though small, the spa at Reva, like all other aspects of the hotel, is well thought out,  providing the optimal environment for relaxation.  I did not have time for any services on this trip but I did enjoy the steam room, sauna, hot tub, and aromatherapy showers.   A perfect complement to a day of touring in Piedmont.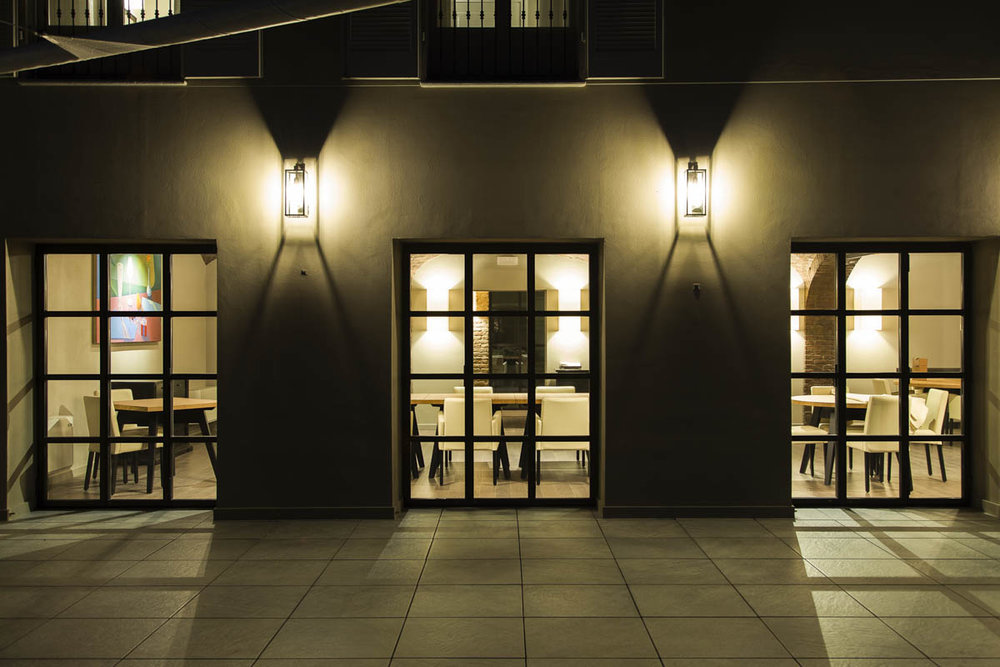 I thought my day could not get any better….and then I dined at the restaurant, FRE.   In the expert hands of chef Paolo and his delightful staff, you can not help but feel pampered and indulged.   The restaurant prides itself in km zero ingredients – hyper-local and seasonal – so there is no way to know what will be on the menu.  Local farmers and producers dictate what the ingredients will be and Chef Paolo works his magic.  I don't think anything they serve could possibly disappoint.  From the homemade focaccia to the palate cleansing carrot sorbet, every detail was exquisite and delicious without seeming pretentious or stuffy.  This is real food, coupled with an exceptional wine list.   My only regret was that I only ate dinner there once.
What impressed me most about this wonderful property was the care and attention to detail.  The staff remembered my name throughout my stay.  I dined alone in the restaurant and I noticed that my table was turned to face out to the whole restaurant so as not to feel isolated.  Little touches like this are not expected but are certainly appreciated.  One of the most touching moments I had was on my final morning at Réva.  The hotel had been full over the weekend but somehow on Monday, I found myself as the only guest.   I arrived at the restaurant for breakfast expecting the usual gorgeous buffet.  Instead, there was a table for one, overlooking the vineyard.  Next to it was a table that was filled with all of the delicious treats from the buffet but on a smaller scale.  One tart.  A small plate of meats and cheeses, rather than a whole platter. Three boiled eggs.  Two muffins.  Granted, it was still enough for a small family but it was just for me.  Massimo, the wonderful waiter who was taking care of me that morning welcomed me with the warmth I had come to expect at Réva.  Then he said,  "I think that being alone in a hotel is like a dream and I wanted you to have a very special breakfast.  Please enjoy".  That is true hospitality and it makes me want to return to Réva again and again and again. Many thanks to Alessandro at Jo-In Tours for the introduction to this fantastic hotel.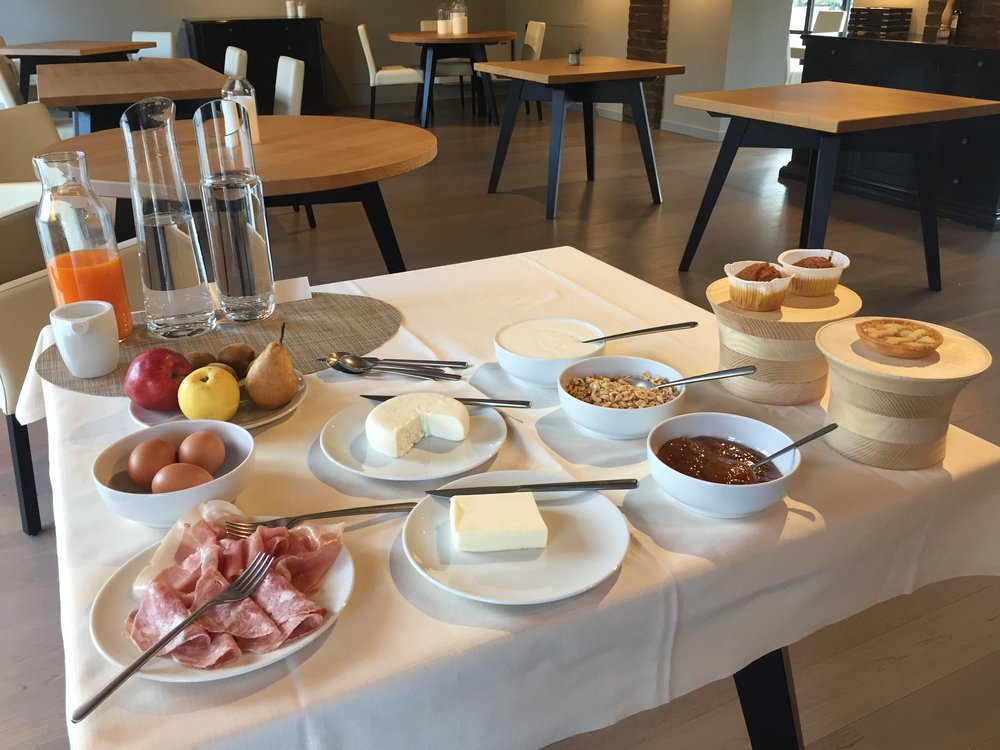 Mine all mine!  LOL!