On Wednesday, I spent a wonderful day in New York City. I love walking the streets. I rarely take the subway, regardless of my destination. I just love people watching, window shopping and enjoying the vibe of the city.  Then there are the requisite stops – Illy Cafe on Park Avenue, Eataly (duh) and this time, Amedei, a Tuscan chocolatier who just recently opened one of only two boutiques outside of Italy in New York.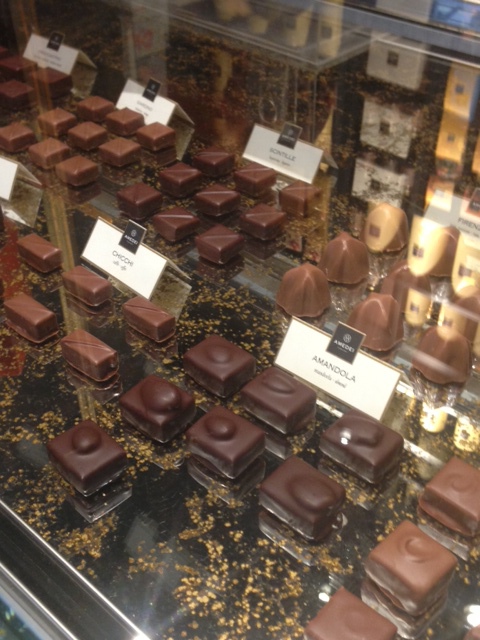 I was expecting a large, stylish boutique but instead was met with a tiny postage stamp size shop which was all the space needed for an elegant display of chocolate.   I was greeted by a lovely young woman who offered me a sample of their signature hot chocolate.  She first asked me if I had a nut allergy as the chocolate recipe included hazelnuts.  It was thick and chocolatey without tasting too sweet and reminded me of the hot chocolate I had at Rivoire in Florence.  When I told the woman this she said yes but it is not as thick.  She told me that they have had to thin it out as there were comments that the original recipe was too difficult to drink on the go.  In fact, Italian hot chocolate is usually so thick that you can almost stand a spoon up in it.  Regardless of the thickness, the gorgeous concoction was enough to warm me up on a chilly, rainy day.
I then turned my attention to the focus of my trip – artisanal chocolates, both pralines, and bars.  The genius behind the brand is Cecilia Tessieri, the first female master chocolatier in the world.  She works tirelessly at her craft, sourcing the finest cacao beans in the world.  Her efforts certainly pay off, as the chocolate has none of the bitterness of many dark chocolates.  What you taste is the beautiful, rich chocolate flavor that pairs perfectly with red wine, cheese or fruit.
The centerpiece of the Amedei collection is the Cru bars – single-origin beans from around the world. The Madagascar version was the 2013 winner of the prestigious Chocolate Academy of London's Golden Bean award.  In addition to the bars of chocolate, Amedei offers pralines (filled chocolates – the arancia is divine), baking drops, drinking chocolate to make at home, and, right now, chocolate eggs for Easter.  
If you are in New York, I encourage you to stop at the shop near Union Square but be warned. Once you have tried Amedei chocolate, no other chocolate will compare. Can't get to New York but need to get your hands on some of Cecilia's creations?  I have three chocolate gifts to give away.   Be one of the first three readers to share today's Facebook post about this blog and one of the gifts will be on its way to you!
Tastefully yours, Ashley