Some nights after the kids go to bed (which is way too late these days – I long for the toddler years when 7:30 was the norm…) I slip into my pjs, climb into bed with a glass of wine and snuggle…. with a stack of cooking magazines.  Yes, I am a cooking magazine junkie and  I have a whole process to consuming them.  I first flip through and mark off recipes I want to try by folding the corners of the pages down.  Then I proceed not to try said recipes.  The magazines are tucked away for weeks, months even years until I get the urge to browse again.  Last night I came across these gems – all Italy related of course with one even dating back to 2003.  It was the Rome Collector's Edition of Gourmet  – what's a girl to do?? I had to save it.  It has survived several kitchen purges and it always makes it to my "save" pile.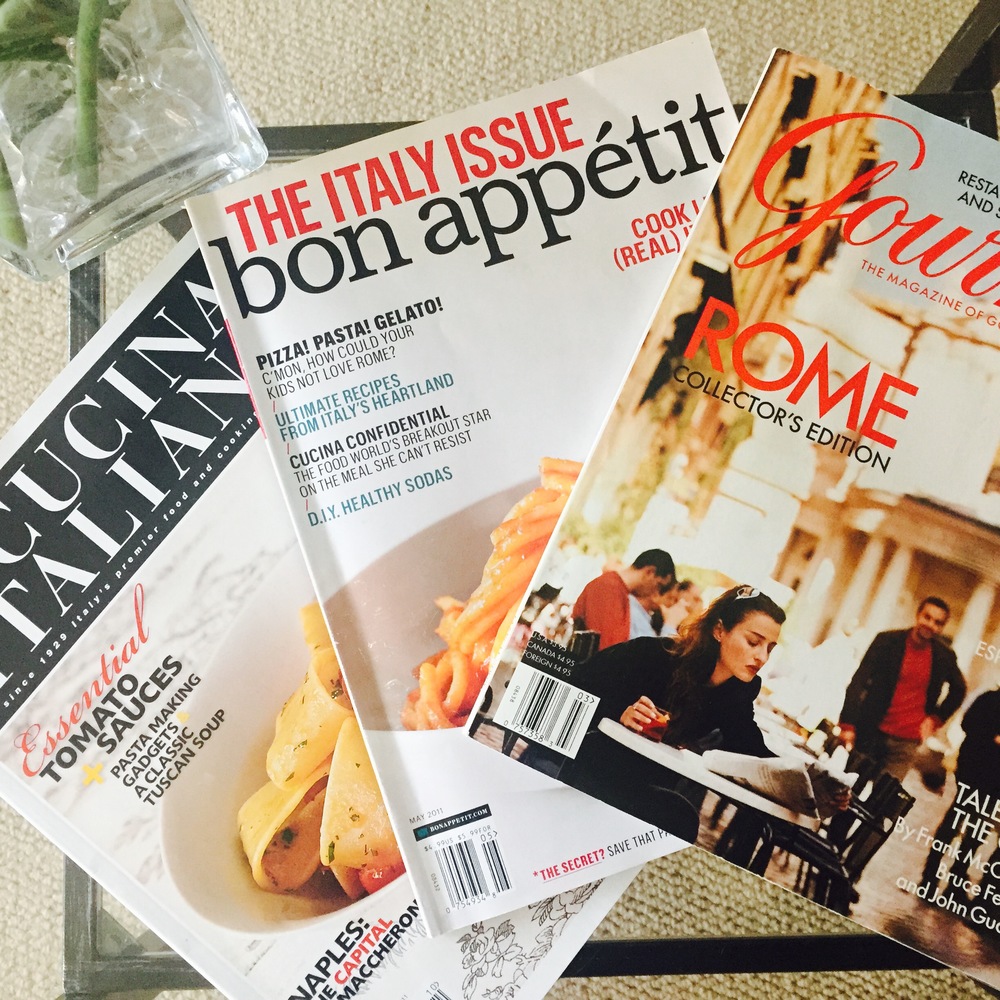 These periodicals are like old friends to me.  It's a trip down memory lane.  There is the off chance that I have tried a recipe andI am always tickled to come across it and am often inspired to make it again.  This weekend, I will be doing just that –  Roman Style Pizza with Roasted Cherry Tomatoes is on the menu on Sunday when it is just me and the little Buddha home for dinner.  This is a great recipe from Bon Appetit's May 2011 edition.  They did a feature on Rome for kids – pizza, pasta & gelato – what's not to like??  In the same article, they also answered the age-old question:  What is the difference between ice cream and gelato.  Here is the official answer:
1.     Gelato is richer because less air is churned into it which makes for a denser product
2.     Served at a warmer temperature than ice cream, gelato melts immediately upon tasting, giving instant flavor.
3.     Although there's no hard-and-fast rule, on average gelato has about half the butterfat content of ice cream.
And yes, the ice cream maker is coming out of the pantry this weekend – we will attempt stracciatella (chocolate chip) gelato and see what happens.
There are dozens of Italy-centric articles in these magazines: how to make the perfect pasta, the food of Emilia Romagna, stove top espresso made with a Moka (I have two and always yearn to add to my collection).  But my favorite article is "That's Amore: 30 Reasons We Love Italy".  I could multiply this by 10 or even 100 but the list is a good start.  Here are some of my favorite reasons:
You're treated like an extended part of the family in almost any trattoria
Going inside is not a prerequisite for seeing amazing works of art
House wine. It's the only white or red they serve (in a juice glass, no less). And it's perfect.
You can count the number of ingredients in a restaurant dish on one hand
As soon as you hear the angry-bee sound of a Vespa, you know you could be only one place on earth.
I went to sleep inspired and had visions of biscotti dancing in my head (trying a new biscotti recipe this weekend as well – pistachio & dried cherry). Do you love cooking magazines as much as I do?  What is your favorite?   Leave a note in the comments below.
And here is the recipe for the Roman Pizza, in case you want to try making it this weekend.
Have a great weekend!
Tastefully yours,
Ashley