At Christmastime there is nothing more important than family.  It's the case in Italy and here in the States.  While for most that means shopping for a the perfect sweater or the latest gadget, for me making something special in the kitchen  is my way of spreading the love.  The better part of December is spent in an apron at my island as I try to make everyone's favorites: pickled eggs for Doug (we actually have a dedicated container because the kids think they would contaminate everything), meringues for my youngest, pepperoni bread for my neighbor and breakfast casserole for Christmas morning (I think there would be a mutiny if I showed up without it).
But there is one very special guy who's only true Christmas must have is peppermint stick ice cream.  And not just peppermint stick ice cream, but peppermint stick ice cream from Stewart's.  Anyone who lives or has lived in upstate NY knows what Stewart's is because you can't swing a dead cat without hitting one.  Up in the foothills of the Adirondacks, they are as ubiquitous as Starbucks.  For those of you unfamiliar with the Stewart's tradition, it's a convenient store, sometimes with a gas station, but not always.  They aren't particularly fancy but they have all your convenient store fare plus ice cream.  Good ice cream.  My dear old dad Jerry loves their ice cream and from the first arrival of this seasonal favorite he trots down to one of the three stores within a 3 mile radius of our house for half gallon after half gallon.  He never seems to tire of it and it is always a dessert option at our Christmas dinner.
This year I am going to "Italian it up" in a French way, with some help from my New England grandmother.  I was inspired last week when I met with Laney Sachs of Ortensia Blu for a brainstorming session.  She suggested a French bakery in Fairfield called Isabelle et Vincent. This gorgeous place is a must stop for anyone in the area.  Their croissants, baguettes and quiches are magnificent, but it's the brioche that caught my eye.  Earlier this year I posted about the true ice cream sandwich which is a regular afternoon staple in Sicily.  At the time I was on the hunt for delicious authentic brioche to replicate the Sicilian experience but at that time I came up short.  Had I known about Isabelle et Vincent in August, my search would have been over. These gorgeous breads were not in a roll shape like the ones at the gelaterie in Palermo, but I was inspired to create a variation on the gelato con brioche for my favorite ice cream lover.  I suppose you could make brioche, but I am all about the shortcuts during the holidays and when you have a bakery like this one turning out such magnificent baked goods, why reinvent the wheel?  So, bakery bought brioche and Stewart's ice cream served with a chocolate sauce so easy that I forbid you to buy a jar of it.  For this, there is no comparison.
Namer's Chocolate Sauce
2 squares chocolate
6 tbs water
1/2 cup sugar
dash salt
3 tbs butter
1/4 tsp vanilla
Melt chocolate and water on low until blended. Add sugar and salt until dissolved and thickened. Stir in butter and vanilla.  Serve warm over ice cream. To assemble the dessert simply hollow out the fresh brioche, brush the inside with chocolate sauce, scoop in the ice cream and drizzle with more chocolate sauce.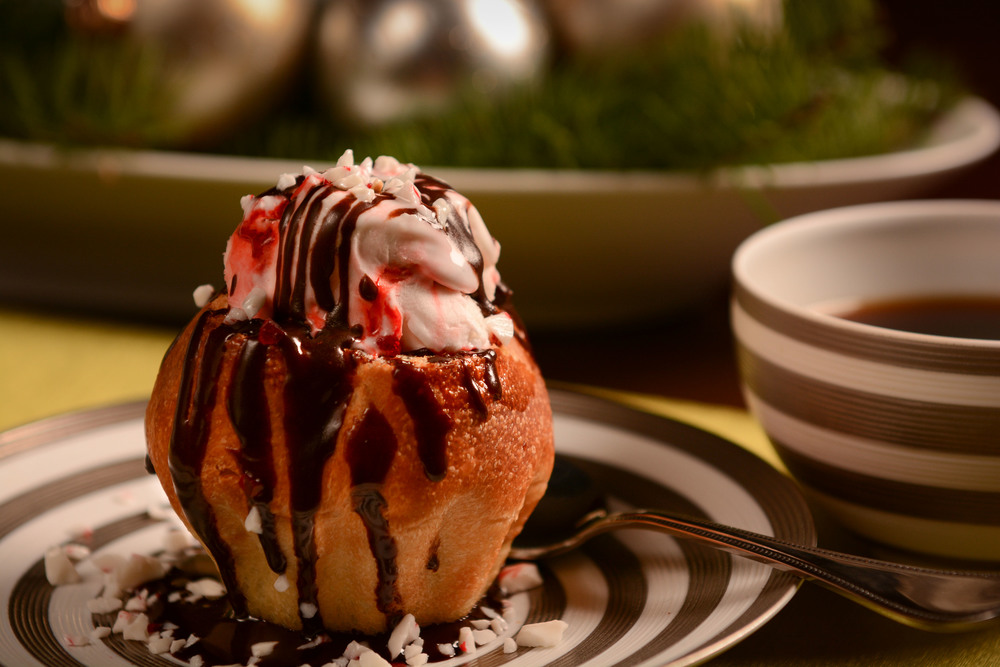 And there you have it, Christmas in a (Brioche) Cup!