Holiday weekends in the summer are synonymous with barbecues and grilling. What better way to jazz up this year's picnic than with an Italian theme?  Sure hot dogs and potato salad are tradition, but why not create fireworks of your own with a menu that will wow your guests!  The key to any Italian meal is that it lasts for hours – perfect for a picnic or barbecue type setting.  No one is in a rush – the meal unfolds a little bit at a time, as items are pulled off the grill. I recommend doing the prosciutto and melon and the grilled veggies ahead of time.
Prosciutto & Melon
Sweet and salty, what a combo!  Instead of slices of melon, I cut it into cubes, wrap prosciutto around it and secure with a toothpick. A perfect, and perfectly simple summer appetizer.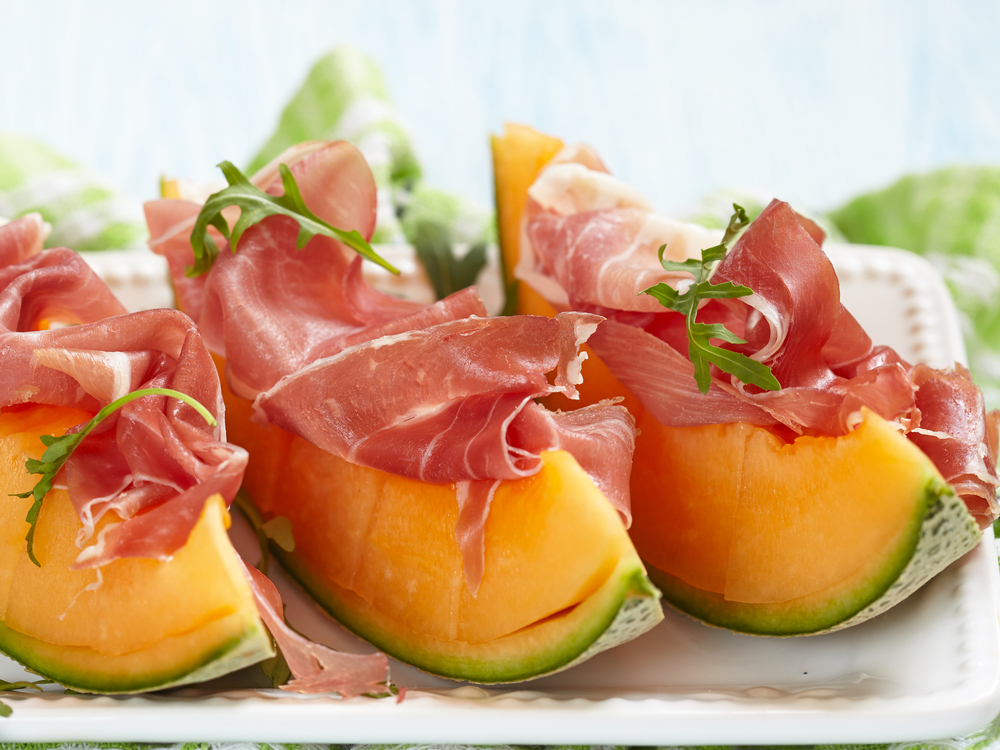 Bocconcini of Smoked Mozzarella 
This is the appetizer that people will talk about all summer.  Smoked mozzarella (known as scamorza in Italian) is grilled so the inside gets gooey while the thick rind holds up to the heat. These little two bite beauties are the best.  I find them in the cheese case at Stop & Shop.
Grilled Veggies
I love a huge variety of veggies drizzled with homemade vinaigrette – here is my favorite recipe from a blog post last year.
Grilled Sausages
Go for the good stuff.  I get sausages from D&D Italian Market on Franklin Ave in Hartford.  This is a holiday. It's no time to go for the cheap chicken sausages.
Pollo al Mattone
Chicken under a brick – I love this because the skin gets extra crispy when pushed down like this.  Gabriele and Debi from Extra Virgin have a great recipe.  You don't need a wood fired oven – a grill will do but you may need to adjust the cooking time. If you don't like dealing with the whole chicken, have the butcher cut it up for you.
Beverages
Spritz, Prosecco, Birra Moretti, San Pellegrino Limonata Happy Fourth Everyone!