If you have never been to the region of Umbria, it is a must.  Similar in landscape to the countryside of Tuscany, it is known as the Green Heart of Italy. Delicious, peasant food, notable wines, enchanting people (once you get to know them) and a sense of returning to the simpler things in life.  This is what Umbria is to me.  And nowhere more so than Assisi. Even the non-religious become connected spiritually to this special place.  That is the power of Saint Francis of Assisi.
Fun Facts
Assisi is the birthplace of Saint Francis, founder of the Franciscan Order, and of Saint Clare, founder of the sister order of the Franciscans known as the Poor Clares.
Assisi is one of the most important places of Christian pilgrimage in Italy
A catastrophic earthquake hit Assisi in 1997  – its effects were felt for years following the quake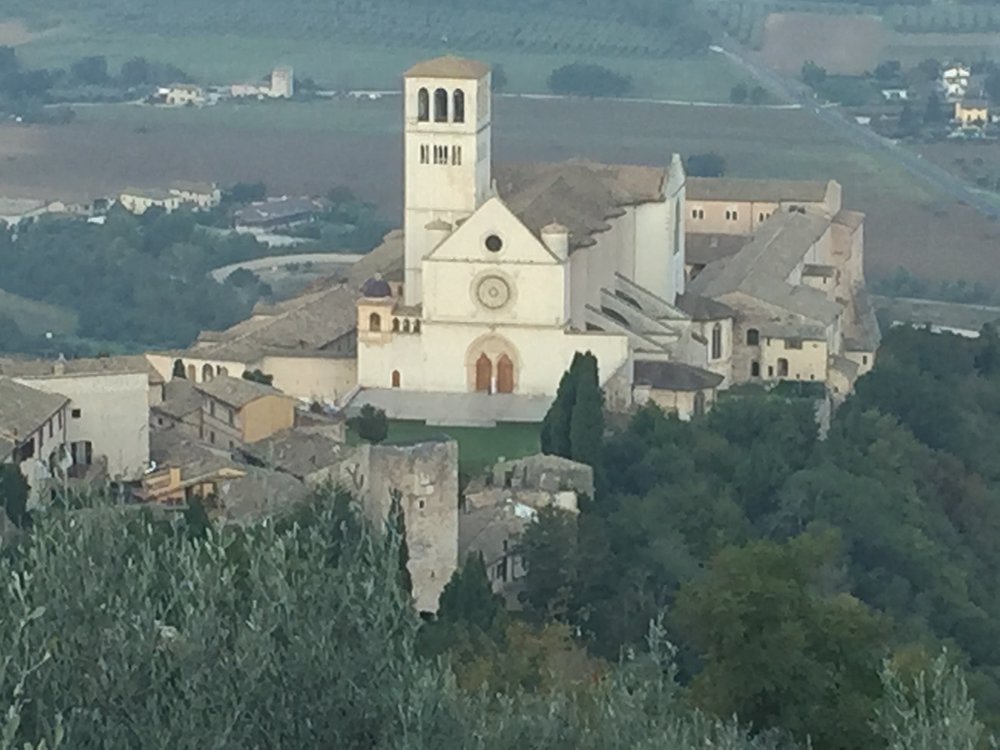 Don't Miss
The Basilica (of course). The Basilica of Saint Francis is where art historians say Italian painting was born.  It includes works by Giotto, Cimabue, Lorenzetti and Simone Martini. This is the cornerstone of the town of Assisi and of the Franciscan order.  There is a lower and an upper basilica, each rich in works of art and sacred in its space. The lower church also includes the remains of Saint Francis himself.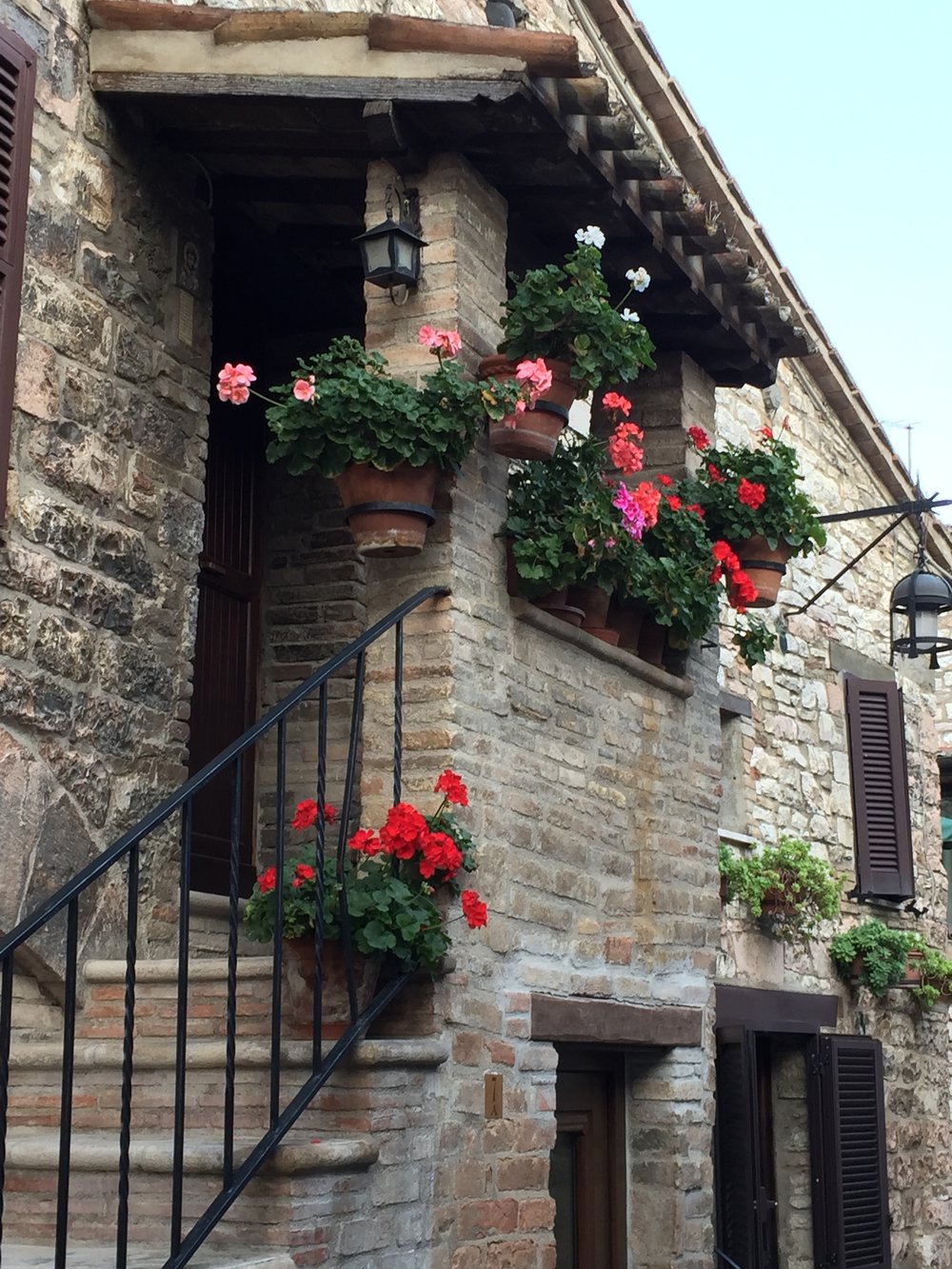 Off the Beaten Path
Roman Forum.  The city of Assisi has a history that long pre-dates its importance as the birthplace of Francis.  Assisi was a Roman town and you can still visit the remains of the Temple of Minerva and the Roman Forum, both located near the Piazza del Comune.  It is an interesting and often overlooked historic period of the city.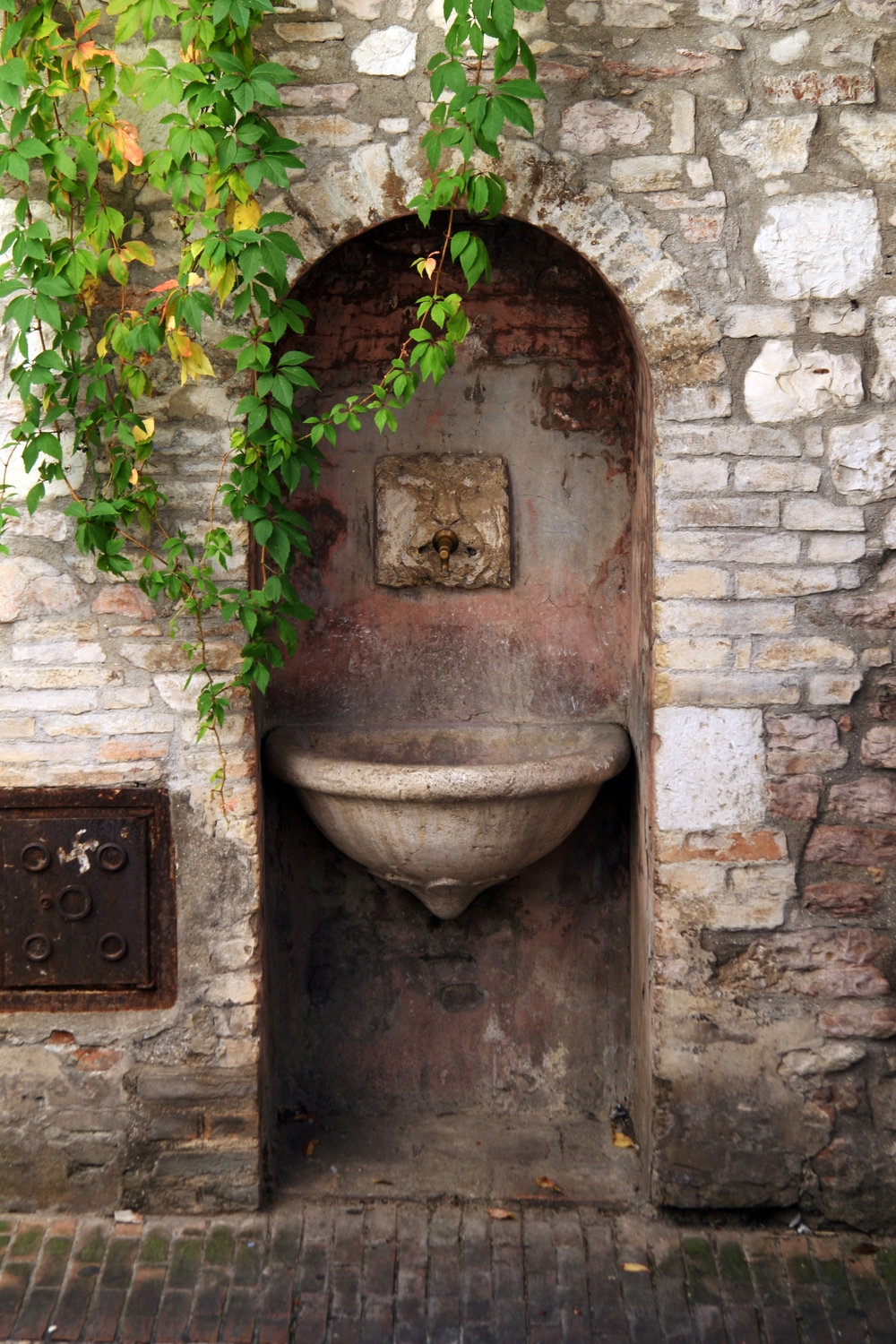 WAY off the Beaten Path
L'Eremo delle Carceri – the hermitage where Saint Francis spent much of his time in meditation and reflection. There is a 800 year old oak tree which stands there and is said to be the tree at which Francis preached to the birds.  This is located halfway up Monte Subasio and is a good hike from the city. You are rewarded however with a true sense of the peace and tranquility that are the foundations of the Franciscan order.
Experience
One of the magical medieval festivals that take place in Umbria – Calendimaggio, the Feast of Saint Francis in Assisi or La Infiorata in Spello.
Eat
A delicious flatbread cooked over a flame then gently split open and stuffed with braised greens or cured meats.  This is true Umbrian flavor.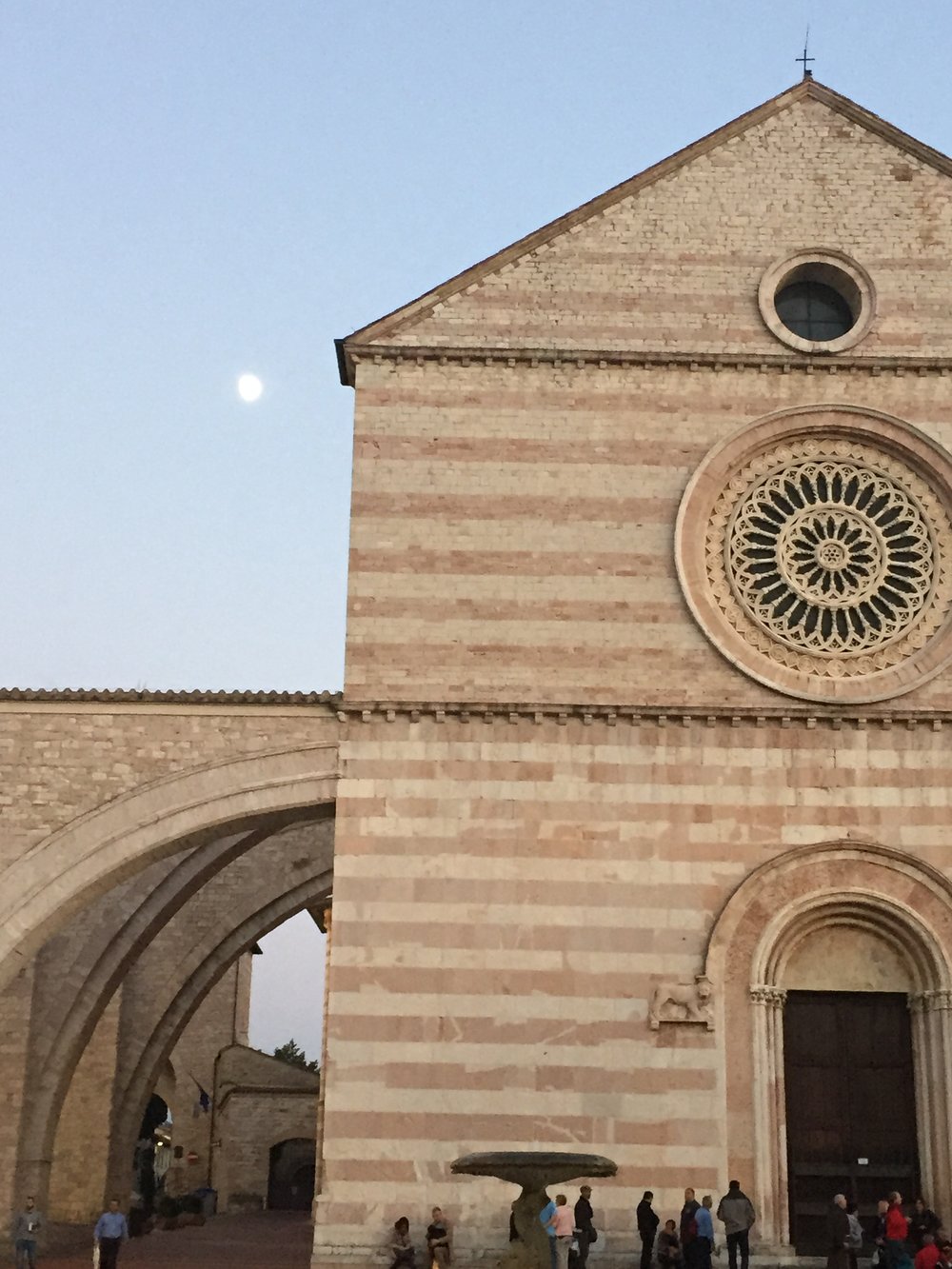 Pray
La Porziuncola – After Francis abandoned the wealth of his family, he sought asylum in an old chapel located outside the city. He rebuilt the small church (which can now be found inside the complex of Santa Maria degli Angeli), founded the Franciscan Order in this location and eventually died there.  It is a special place.
Love
Pax et Bonum (or Pace e Bene)  – the Franciscan motto of Peace & Goodness.  We all need this in our lives, don't we?
Drink
Stop in the Piazza del Comune for a cappuccino. Sit outside and people watch – this is where you will see the real center of everyday life in Assisi.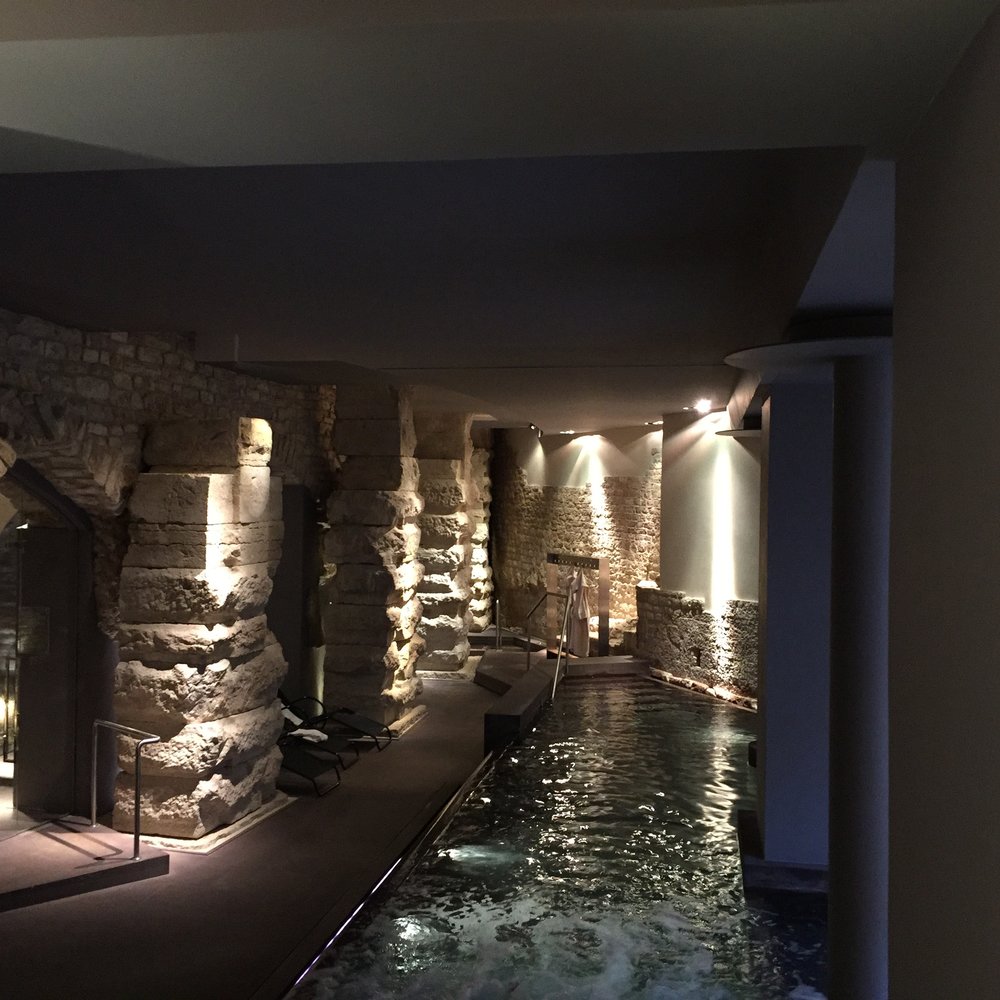 Stay
Nun Assisi Relais & Spa – follow the Roman bath ritual inside the actual ruins of a 1st-century Roman building at the Nun Assisi Spa.
Prayer of St. Francis
Lord, make me an instrument of your peace.
Where there is Hatred, let me sow Love.
Where there is Injury, Pardon.
Where there is Doubt, Faith.
Where there is Despair, Hope.
Where there is Darkness, Light, and
Where there is Sadness, Joy.
O Divine Master, Grant that I may not so much
Seek to be consoled as to console,
To be understood, as to understand,
To be loved, as to love,
For it is in giving that we receive,
It is in pardoning that we are pardoned,
And it is in dying that we are born to Eternal Life.