I leave for Italy on Monday. It's amazing how excited I get even after 25 years of travel there but I just can't wait. I love (and hate) the ritual of packing my bag.  Shoes are an issue, of course, but this is a short trip so I am determined to go light and minimalist.  In my mind, it's all going well, but we shall see what Sunday afternoon brings….
I love arriving in Italy  – bleary eyed and jet lagged and in desperate need of that first, perfect espresso. I love the impact of arriving in Rome or Florence – the chaos and bustle, the smell that is a combination of espresso, baked goods, smog, and cigarette smoke.  It's a smell that is unforgettable and for me, nostalgic.
But this time I am going somewhere new and while that brings a certain level of anxiety even for me, I have to admit that I am really excited.  I have covered a great deal of Italy over the past 25 years but the coastline of the region of Romagna has escaped me.

I am honored to have been invited to #lovingromagna, an annual event that was created by those who love this region the most and who want to share the love with anyone who will listen.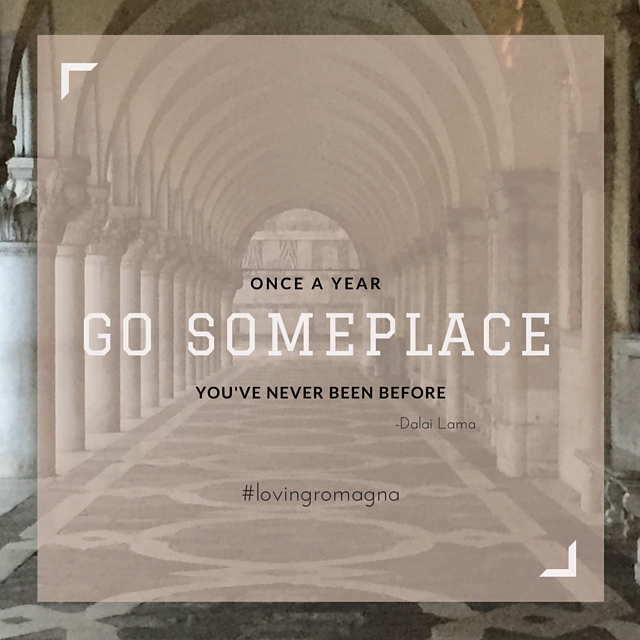 Romagna is actually a part of the Emilia Romagna and is the part located south of Bologna in that region.  Anytime you tell Italians that you are going to Romagna the response will be "si mangia bene in Romagna" – you eat well in Romagna.  This is the highest praise an Italian can give.   So naturally, much of our Loving Romagna blog tour is going to involve food: we will be cooking with an true Italian nonna, which in my opinion is the BEST way to learn about the Italian kitchen.  We will also visit vineyards, cheese producers and attend a piadina festival.  A festival. Dedicated to the flat bread that is typical of this area. Which is absolutely delicious. Especially when stuffed with cheese and greens or prosciutto. Only in Italy.  It's going to be an incredible experience and I look forward to sharing it all with you along the way.   There will be daily updates on Facebook and Instagram (@italy_lesperta), so if you don't already, please go ahead and follow me over there.
Adventure is good. It keeps us on our toes and opens our hearts and our minds. Italy goes way beyond Rome, Florence and Venice.  It's time to conquer another region and I can't wait!