The Great Debate:  Rome  – Sì o No
Nothing mediocre brings about debate.  That is why I know Rome is a great city. Or a horrible one.  It depends on who you talk to.   People either love it or hate it.  They either embrace the chaos, the noise, the dirt, the disfunction and call it passionate, lively, fascinating or they get dragged down by it and call it loud, dirty, disorganized.  For those who love it, I adore sitting down and waxing nostalgic about every little nuance of the city.  The aroma of espresso in the air, the fact that around any corner you can come across a random Roman ruin, the beauty of the small, out of the way piazze that take you completely away from city life.   for those who are not convinced, I have made it one of my missions in life to convert all reluctant visitors to Rome-antics.  Here are six of my favorite things in Rome that might just do the trick.
6 Fabulous Things in Rome
1. The Aventine Hill
This is one of the seven hills of Rome found in the southern part of the city and it has always been an oasis for me. There are no shops or restaurants on the hill – all the necessities are found at the bottom of the hill on the Via Marmorata and the Viale Aventino.  Up here you will find peace:  church bells from magnificent early Christian Churches, laughter from the elementary school hidden behind a wall,  water splashing from a fountain located in the orange grove – a magnificent park with a panoramic view of St. Peter's and much of Rome.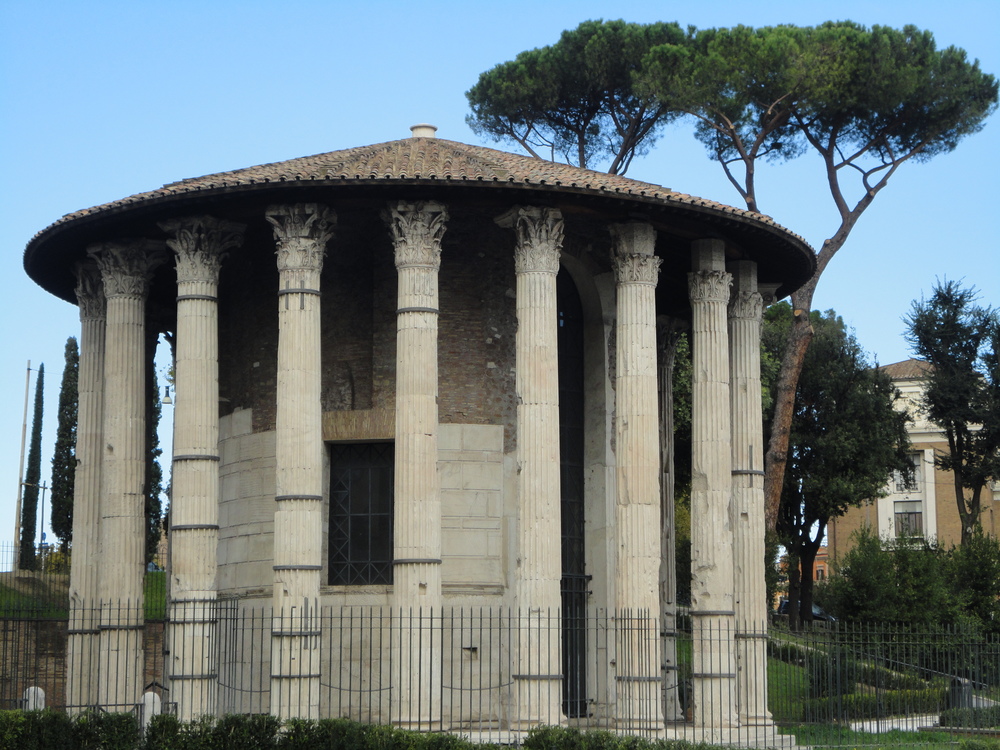 2. San Clemente
If you want an education on what makes Rome so unique, you can have a crash course by visiting the one church, located about 3 blocks from the Colosseum.  A 12th-century church built on top of a 4th-century church, built on top of a 1st-century building that also includes a temple to the Persian god Mithras. You can visit all three levels and I find the whole experience fascinating.   The layers of history that makeup Rome is truly awe-inspiring.
3. Piazza del Fico
A few blocks from the chaos and masses of tourists in Piazza Navona, you will find a tiny square dominated by an enormous fig tree.  Surprisingly, very few non-Romans ever find their way to this corner of paradise.  I love the outside tables at the bar del fico as well as the cozy, very casual da Francesco whose appetizer of piping hot focaccia and San Daniele prosciutto is not to be missed.
4. Chiostro di Bramante
Not far from the Piazza del Fico, nestled next to the church of Santa Maria della Pace, is Bramante's Courtyard, a beautiful architectural masterpiece from the 16th century.  The complex now includes a lovely cafe and in the summertime offers an evening concert series.  Listening to classic music in this space is nothing short of magical.
5. Shopping on Via del Babuino
Yes, I love to shop.  And while oftentimes, shopping around the Spanish Steps is nothing but that of the window variety, I still find it enjoyable.  The Italians have such style in every little thing, from fashion to paper.  The storefronts are exquisite and occasionally I come across something that I can't live without.  Like a truffle slicer. We all need one of those, right?
6. Pizza Bianca at Roscioli
When all else fails in Rome, go to Roscioli and eat pizza Bianca, hot out of the oven.  They will cut off a big slice for you, wrap it in paper and send you on your way.  Sit on a random Roman ruin and enjoy.  Suddenly, all will be right with the world.  I promise.
If you have been to Rome and have a favorite place, please share it with me in the comments. I would love to hear about it!