There are some things that make you nostalgic for a certain place and quite often, those things are of the culinary variety.  It's like when you go to Cape Cod for vacation and have to have that one lobster roll.  Or the chipped ham we buy when we go back to Western Pennsylvania. It takes my husband right back to his childhood.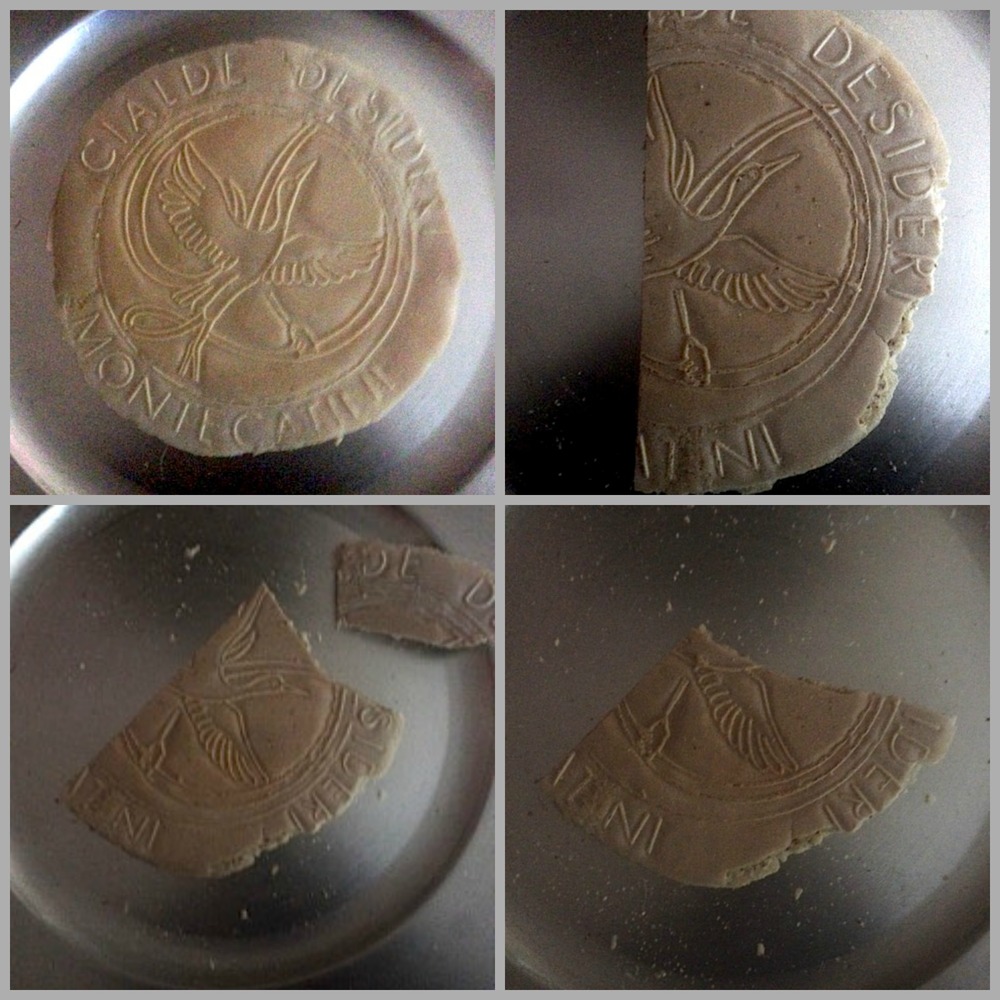 There is a town in Tuscany not far from Florence called Montecatini Terme.  It is known for its springs and folks come to take the waters from all over Italy and Europe (it is very popular with the Germans). Its heyday was at the turn of the 20th century and the Art Deco architecture remains a testament to the city's wealth back in the day. Montecatini is often used as a base for tour groups who want to explore Tuscany.  Well located, less expensive than Florence and easy access for coach transportation.  They also sell a cookie that you can't find anywhere else.  There are little postage stamp size stores throughout town where they sell nothing but (except perhaps an espresso if you ask the right person). These delicate cookies are filled with crushed almonds.  They are huge – the size of a salad plate –  but there is a strong temptation to eat the whole damn thing.  I won't lie. I've done it. Unintentionally of course.   It is also the reason that I have to buy an extra box of cialde everytime I go to Montecatini. Here is the schizophrenic conversation that I have with myself:
"I'll break off a little piece just to try it – don't want to eat more than that so close to dinner. Shoot, now it's uneven.  I'll just eat a quarter of it and that will be it.  Why are these damn things so hard to break?  I'll just clean it up a little. Dinner isn't for an hour and I walked like 30 miles today so I totally earned it.  I'll definitely stop at half, and then slide it back into the box.  Oh shoot, it's so delicate that it broke when I tried to return it to the package.  I'll just eat the part in my hand…..  It really makes no sense to leave a quarter of a cookie.  That's ridiculous.  I'll just call this my appetizer.  They eat in courses in Italy, right?  No one said my first course had to be in the restaurant." 
The Bargilli family make the absolute best cialde but they are impossible to have shipped.  I had these gorgeous cookies made by Desideri sent from Montecatini.  For now, I have a few boxes left.  Of course, I had to open a box for the purposes of this blog post. Research has no calories, right?
Tastefully Yours, Ashley