One of the things I miss most in Italy is the cafe culture.  The beauty of Italian cafes is that they are buzzing day and night. Here are 10 things that make Italian cafes great.
1.     Accessories – with the exception of your morning coffee, your beverage rarely comes to the table "naked".  If you order a midafternoon cappuccino (because you are a tourists and we do these sort of things), expect a lovely little chocolate or cookie on the plate. If your late day refreshment is of the alcoholic variety, expect a little bowl of nuts, chips or some little salty nibble.  The fancier the café, the more elaborate the snack.   Ciampini in Rome brings little canapés with smoked salmon mousse and mini pizzas.  Yum.
2.     Happy Hour is truly happy – Italians have perfected the art of the aperitivo, even more so in recent years.   Pre-dinner cocktail places line their counters with beautiful treats that pair perfectly with your drinks – marinated olives, crudite with olive oil dip, parmesan crackers, sometimes even mini plates of risotto or other hot dishes are common.
3.     You actually feel like Norm on Cheers  – when I met Mario Batali back in January, we both waxed nostalgic about taking up residence in a city in Italy and finding "your" neighborhood.  As Mario said, after day three of stopping in for your morning coffee and pastry, you will be welcomed with open arms and greeted warmly by all of the other regulars.  It's a great feeling.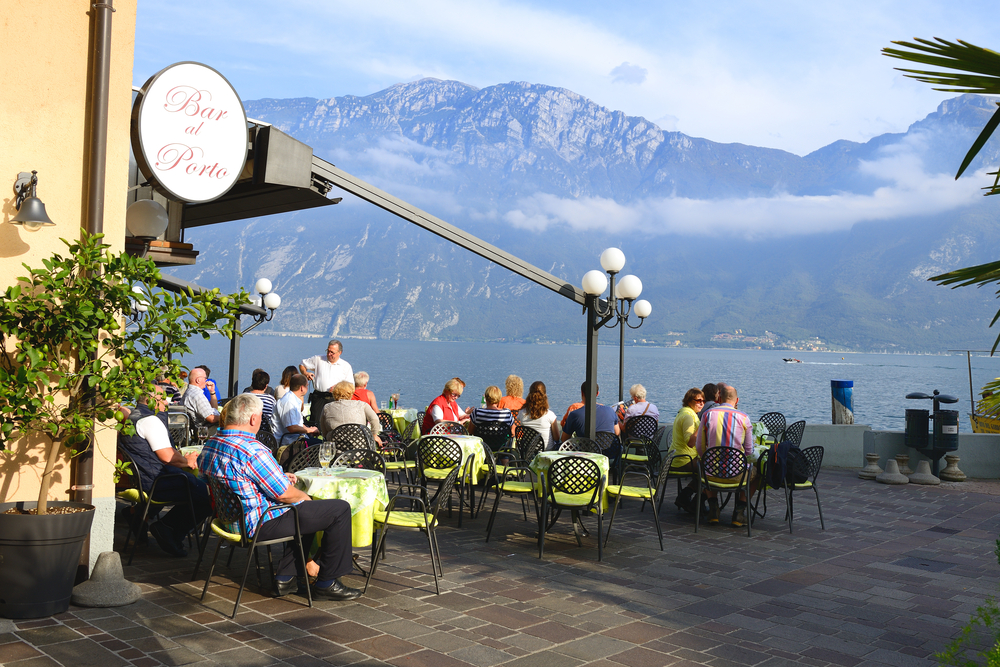 4.     11 AM prosecco is not frowned upon (in fact, it is encouraged)
5.     You can also buy stamps – many cafes also double as a tabacchaio, the place where you buy cigarettes but also stamps, bus tickets, phone cards, gum, bottled water.  How convenient.
6.     The bathrooms are clean (usually)– Yes, in Venice you will pay 2 euros to use a public bathroom.  Best money I have ever spent.  Not all of the cities of Italy even have that option.   So if you are at a café, especially a fancy one, take advantage of the bathrooms.  Public bathrooms are few and far between and in some cases, are little more than a hole in the ground.
7.     People watching aka the Italian national pastime is at its best at a café  – The café culture in Italy lends itself to people watching.   There is an importance placed on sitting down at the café, having a drink and taking some time to relax. You will never be rushed out of a café.  You are allowed to stay as long as you want.   Remember – you are not buying the cappuccino, you are renting the table.  Enjoy!
8.     They are like snowflakes – no two are alike  Unlike the cookie cutter chain places here in the US, there is a vast variety of cafes in Italy.  From incredibly elegant and ornate to a miniscule hole in the wall (this is usually where you get the best cappuccino by the way), there is something for every taste.
9.     You have options –  A little primer on café:
 If you choose to stand at the counter, you first need to find the cash register (cassa), tell the cashier what you want and pay for it.  The cashier will give you a receipt and you will take that receipt to the counter.  Don't be shy or you will never get served.  Place your receipt on the counter (it sometimes helps if there is a small coin on top of it as a tip). The bartender will eventually get to you and will give you your order which you will consume standing up at the bar.  It is a very social scene and you will feel oh so Italian!
If on the other hand you choose to sit at a table, go ahead and sit down. A waiter will come to the table and will take your order.  He or she will bring your order to you and will also bring you the bill.  Warning: You will pay more to sit down in a bar.  This price varies and goes up significantly if you are in a high rent district such as the Piazza Navona in Rome or the Piazza Signoria in Florence.
10. One word: marocchino – this is a shot of espresso with cocoa powder and frothed milk and often times drizzled with chocolate syrup.  It is a fabulous variation on thecafé macchiato.
Who's ready to hit the cafés of Italy?   I know I am!  Happy Weekend all!