In 1990 Italy hosted the World Cup and I arrived in Italy for the first time on the same weekend that the tournament began.  Rome (and much of Italy) was my classroom for 6 weeks and I had a lot to learn.  About food, language, culture, art and football (soccer).   MLS had not even been established in the US and my exposure to the sport had been limited to recreational munchkin soccer which involved a lot more flower picking than ball dribbling. The atmosphere in Rome surrounding the tournament was like nothing I had ever experienced.  Large crowds of fans in face paint and jerseys were carrying enormous national flags as they chanted and raced around the upper levels of the Colosseum.  Oo-oo-Cameroon still rings in my head.   Every game that Italy won resulted in hours of horn blowing, singing and fountain jumping that lasted to the wee hours of the morning. Italy made it to the semi-finals and though we had been surrounded by the soccer atmosphere for four weeks, I still did not fully understand the importance of the sport to this nation.  Until the night of July 3rd.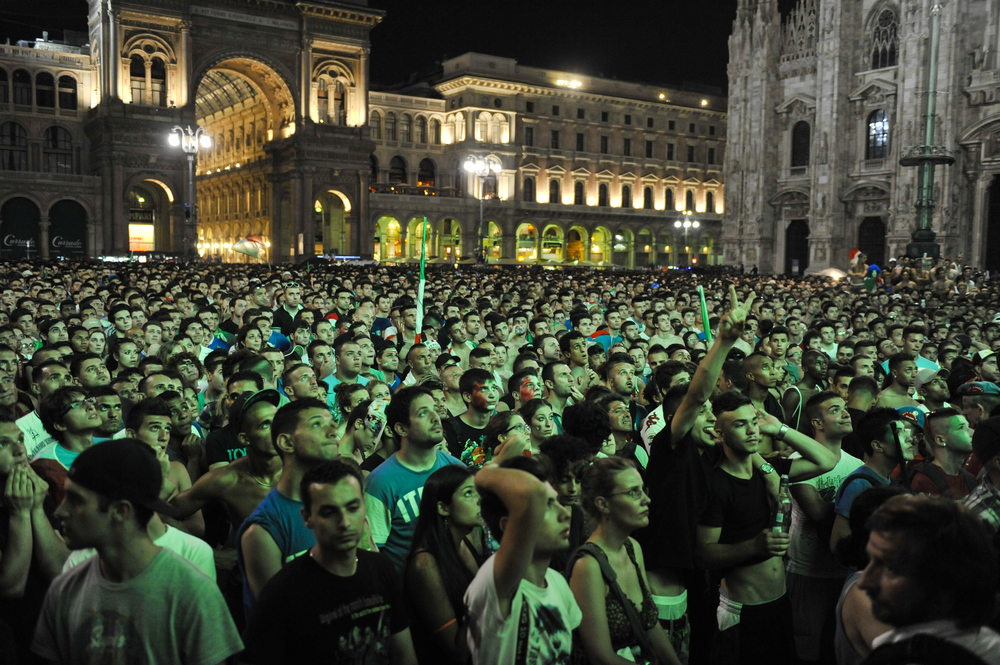 We headed out into the streets of Rome for our usual evening walk. The streets were deserted and eerily quiet.  Every single Italian was in a house or at a bar watching the game.   We went to get a pizza and had to wait until halftime to be served.  But the waitstaff kindly invited us to gather around their tiny television in the kitchen so we could be a witness to this event.  The game was incredible though the outcome a major disappointment to the Italians as Gli Azzurri (the Italian national team's nickname) lost to Argentina in a penalty shoot-out with the winning goal being scored by the infamous Diego Maradona.  
The Italians were inconsolable for days and we as Americans were puzzled. Soccer is tradition, passion, and religion in Italy.  The only time Italians fly national flags and feel any sense of patriotism to their country is when Gli Azzurri  are on the pitch. It's difficult to understand the passion that Italians (and the rest of the world really) have for soccer.  But believe me, it is contagious.  As I spent more time in Italy, I became a fan and was right there at the bar for the 1998 World Cup when Italy lost its quarterfinal match to France in penalty kicks.  It was heartbreaking and I was as inconsolable as those waiters at the pizzeria back in 1990.
As the World Cup continues in Brazil, I hope you enjoy some of the matches over the next few weeks.  We will be cheering for Team USA (and also for Gli Azzurri – I hope they don't meet up….).