When I find myself in NYC, I am like a kid in a candy store.  So many fabulous restaurants, so little time…. It's a wonder I don't invent a mid-morning and late afternoon meal to justify trying as many as possible.  I love good restaurants, one with a cool design, warm and inviting vibe and of course fabulous food.  My go to resource when it comes to the latest and greatest is my friend Mimi – she knows her stuff.  I was lucky enough to score a dinner with her last Wednesday and we opted for a place that we had talked about a few times before:  Marta.  Before I even walked in the restaurant had scored big points with me.  My love for restaurateur Danny Meyer is no secret.  My mother knows this and calls me every time he is on CBS This Morning.   I feel a sort of kinship with Mr. Meyer.  We graduated from the same college and he too studied in Rome.  It is in Italy where he says he developed his philosophy of what hospitality is, a philosophy that he imparts to all of his employees in his restaurant empire.
Marta is located in the Martha Washington Hotel but if you didn't know that, you would walk right by. The signage is understated, the décor is sleek while still being cozy and the pizza…. Well, it's delicious. Mimi and I shared a mushroom pizza and an pizza alla norma.  As many of you know, anything "alla norma" is Sicilian and involves eggplant. What could go wrong?  It was amazing and after we were well on our way to full bellies, I realized that I had not taken a photo.  You will just have to go to Marta to see what the pizza looks like. (it's round)
My love affair continued the following night.  Thanks to the Canadian Lentil board (yes, you read that correctly), I was treated to dinner at Marcus Samuelsson's restaurant Red Rooster Harlem.  The venue had Mimi's stamp of approval and I of course was thrilled because while I was never a groupie of musicians or actors, I have a thing for chefs.  And Marcus Samuelsson…..OMG.  He was kind and gracious and took the time to come around and shake everyone's hand.  Additionally, he is quite easy on the eyes.  And then he seduced us all…. with his food.  The menu was completely lentil based  – I am already a fan so our sponsor, Canadian Lentils did not have to convince me.  But what the team at Red Rooster did with lentils was way beyond lentil soup and daal.   The menu:
Cornbread with bird and lentil funk (a sort of tapenade to spread on the cornbread)
Rooster wings and oysters fried in lentil flour
Gravlax with farm greens, clams, mustard vinaigrette and a lentil roti chip
Duo of  Lentil Dusted Catfish and Braised Short Ribs (served with yellow lentil apple puree)
Apple Sorbet (no lentils)
Sugar Doughnuts stuffed with a sweet yellow lentil puree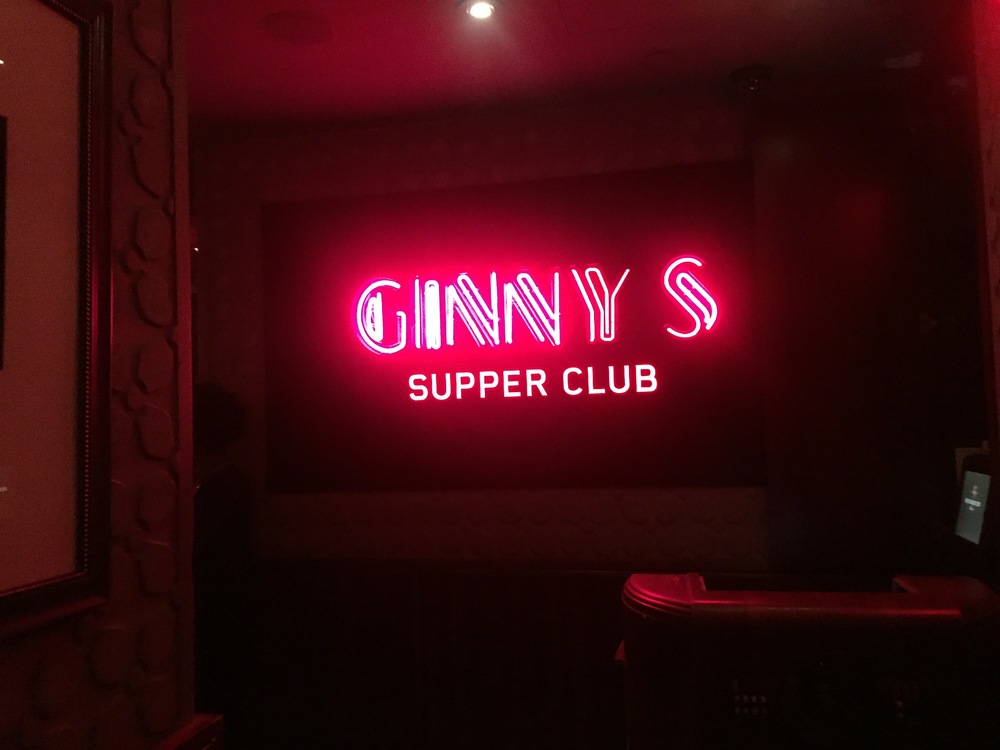 We were actually seated in Ginny's Supper Club, which has a speakeasy vibe and is located in the basement of the restaurant.  It was quite dark so the pictures do not do the food justice.  Everything about the meal was impeccable, including the wonderful jazz entertainment that had been arranged.  Many many thanks to Canadian Lentils, Marcus Samuelsson and the whole crew at Red Rooster Harlem.  The evening was truly a highlight of my trip to NYC.