Since I firmly believe that one of the greatest activities while traveling is eating (and drinking), Fridays will be dedicated to all things edible and delicious.  Buon Apetito!
Despite the cry of outrage by Italian foodies (most of them expats living in Italy) lamenting the decline of the food quality, I still find the eating in Italy to be sublime, especially those simple dishes that one finds unexpectedly. 
Some time ago I was driving through southern Tuscany on my way to La Bandita – a fabulous guesthouse outside of Pienza.  As always, the "getting there" took longer than I had planned and I have learned to let go a bit in this regard.  Happily, right around lunchtime, I happened across a little village, the name of which is still unknown to me.  I don't know if it was actually a village or a hamlet or perhaps just a little group of buildings alongside the road.  But it did have all the requisites of an Italian town:  a tabacchaio, a bar and a four older Italian men sitting on a park bench.  
It was a blustery day and so I popped in to the bar for a bite to eat, thinking that I might have a panino and a glass of wine but as often happens, some of the best "restaurants" are these little unassuming mom and pop establishments along the way. As soon as I opened the door I was greeted with the warmth of friendly banter as the mailman chatted with the barista over a pre-lunch aperitivo.  There were a few tables off the side which were already set with placemats, a sure sign that this bar served more than just panini. I sat down and was immediately brought a basket of bread, a small carafe of wine (I was having red apparently) and a hand written menu.  There was lasagna, ravioli with pecorino and a couple of other offerings.  At the bottom of the menu was written, very emphatically, that all dishes were made in house and that nothing was frozen.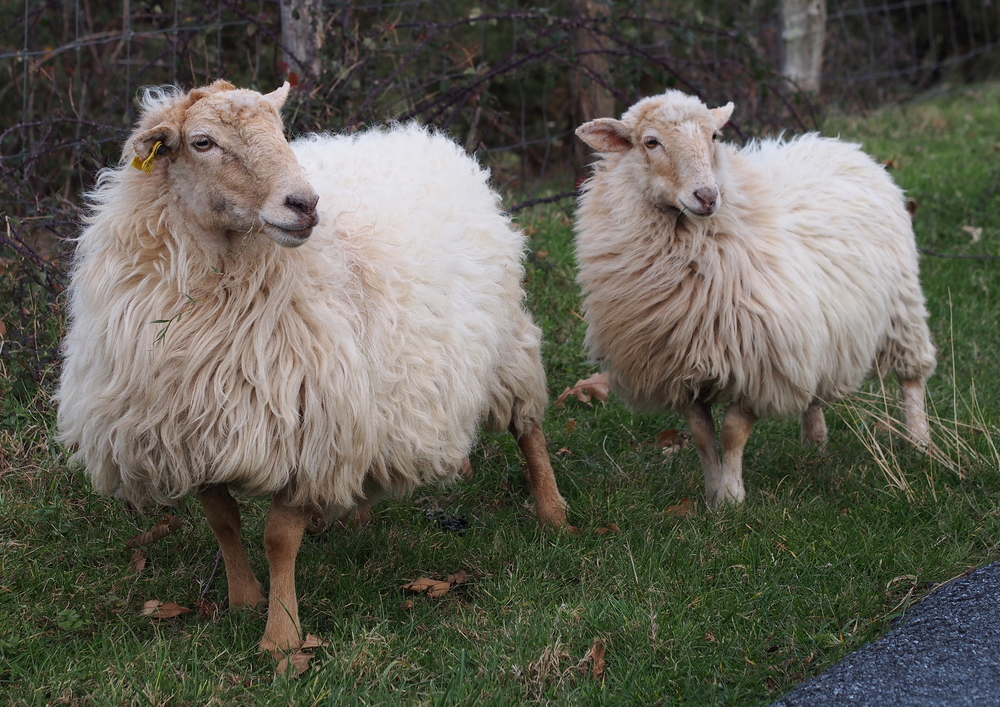 I was considering the pasta when something else caught my eye:  crostone con pere e pecorino, aka heaven on a plate, the most incredible "grilled cheese" sandwich you will ever eat.   I waited relatively patiently for my meal and enjoyed eavesdropping on the conversation at the bar which centered around the soccer season and the grape harvest and warmed myself with the lovely red wine.  My crostone was served on a terra cotta plate, piping hot from the oven.  A bubbling layer of pecorino covered the sweet juicy slices of pear.  As a was about to cut into it the signora brought over a small crock of honey and indicated that I was to drizzle that over my sandwich – who am I to argue with a Tuscan mamma??   She did not steer me wrong – the honey put that dish over the top. 
I have made this in a smaller version as a quick appetizer  – the ingredients are listed below. It goes without saying that the best, highest quality ingredients will make a difference.  It is a perfect fall appetizer but here is my advice to you.  DON'T skimp on the cheese.  Life is too short to skimp on the cheese.  
Tastefully yours, Ashley
Crostone with Pears and Pecorino
Good hearty bread Firm Bartlett Pears (I use less ripe pears because they tend to soften up in the oven)
Fresh Pecorino Cheese (this is different from aged cheese.  It is creamier and not as sharp – a good cheese shop will have it.)
High Quality Honey
Toast the bread slightly.  Remove from oven and place one slice of pear and one slice of pecorino on top.  Return to the oven under the broiler but watch it carefully so it does not burn.  Remove from oven and drizzle with honey.   Serve immediately.