The problem with a vacation is that there are only so many meals in one holiday.  Say you take a 10-day trip.  That's basically 9 breakfasts, 9 lunches, and 9 dinners. If you are going to three different cities, you are then limited to 3 of each meal in each city.  And when you travel to Italy this is really a tragedy. So many delicious foods, so little time.   Thus the argument for staying in one place for 10 days, if for nothing else than to eat all the things…
Here is a list of the things you must eat when in Florence.  I am excluding lampredotto (tripe) because it is my blog and therefore my prerogative…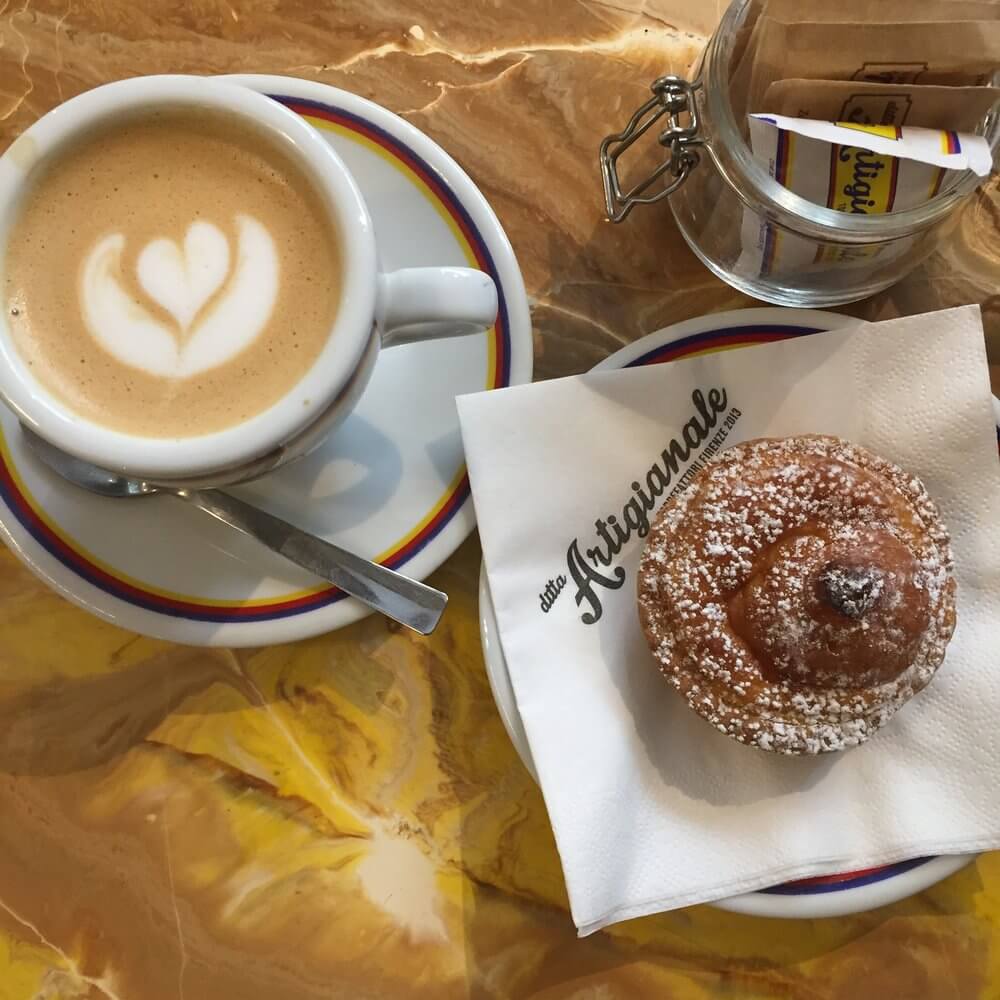 1. Truffle butter sandwich
(Only at Procacci and always with a glass of prosecco.) Procacci is an obligatory stop for me every time I visit Florence. Yes, the sandwich is delicious – a fluffy little bun slathered with a concoction of black truffles and butter. But it is as much about the ritual as anything. After a long day of sightseeing and/or heavy-duty contribution to the Florentine economy, this seems like the perfect place to go. I perch on a chair at one of the hightop tables in this elegant setting and sip cold, bubbly prosecco while reflecting on yet another perfect day in Florence.
2. Pappa al Pomodoro
Peasant food at its best. Only the Italians can take stale bread, broth, tomatoes, onions, garlic, olive oil, and basil and raise it to an art form. Do you remember the scene from Ratatouille when the food critic takes his first bite of Remy's version of ratatouille and immediately all of his childhood memories come flooding back in a rush of emotions? It's like that. Find a local joint for this – there is nothing fancy about it but tucking into a steaming bowl of pappa al pomodoro is pure and unadulterated comfort. (and yes, you should have it with a big glass of Chianti Classico).
3. Bistecca alla Fiorentina
… with roasted potatoes, for the love of god eat the roasted potatoes… (vegetarians, you can skip this one). Even cautious meat eaters may have some difficulty with this one. This is probably THE most signature and prized dish served in Florence but be warned: Italians like their meat al sangue (bloody) and it is rarer than rare. And please don't try asking for a well-done bistecca alla fiorentina. That is like asking for a cappuccino after 11 am or for parmesan cheese for your seafood pasta. It is not done. If you like your meat a little more cooked, get the tagliata (not the same but still good). But if you do like rare meat, the bistecca is the way to go. Either one is fine because you are really just ordering the steak to get to the roasted potatoes which are like little morsels of heaven. You will never get potatoes like this anywhere in the US because we will never allow ourselves to use the amount of olive oil they use. You have never had potatoes like this and you will be ruined for potatoes forever.
4. Bruschetta with olio nuovo
Speaking of olive oil: Tuscans get really excited for the olive harvest. I mean REALLY excited. And would good reason. The oil is exquisite and it is at its best when it is first pressed. So in every restaurant in the late fall to early spring, you will find bruschetta with olio nuovo (new oil). This is a piece of bread, toasted and doused in new oil. There is nothing that sounds more mundane and boring. And there is nothing better.
5. Pacchetti with pear and pecorino stuffing at 4 Leoni
Most of the dishes that I have put on this list are traditional Florentine foods but this is a specific dish from a specific restaurant (and one of my current favorites). The pear and pecorino cheese combination is popular throughout Tuscany – but the pacchetti at 4 Leoni in the Santo Spirito neighborhood of Florence takes the combo to a whole new level. Pacchetti are stuffed pasta like tortellini but they are called little packages (or bundles). They are stuffed with a cheese and pear mixture and served with a gorgeous cream sauce. This isn't the only delicious dish that they make at 4 Leoni, but somehow I can never bring myself to get anything else.
6. Ribollita
See pappa al Pomodoro above but sub out the tomatoes for kale and other veggies. Yum yum yum.
7. Gelato di riso at Perché No
I see so many Americans look at the riso flavor of gelato in Florence, curl up their noses and go immediately to the chocolate chip or the Nutella flavors. Big mistake. Huge. Riso gelato is one of those local specialties that you will not be able to try anywhere else. It is sweet but not too sweet, it has a delicate flavor that is so satisfying. I suppose it could be compared to frozen rice pudding but it is actually is so much better than that. And Perchè No? After years and years, it still remains one of my favorite gelato shops in Florence. Translation of Perchè No? Why Not? As in, why not eat gelato every day. I can wrap my arms around a store with that philosophy.
8. Focaccia from Cantinetta di Verrazzano
Right across from Perchè No? is the lovely Cantinetta di Verrazzano (how convenient!). This is a perfect stop for lunch in between visiting the Piazza della Signoria and the Duomo/Accademia area. Seemingly endless varieties of focaccia (topped with things like roasted pepper, zucchini flowers, onions or stuffed with delicious local meats and cheeses). Enjoy a sampler platter and a glass of wine before going on your merry way.
9. Cecina:  chickpea pancakes
Made very simply from chickpea flour, water, salt, olive oil and rosemary (or without rosemary). These are often a mid-morning snack at the bakery as Florentines are doing their morning market shopping. It is vegan, gluten-free and really just delicious in its simplicity. If this is a little too "healthy" for you, head to 5 e Cinque Restaurant where they serve it as an appetizer with decadent creamy robiolo cheese.
10. Budino di riso
A little custard and rice stuffed pastry that many tourists skip right over and don't try. They opt for the more familiar cornetto (which looks like a croissant but isn't). But the budino is a decidedly Tuscan treat and you should definitely try one. In the name of research, I have had them in several (or maybe many) of the cafes of Florence, and I will have to say that I am partial to the one at Gilli Cafe in Piazza della Republicca.
Have I made you hungry? Good! Now, book thee a ticket to Florence! Buon Appetito!