Forget the fact that my first visit to Borgo Egnazia was with 11 women, one of whom was my mother. I mean really,  nothing screams romance like a gaggle of American women who are giddy from a long car ride and fueled by prosecco and gelato. Am I right?   Despite the company (which I will say was delightful, albeit not romantic), I knew Borgo Egnazia was special the minute we entered through the gates.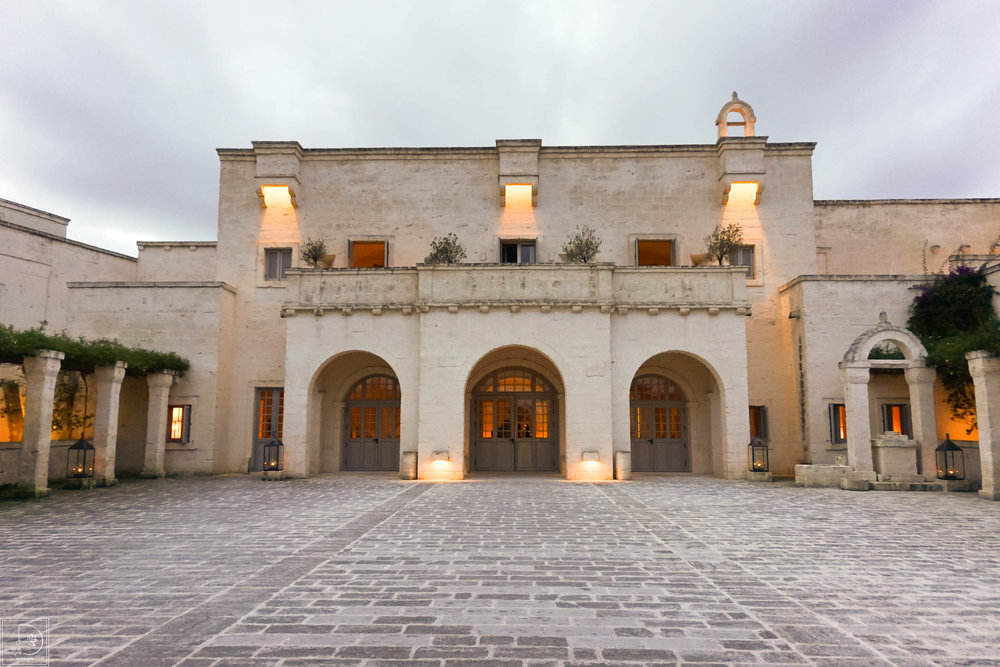 After a day of touring and driving, we arrived after sunset and though it was dark, there was a soft glow that emanated from the entrance.  We were greeted warmly by the gatekeepers and then introduced to three lovely young women who I can only think of as the Three Graces.  They were to care for our every need during our stay and they were the embodiment of hospitality.  Instead of standing at the front desk, we were accompanied into a small library to take care of check-in. As we made our way through the hallways of this magnificent property, it was all I could do to keep my mouth closed.   The lighting, the smells, the aura of complete peace and tranquility that permeated the whole resort was enough to wash away the weariness of the day and reassure me that we were in for a real treat. When we arrived at the library there were pitchers of fruit infused water and seasoned almonds waiting for us.  The Three Graces told us of the history of the property as we waited for passports to be registered and rooms to be assigned.  We were each accompanied to our respective rooms and found our bags to be already delivered inside.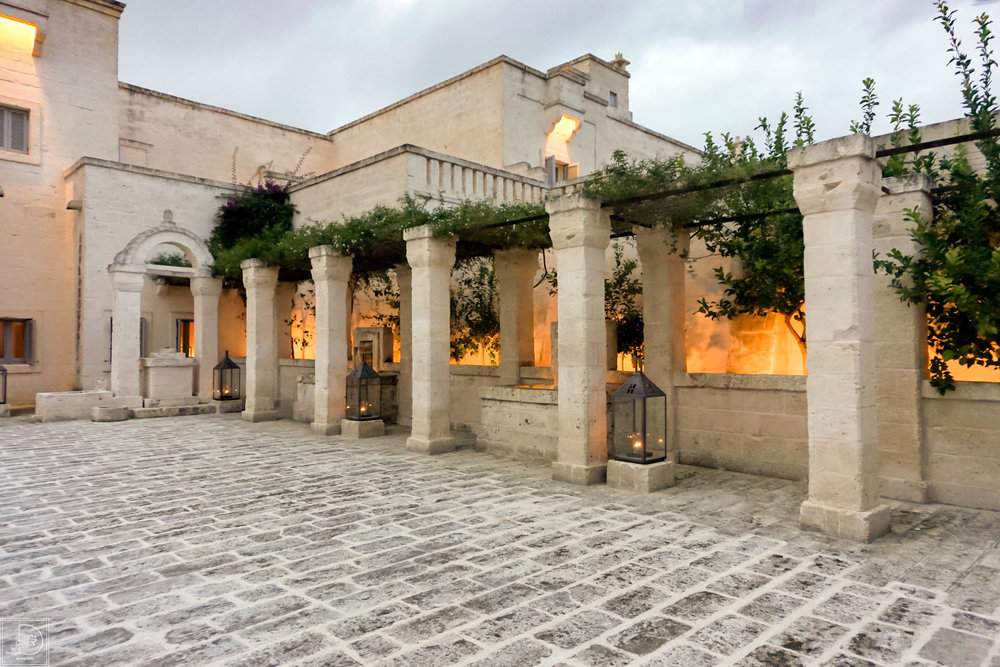 Dinner was a buffet of local specialties of the region and if you have never been to Puglia, you must go, if for nothing else for the cuisine.  Simple, fresh, local and made with so much passion and love.  The resort boasts three restaurants that range from simple peasant food and weekly pizza nights to elegant haute cuisine.   In the warm months, dinners and local music take place in the piazza, an enchanting outdoor square illuminated by candlelight.  A staff member told me that each night over 300 candles are lit before dinner around the property.  Talk about mood lighting!   You can unwind at the end of the day at the sprawling lounge filled comfy couches and where a blanket is promptly brought to you if you are feeling a chill of the early evening air.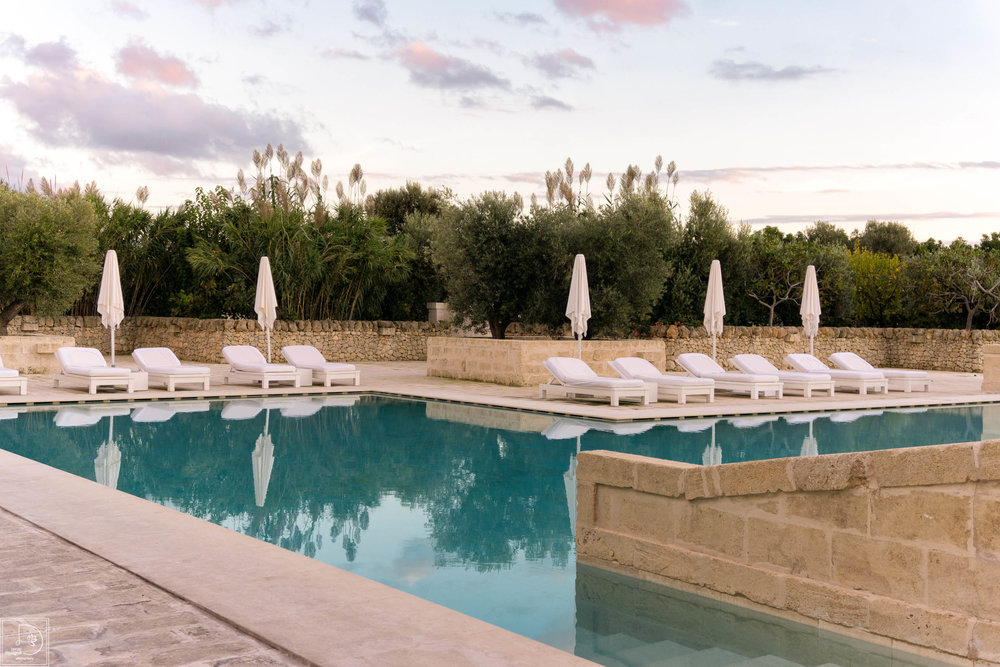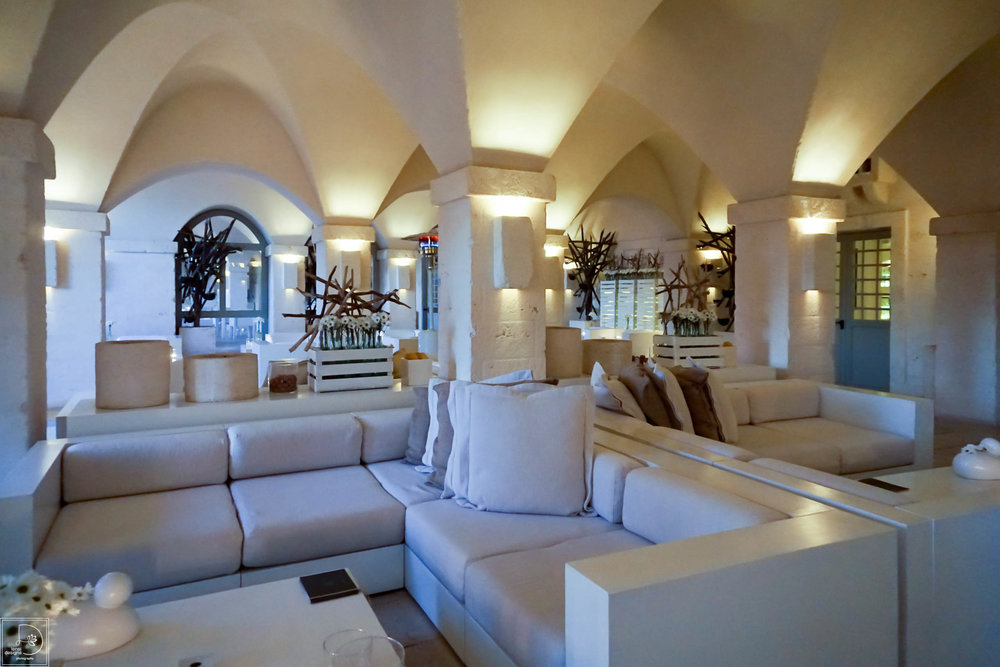 Without even talking about the wonderful cities and towns to explore in the regions of Puglia, there is much to do right on the resort property: three glorious pools, a spa that merits at least one day, excursions to buffalo mozzarella producers, olive oil producers, bikes for rent, a golf course across the street, a beach club a short distance away with a lovely restaurant overlooking the sea, leisurely walks through the countryside which includes 1000 year old olive trees, a lobby filled with little nooks for small groups to gather over cocktails or even a small bite to eat. The service continues from early in the morning until late at night.   Breakfast is a feast of the senses, fresh gorgeous products ranging from the healthy (pomegranates split and waiting to be eaten) to the decadent (like ricotta-stuffed croissants – O.M.G.) Evening turndown with the tv set to soft music, lights turned low and even a chocolate covered dried fig on the pillow and a bottle of water next to the bed. Every element of this beautiful resort lends itself to romance.  It's simple yet elegant, luxurious yet understated, the perfect balance of impeccable service and warm hospitality.  It is the perfect getaway in an off the beaten path setting. I can't wait to return.  With my husband this time.