As the summer travel season is underway, I thought that I would go to the archives and share a post on traveling with kids abroad. Enjoy and Happy Travels!
As I zipped up my suitcase and pulled it off the bed I thought to myself, "What was I thinking??" In November when we were contemplating this, it seemed like a great idea. My stepdaughter Caitlin has been bugging me to tag along on one of my trips to Italy for several years now and we finally decided that it was time. What I forgot was that I am a solitary traveler, especially when it comes to international trips. I am accustomed to traveling to Italy – I go about 4 times a year – and I have a routine down when I go. I spend a lot of quality time with my IPod and I am asleep before the plane even leaves the ground.
We travel often with our children (ages 13, 13 and 6). Granted, these trips have been limited in scope to the East Coast – Florida, Cape Cod, Pittsburgh, upstate NY, Maryland – but they have all been stellar travelers so in a moment of weakness I agreed to this idea. We mulled over all of the possibilities – should we take the whole family? Should we take the twins and leave the little one behind? Should my husband and I take Caitlin alone? None of the combinations seemed right in one way or another until we decided that I would share this place that was so important to me and so interesting to Caitlin with her alone.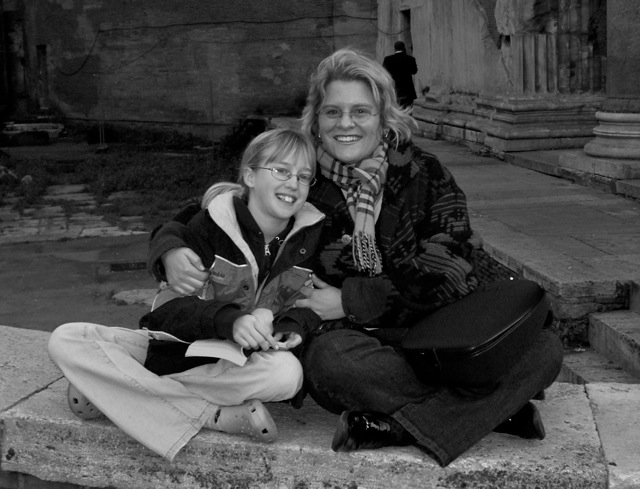 Here are some tips on how to make the most of a trip abroad with children:
1. Go somewhere that you know or at least that you have visited before
This is not the time to be doing the whole "wing and a prayer" style of travel. I love doing that when I am alone or with my husband but when children are involved I think it is important to have a familiarity with the place. That is not to say that things will always go perfectly smoothly but you are definitely minimizing the possibility of complete disasters.
2. Relax
You don't have to go to the Louvre when you are in Paris. Remember that this experience is for the kids and think about it from their perspective. I had made reservations for the Borghese Gallery but we passed it up so that Caitlin could go shopping for a orange scarf. This may seem materialistic and shallow to some but for me it was confirmation that Caitlin was "getting it". She had been observing the Italian people, noticed that everyone wears scarves and decided that this was something that she wanted to bring back as a memento of her trip. We still smile when she pulls it out of the closet.
3. Let the kids make some decisions.
Have an idea of an itinerary but be flexible enough that you can change the itinerary if something particularly intrigues your kids. I had planned all these great restaurants for us to eat in but on the first day in Rome Caitlin fell in love with the pizza at the bakery across the street from the hotel. By the end of each day, she was so exhausted that the idea of waiting until 8:00 for dinner was inconceivable so we would grab a piece of pizza al taglio, a couple of biscotti and a drink, curl up in bed and watch a movie on her DVD player. Being the foodie that I am, this of course bothered me until I just let go and realized that this was not going to be like the trips I usually take to Italy. And that is just fine.
4. Don't criticize their observations.
When we were in Rome there were things Caitlin did not like – she was bored at many of the churches that I dragged her into. I began to lose my patience and then I thought back to my husband's first trip to Italy. He was bored at many of the churches too. Medieval history is not for everyone, you know.
5. Don't insist on seeing everything.
If Doug and I have learned one thing in traveling with the kids, it is that less is more. I think this is, even more, the case when it comes to international travel. You are laying the groundwork for a lifetime of adventures for your children so don't treat it as a once in a lifetime and try to pack it all in. Caitlin and I had a ball sitting on a wall overlooking the Umbrian countryside in Orvieto, drinking cappuccino at a cafe in Piazza Navona.
Above all, have fun and try to remember every precious moment!
After all my trepidation, I knew I had made the right decision when we pulled away from the hotel and headed to the airport. Caitlin looked out the window, waved goodbye to Rome and said: "I think I'd like to go to Paris and London next".
Do you have tips that have helped make the most of your family travel?  I would love to hear about them in the comments below!