Italian food is not fancy.  I remember my dear friend Rose laughing hysterically at a plate of $18 polenta when we were out to dinner one evening.  She said " $18?!?!? Polenta is what we ate because we were too poor to eat anything else." True Italian cooking is cucina povera – peasant cooking.  This may seem to have a negative connotation but in Italy, it is anything but.  Cucina povera means using simple ingredients and elevating them to an art form. Italians make the most of what they have and they use every last crumb of bread (literally – it's one of the main ingredients in passatelli), every bit of the animal – for better or worse.  Dandelion greens are gathered, boiled, sautéed with olive oil, salt, pepper and garlic.  These greens, that are shamlessly gathered by Italians along the side of the road, are delicious and are a traditional accompaniment to the piadina, along with a local cheese.
There is no better way to learn these dishes and the secrets of cucina povera than from the true rulers of the Italian family – the women. I feel honored that the traditions of romagnola cuisine were shared with me by Nonna Violante at our cooking class in the dining room of the Hotel Eliseo.  What a dynamic woman! She carries herself with a simple elegance like nothing I have ever seen and she exudes kindness and warmth that immediately made us all feel like family.
When you watch Nonna Violante cook, the process seems effortless. It's something that can only be achieved after years of cooking from scratch and from the heart.
Here are the ingredients we used in our morning cooking class: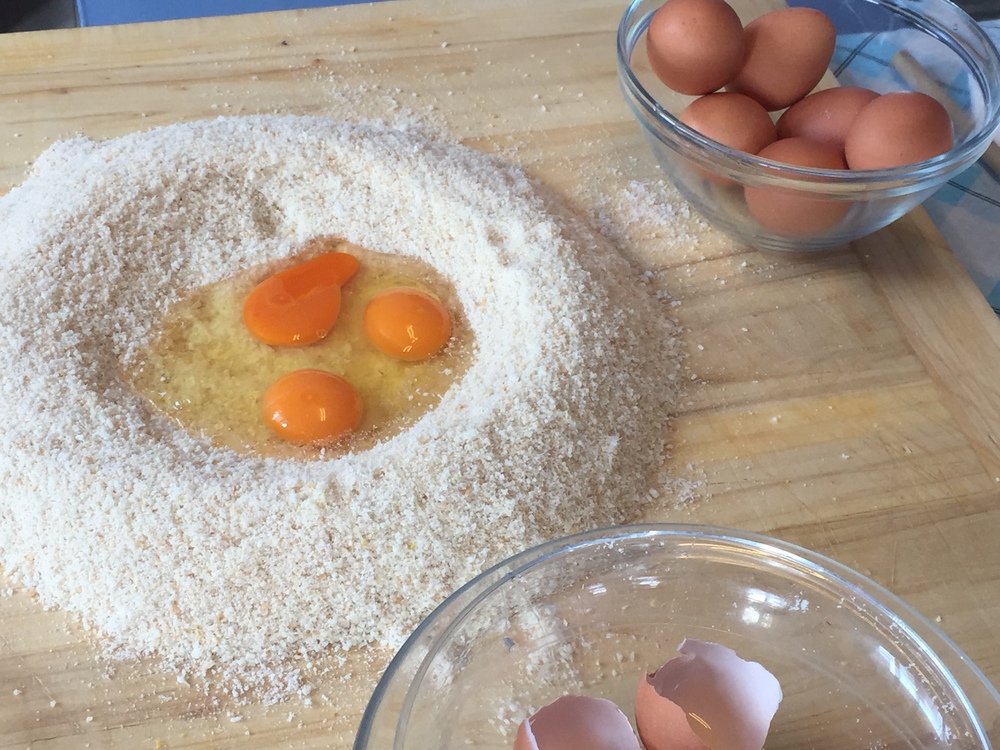 "00" flour (you can find this at Italian specialty stores or, I am told, you can try cake flour).
Salt
Bread crumbs
Eggs
Lard ( yes, lard. Get it from a reputable butcher. If you must, you can substitute olive oil)
Lemon
Nutmeg
Baking powder
Water (hardly an ingredient)
From these simple and inexpensive ingredients we made not one but three dishes: strozzapreti, piadina and passatelli.  All were delicious and even the finishing preparation of each one was simple – the strozzapreti were tossed lightly in pesto with local baby shrimp, the passatelli were served in homemade chicken broth and the piadine were sent with us on a picnic with prosciutto, salami, cheese and……Nutella!
Back to basics – that is what Cucina Povera is all about. And I don't think I have ever eaten better.
Thank you Nonna Violante. Thank you Hotel Eliseo, Hotel Cannes, Hotel San Salvador and Hotel Daniel for showing us the beauty in the simplicity of romagnola cooking.
Recipes from our cooking class will be featured on the blog very soon.  Stay tuned!