It's purging time.  Of course with the usual resolutions to get organized there comes a time when one's cabinets need to be addressed.  Along with this, I have decided that regular weekday meals need to be quick, easy and tasty. There are oodles of websites, Pinterest boards and blogs that promise you just that.   There's  root beer crockpot slow roasted shredded chicken that cooks while you are at work.  Guess what? It tastes like crap. Actually, it just tastes like chicken that has slowly dried out in a pool of root beer, so if that is your thing, you will love that recipe.  And then there is that "super easy five ingredient dinner".  The ones I seem to choose always involve some exotic spice or ingredient that is not in my usual rotation and that I have neglected to purchase.   It is of course, key to that dish so without it, it is useless to even make it.  And so Frozen Waffles it is. (don't judge.  you've done it too).
I am a planner.  I plan my meals on a board that has the days of the week listed.  We note what activities are going on so that we know when (or if) dinner will be served and once the menu is set I make a grocery list for the week's shopping. This year I have taken that one step further and created a pantry of Italian staples that is going to make weeknight cooking a breeze. Here is a list of essentials for an Italian Pantry:
1.     "00" Flour
2.     Polenta
3.     Farro
4.     Arborio Rice
5.     Good Pasta in a variety of shapes (made with hard durum wheat)
6.     Lentils
7.     White Beans (cannellini)
8.     Yeast
9.     Olive Oil (the best you can find – it's worth it!)
10. Vinegar
11. San Marzano Tomatoes
12. Pine Nuts
13. Garlic
14. Sea Salt
15. Peppercorns
16. Dried mushrooms
17. Dried chili peppers
18. Sea salt
19. Parmigiano Reggiano (get the best – see my post) & Pecorino Romano* I include these cheeses as pantry staples because they last a long time in your fridge.
20. Herbs – basil & rosemary on the windowsill
I know there is a lot more that could be added to this list but the point is to keep it simple.  With this list as a base, you can add shrimp or meat and some lovely cheese to your shopping order along with lots of seasonal vegetables (since it is winter time I would include potatoes, kale, carrots, celery, onion.) Pick up fresh bread at the bakery along with a bottle of red wine and your meal will come together in no time.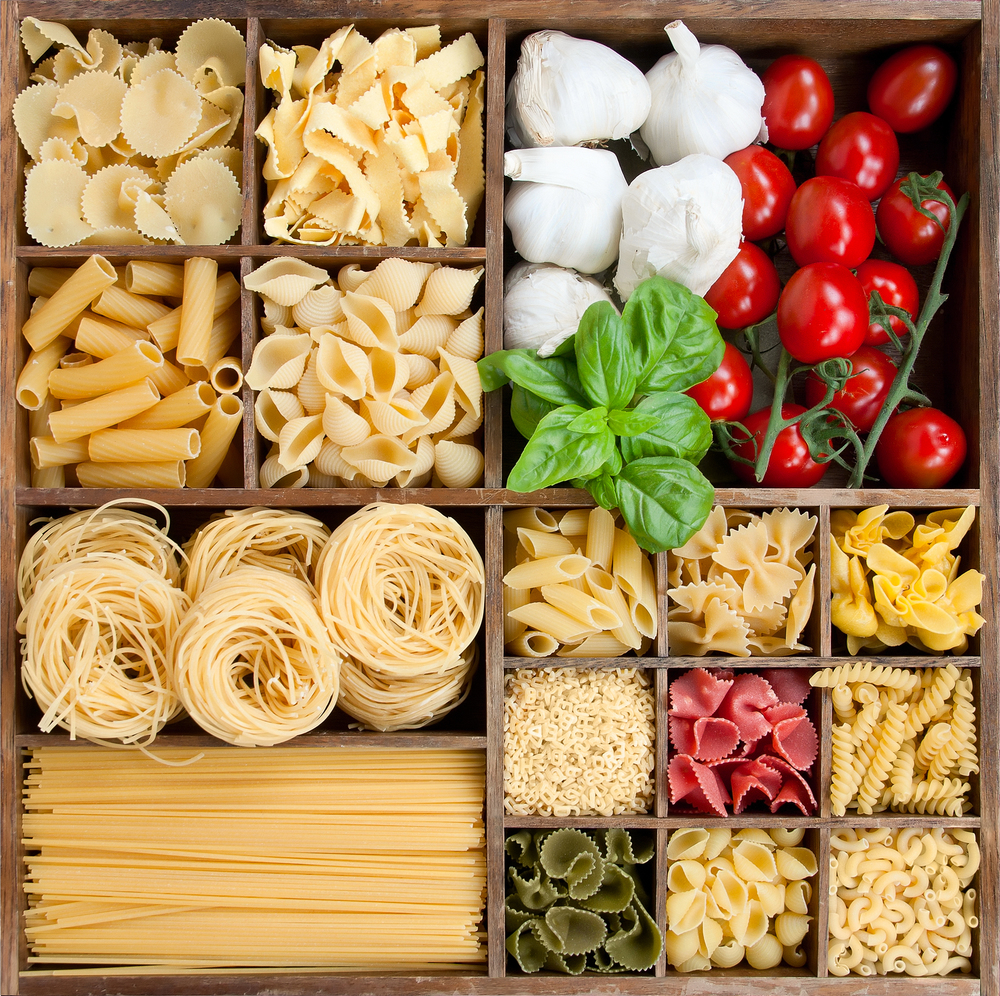 Here are some of my favorite dishes that you can make with what is listed above (most are five ingredients or less – that is the secret to good Italian cooking):
Homemade pizza margherita (add cherry tomatoes and fresh mozzarella)
Pesto Pasta (throw in shrimp or chicken for protein)
Mushroom Risotto (add onion, wine and butter)
Pasta e Lenticchie (add carrot, onion, celery)
Cacio e Pepe
Fagioli all'Uccelletto
Grilled Polenta with Tomato Sauce
Parm Crisps(to top a salad or soup)
Insalata di Farro (add cherry tomatoes and mozzarella)
Suppli (rice balls – add mozzarella in the middle)
Zuppa di Farro
Lentil Soup
This week needed to replenish my pantry so I took advantage of an Anniversary special that Eataly is having.  Until January 31 they are offering 25% most grocery items along with free shipping. I ordered great pastas, farro, canned tomatoes, great olive oil, fig jam (another great staple), hazelnut spread from Turin and some Italian cookies (willpower out the window at that point).  There are some great items at really good prices.  Check out their site and don't forget to order before January 31st.
Would love to hear what your favorite weeknight go-to dishes are.  After all, we could all use a little inspiration.  Leave a comment (and maybe even a recipe) below.  Buon Weekend!